In response to queries regarding some photos of Sri Chinmoy at various events in the United Nations Community we created this draft page to be updated with links to related programmes added as time and resources allow…Enjoy,,,,
Concert in the GA lobby (wide shot)>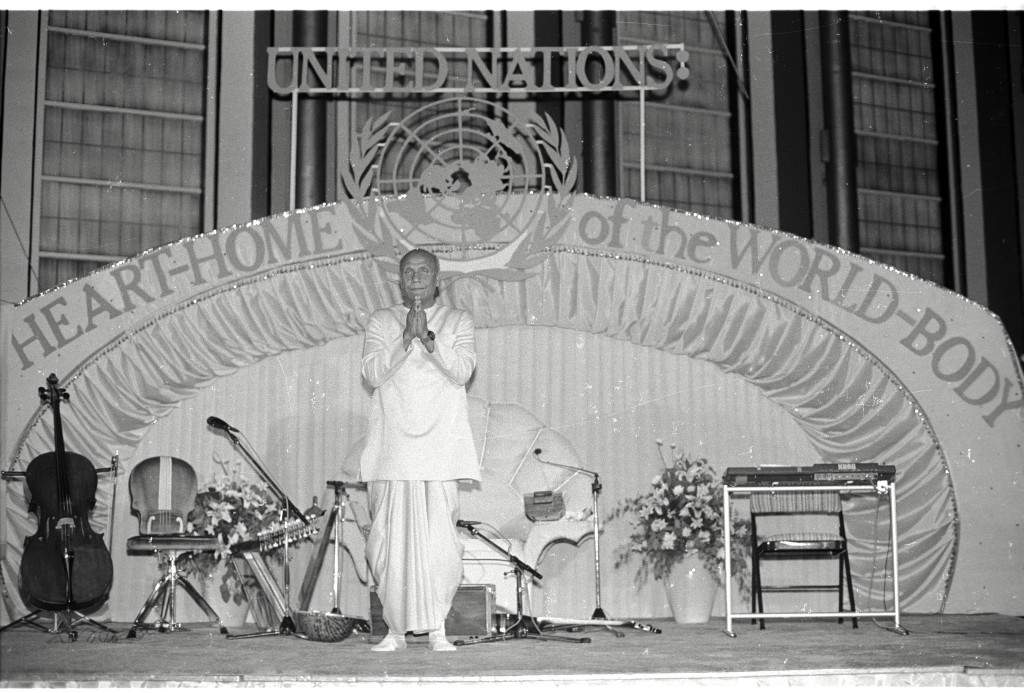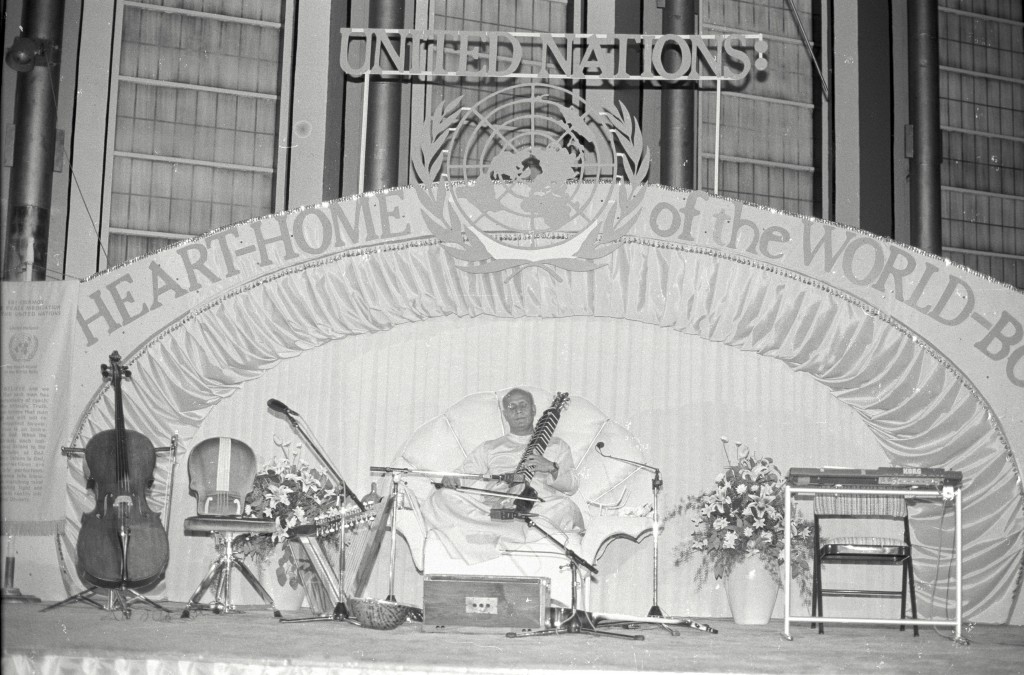 Sri Chinmoy offered a peace concert Dec. 8 in the lobby of the U.N. General Assembly Hall.
This  event was held in connection with the U.N.'s upcoming International Year of Peace in 1986.
It also helped culminate the celebration of the 40th anniversary of the U.N. in 1985.
https://www.srichinmoypeacemeditationatun.org/1985/12/08/peace-concert-in-lobby-of-u-n-general-assembly-hall-1985-dec/
==========================================================================
UN office in Latin America,- Santiago with all the >countries flags .
During the International Year of Peace celebrations, Sri Chinmoy offered  several peace concerts in South America during a month-long spiritual  holiday he and some members of the meditation Group at the UN took in  Argentina, Chile and Peru.
They were also joined by a group of his  students from around the world. In Chile, the Master gave a concert Dec. 23 at the UN Organizations Regional headquarters in  Santiago, the Capital of Chile. It is the location of the headquarters of the Economic Commission for Latin America and the Carribean (ECLAC).
https://www.srichinmoypeacemeditationatun.org/1986/12/23/song-for-peace-in-south-america-dec-1986/
=================================================================

from u Thant island….that has un in background>
https://www.srichinmoypeacemeditationatun.org/wp-content/uploads/1986/11/1986-11-Nov-06-u-thant-island-visit-ckg-meditates-1024×726.jpg
I like the shots of
>CKG "in context" so to speak or view> >
original dedications: https://www.srichinmoypeacemeditationatun.org/1977/09/16/u-thant-island-dedicated-sep-1977-details-photos/
https://www.srichinmoypeacemeditationatun.org/1977/09/09/u-thant-island-compassion-home/
===========================================================================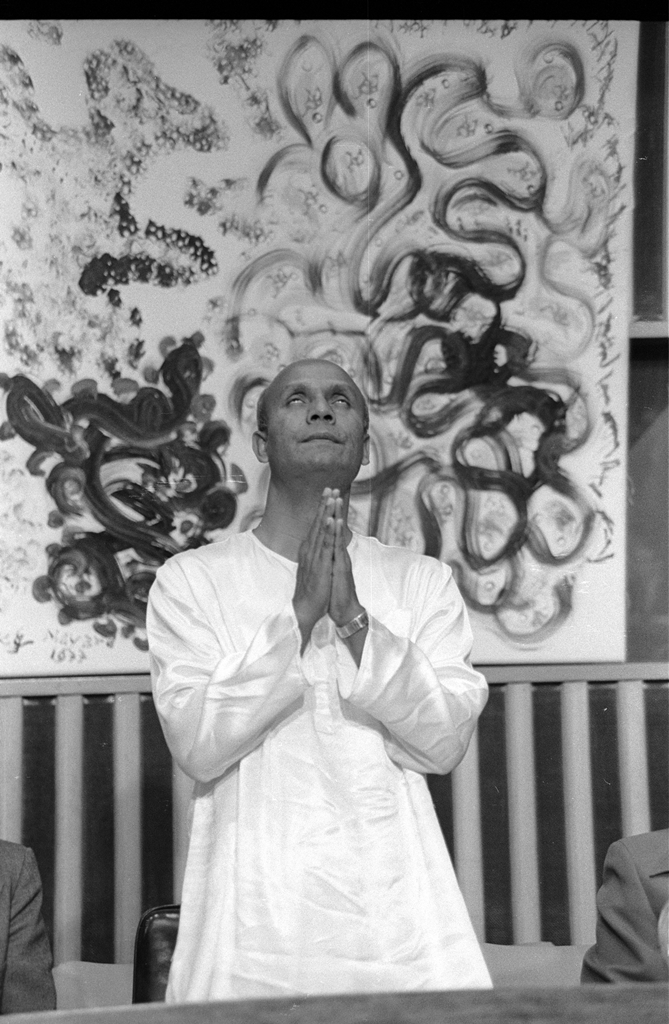 conf room 4 for "oneness earth" Programme 1970s CBS broadcast as >part of holiday prog…>

https://www.srichinmoypeacemeditationatun.org/1977/12/27/d-oneness-earth-photos-cbs-tv-holiday-season-1977-dec-un-peace-meditation-supported/
The evening of 14 December 1977 the Peace Meditation Group at the U.N celebrated the universal brotherhood and unity which are evoked in this season of holidays around the world with a programme entitled "Oneness-Earth."
The programme, which was filmed by CBS-TV f or broadcasting on Christmas Day, included statements by Ambassadors and U. N. officials and the performance of a song written by Sri Chinmoy especially for the occasion.
On display was a painting by Sri Chinmoy entitled "United Nations: the Heart-Home of the World-Body." The work is dedicated to United Nations efforts for peace and has been recently exhibited around the world as an ambassador of good will and world -oneness.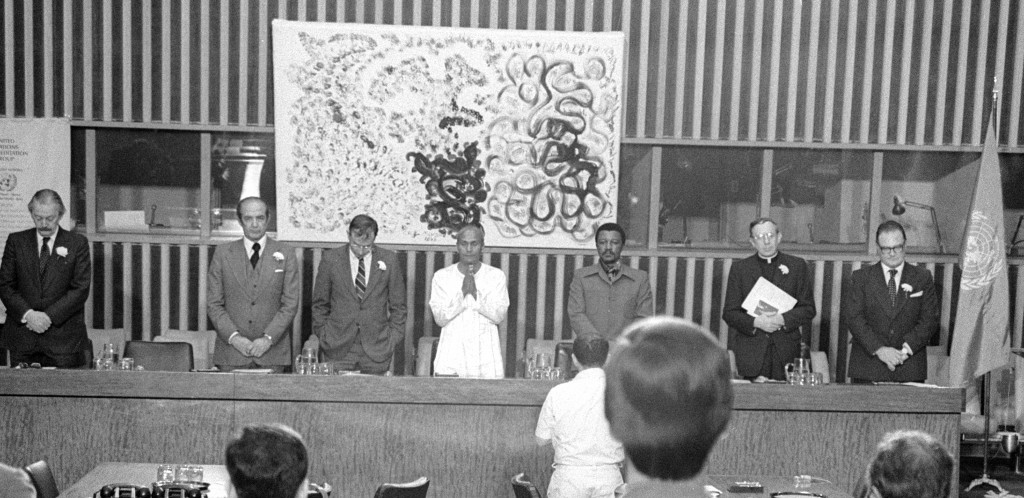 ==========================================================
or
for 20th anniv. of "room of Quiet" meditation room at UN>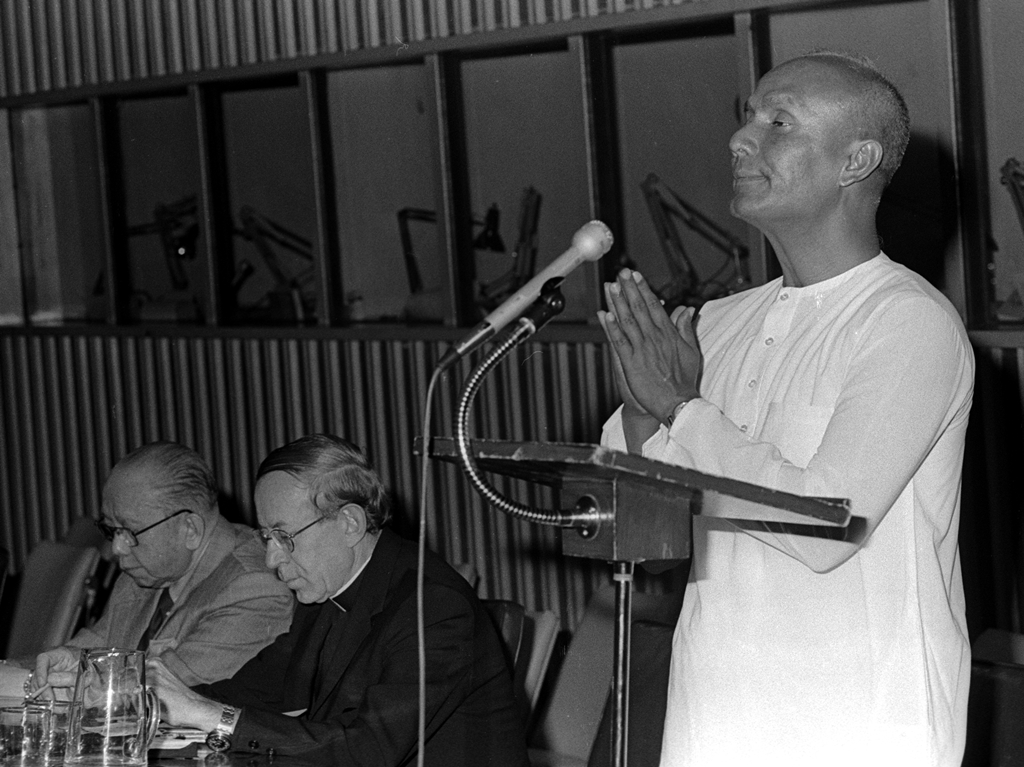 On 15 November 1977 the Meditation Group observed the 20th anniversary of the opening of  the redesigned U.N. Meditation Room, located in the General Assembly Lobby.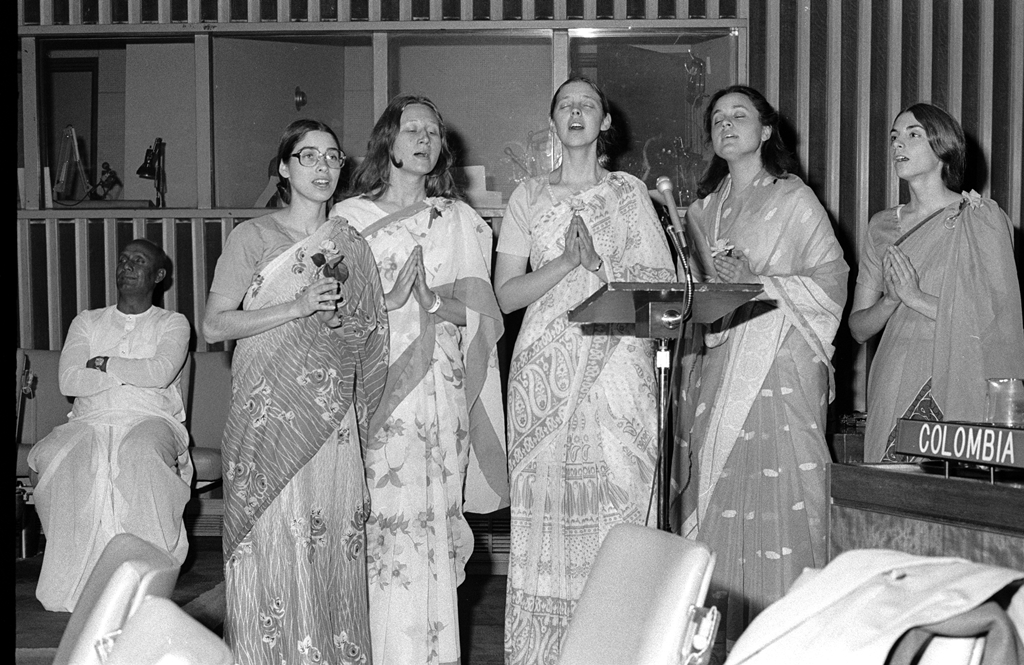 The programme opened with a short meditation in the "Room of Quiet " and continued in Conference Room 4 with speakers and the performance of six new songs written for the occasion by Sri Chinmoy.
https://www.srichinmoypeacemeditationatun.org/1977/11/15/a-20-anniversary-since-redesign-of-meditation-room-15-nov-1977/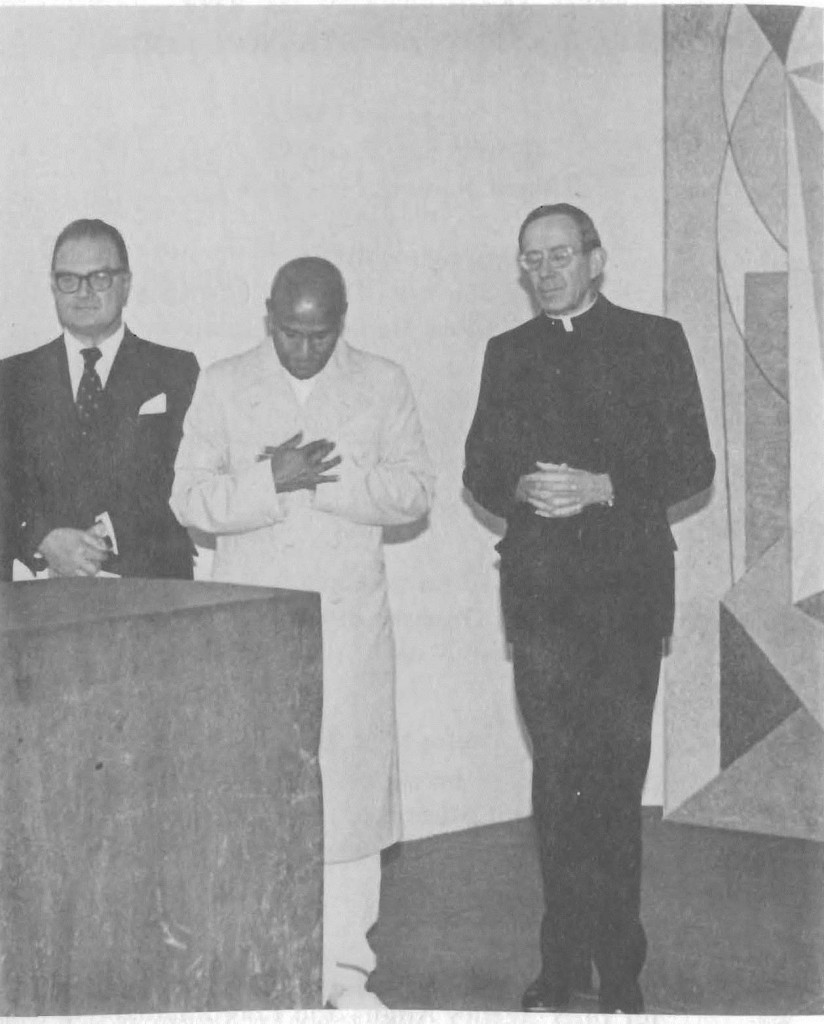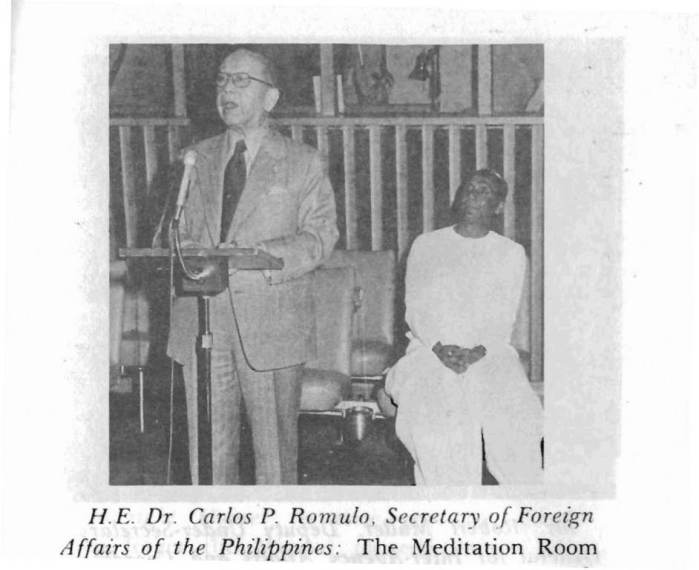 ======================================================================
Martin Luther King tribute
On 29 November 1977, Mrs. Coretta Scott King joined diplomats and staff in a meditation and tribute at U.N. Headquarters honouring her husband, the late Dr. Martin Luther King, Jr.
https://www.srichinmoypeacemeditationatun.org/1977/11/29/martin-luther-king-humanitys-aspiration-hero-photos-1977-nov-29/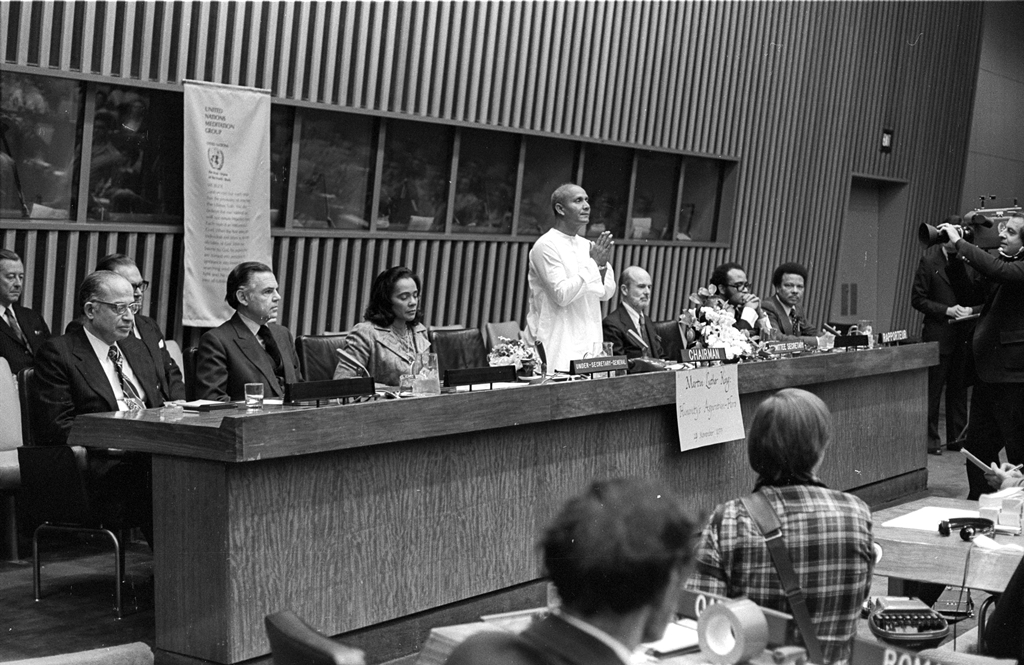 and
=================================================
One is Human Spirit – Interfaith Spiritual Summit Meeting 1975 Oct 24.
To mark the 30th anniversary of the United Nations
Friday, OCTOBER 24, 1975
OPENING MEDITATION
Sri Chinmoy, Leader,  Meditation Group at the United Nations
https://www.srichinmoypeacemeditationatun.org/1975/10/24/one-is-human-spirit-spiritual-summit-meeting-1975-pct-24/
The session, which culminated a weeklong series of events marking the United Nations' 30th anniversary, featured U.N. Secretary-General Kurt Waldheim and Mother Theresa, the Catholic nun who gained worldwide recognition as founder of the Christian Missionaries of Charity in India.
25th anniversary of Trick or Treat for UNICEF celebrated a UN with Executive Director:
https://www.srichinmoypeacemeditationatun.org/1975/10/30/25th-anniversary-of-unicefs-trick-or-treat-1975-oct-30th/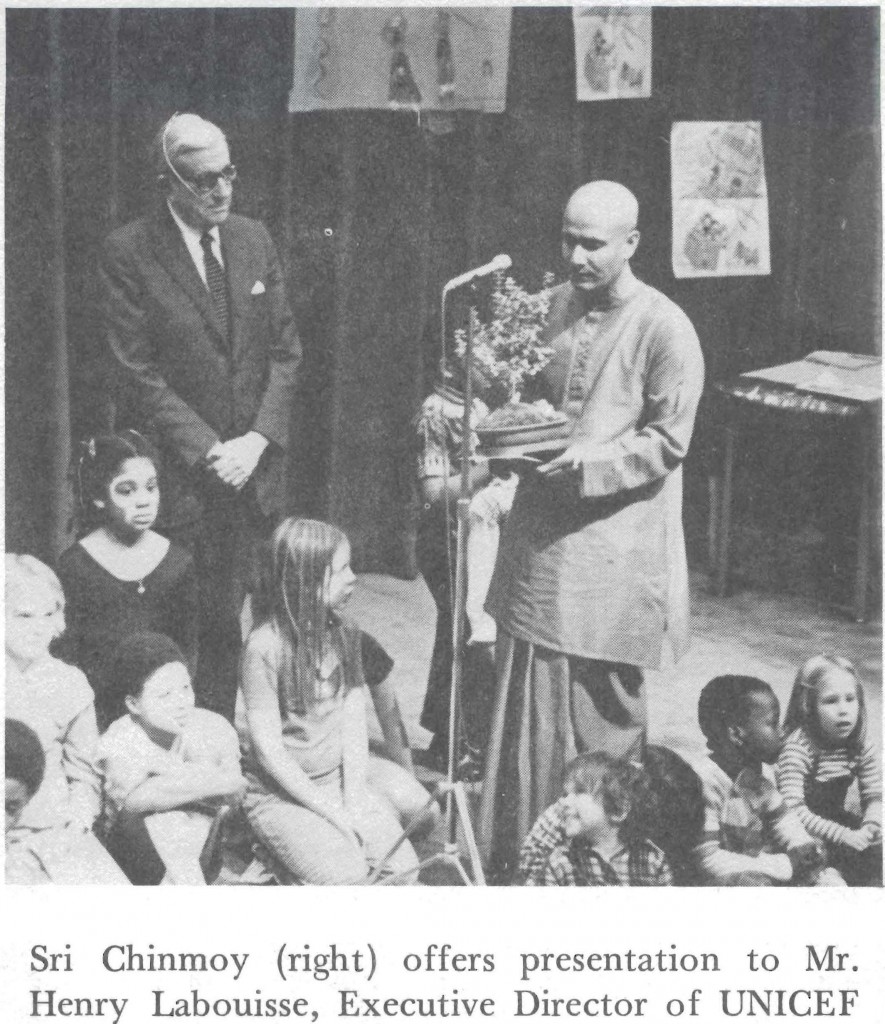 30 th anniversary at UN
Inspired by the observance of a "Minute of Silent Prayer or Meditation" at the opening of each United Nations General Assembly,

the Meditation Group at the U.N. co-sponsored a special programme to commemorate the opening of the thirtieth session of the General Assembly, in a spirit of rededication to the lofty aims and ideals of the United Nations. The programme, which was held in Conference Room 3 on Friday, September 12, 1975, was attended by delegates, Secretariat staff members and NGO representatives.

Sri Chinmoy opened the programme with a silent meditation, then sang a song, accompanying himself on the harmonium:
---
 national day of prayer 1975 at Church center for the UN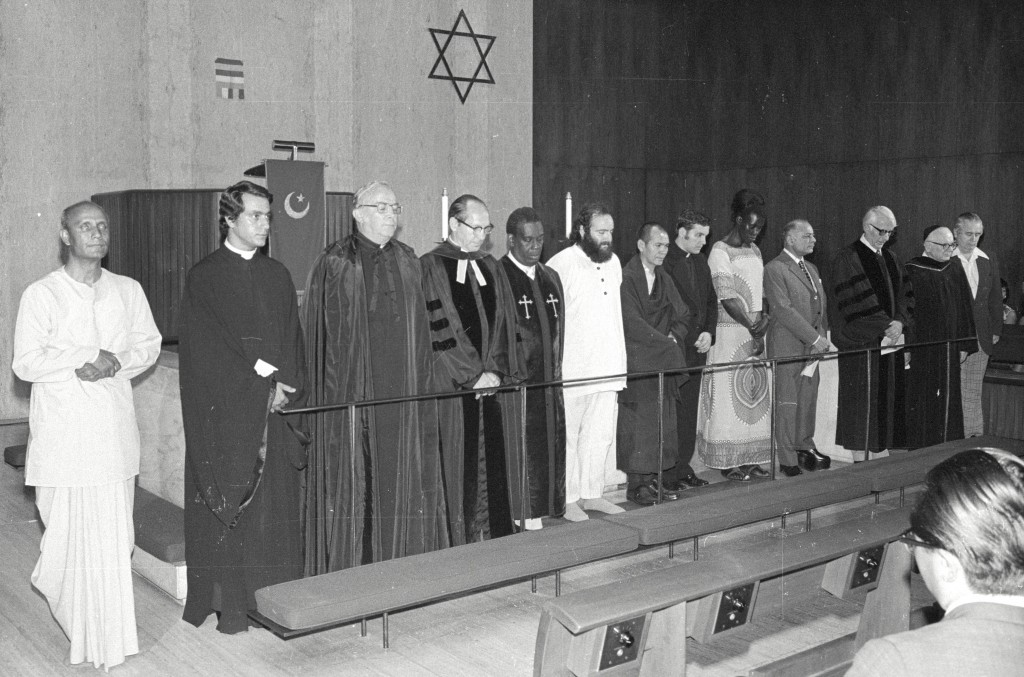 https://www.srichinmoypeacemeditationatun.org/1975/07/24/interfaith-national-prayer-day-observed-at-un-a-contents-of-prayer-observance-at-the-un/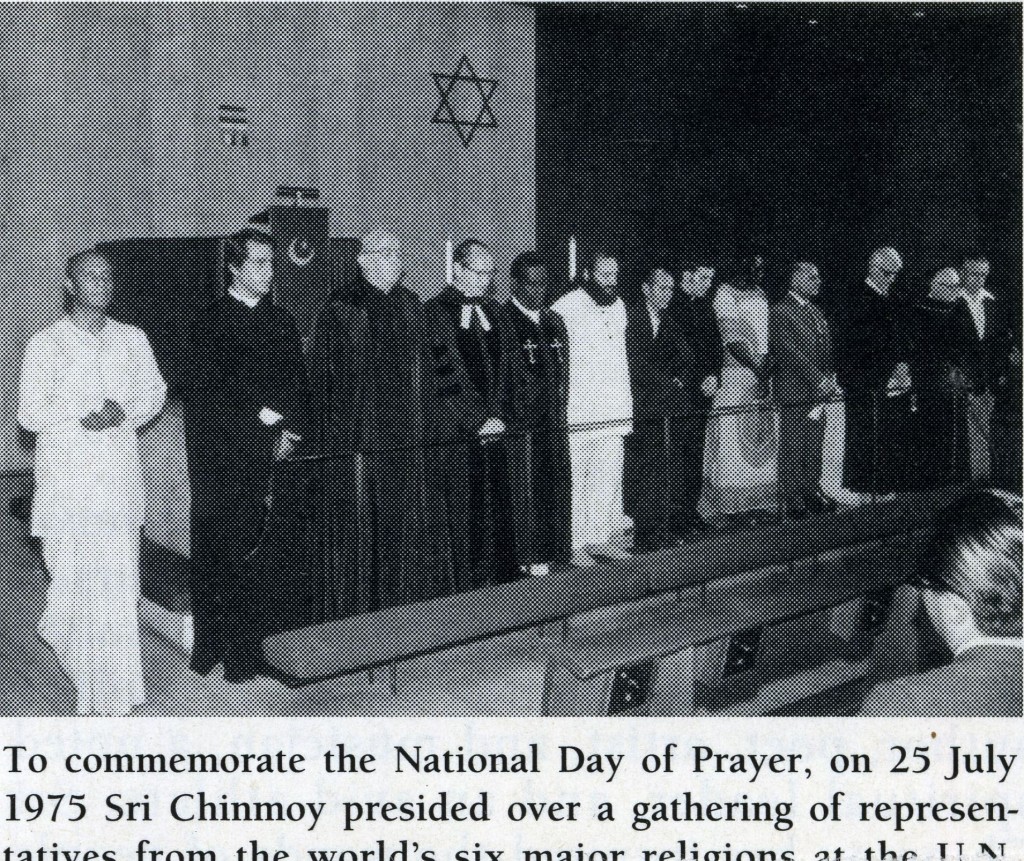 https://www.srichinmoypeacemeditationatun.org/1975/07/24/interfaith-observance-of-national-day-of-prayer-by-united-nations-and-ny-community/
To commemorate the National Day of Prayer, on 24 Jul 1975, Sri Chinmoy presided over an Interfaith gathering of representatives from the six major religions.
The New York Times reported: 'most representative gathering of religious leaders ever held in the city'.
– quote to NYT from Rev. Dr. Dan M. Potter, executive director of the Council of Churches of the city of New York