Members of the Peace Meditation Group at the UN were invited to be present for the Re-dedication of the Norman Rockwell Golden Rule Mosaic at UN on February 04 2014. They also attended the reception after the Event at the Church Center for the United Nations on 44th street and 1st Avenue.. 2014 Feb 04.
For main report see https://www.srichinmoypeacemeditationatun.org/2014/02/04/re-dedication-n-rockwell-golden-rule-mosaic-at-un-2014-feb-04/
This post contains additional photos in front of the Mosaic at the UN and at the reception across the street immediatly following.
See also link to UN webcast of full statement by Deputy Secretary-general:
http://webtv.un.org/search/jan-eliasson-rededication-of-the-normal-rockwell-%E2%80%9Cgolden-rule%E2%80%9D-mozaic/3152949929001?term=interfaith
---
Deputy Secretary-General Jan Eliasson speaks at the rededication
of the Norman Rockwell "Golden Rule" mosaic.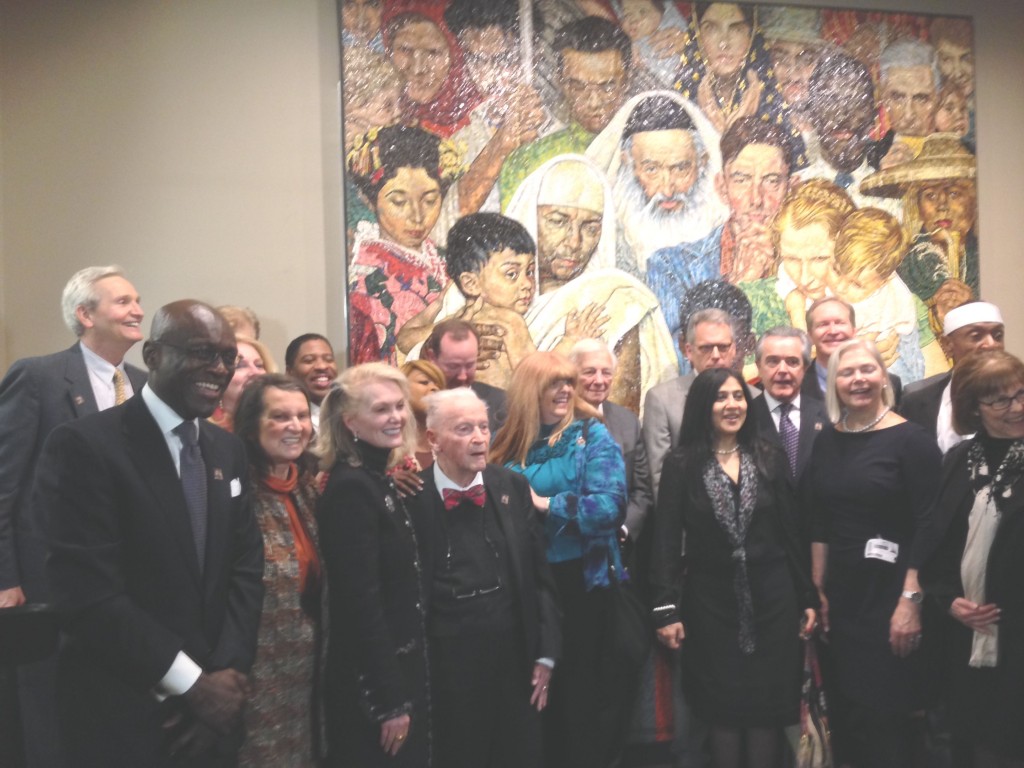 Some Participants at event and supporters of Thanksgiving Foundation from Texas 0n Feb 04 2014
Peter Stewart, Founder of Thanksgiving Foundation which was behind the original gift from USA to UN, in Front of Golder Rule Mosaic on 4 Feb 2014 with a few Peace Meditation Group Members.
Peter had first attended thanksgiving programs organized by the Meditation Group at the UN in the 1970's.
---
More Photos from re-dedication:
---
After the Dedication there was a reception across First Avenue
on the Second Floor of the Church Center for the United Nations.

For More Photos from Reception:
Click on image below for larger or different resolution photo- Image:
---
Photos from Dinner and Visit to Art Club:
For More photos from visit to Art Club
Click on image below for larger or different resolution photo image
---
Photos – welcome lunch, before re-dedication
at the just reopened UN Delegates Dining Room:




For More Photos from welcome lunch:
Click on image below for larger or different resolution photo- Image: