U.N. PROGRAMME HONOURS GENERAL ASSEMBLY PRESIDENT UNITED NATIONS-
The Peace Meditations held a special programme to honour Humayun Rasheed Choudhury, Foreign Minister of Bangladesh and the President of the U.N. General Assembly. "I am deeply touched and overwhelmed," said Choudhury. During the programme the U.N. singers sang a song honouring the Bengali leader, and Choudhury sang two songs for the audience.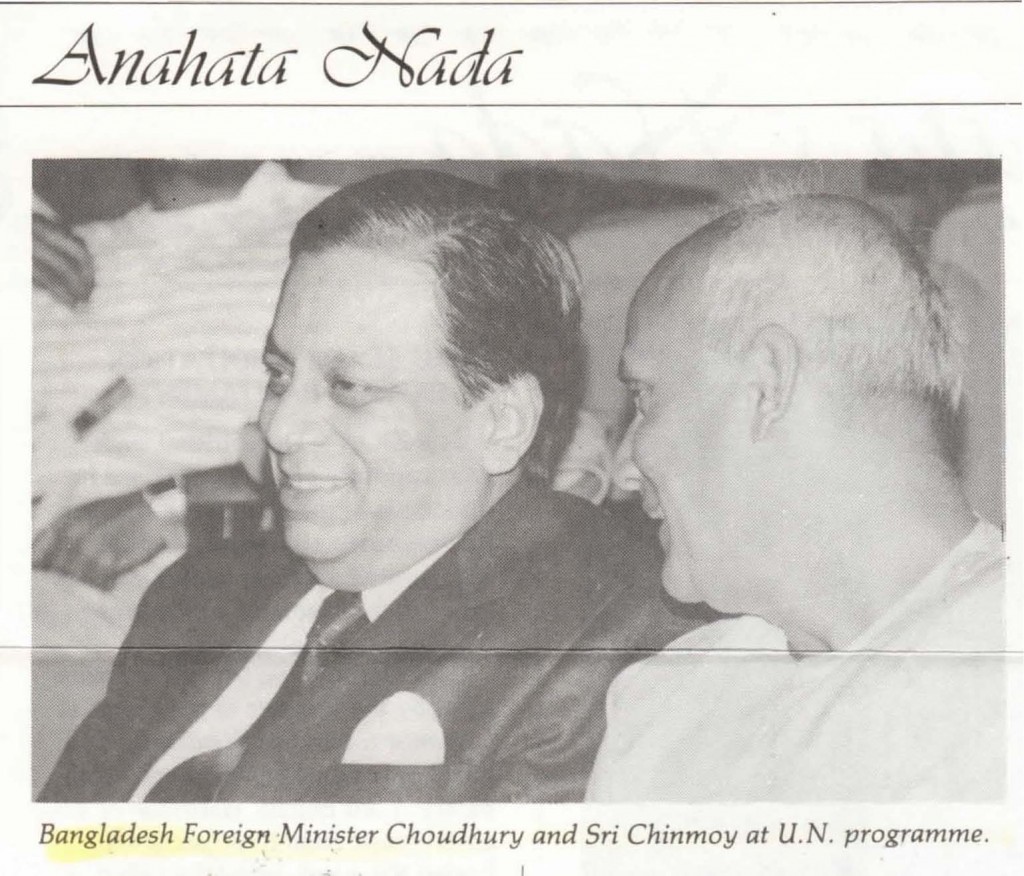 ---
The Diplomat Bulletin
General Assembly President Choudhury at the piano to sing a few songs during a programme, held in his honor, of the Peace Meditation of the United Nations. Leader of the meditation, a fellow Bengali Sri Chinmoy (seated in front row left), presented Choudhury with a -plaque in recognition of his service to the international community and a cake for his upcoming birthday.
---
Programme:
1. Welcome (Adhiratha Keefe)
Welcome to our programme in honour of the President of the General Assembly.
Over the years the Meditation group has had the good fortune to meet with several Presidents of the General Assembly. This day Our programme in Honour of President Chowdhury has a extra significance for us because both our guest President Choudhury and Sri Chinmoy share the same land of Birth: Bangladesh.
Today, like in our past programmes, the Meditation group choir will perform several songs written by Sri Chinmoy . I thought it might also be of interest to point out that our guest, as well as being the Foreign Minister of Bangladesh and the President of the General Assembly is also a singer who sometimes heard on Radio. Perhaps it is in these similarities that we come to realise how much of a family we really are.
To begin our programme, I would like to humbly request Sri Chinmoy to lead us in meditation, after which the choir will sing
2. Meditation (Sri Chlnmoy)

3. President of the GA. Song: "A Heart for Oneness-Tree"

4. Sri Chinmoy Sings
(can insert some text)


5. Introduction of President of the G.A. (by A.K.,)
Mr. Choudhury, who has had a distinguished career, has served in many countries. I wanted to mention some highlights.hat t I felt our group today might like to be reminded
Mr. Choudury studied for the English Bar and was a Member of the Inner Temple, London.
He obtained a diploma from the London Institute of World Affairs and received the graduate certificate of honour from the Fletcher School of Law and Diplomacy.
He served as chief of the Bangladesh Mission in New Delhi in 1971—72 during which he negotiated the recognition of Bangladesh with over 40 countries .
In June 1982 He was appointed Bangladesh Ambassador to the United States of America.
He was the leader of the Bangladesh delegation to the 39th Session of the General Assembly and presided over a number of sessions as Vice President of that body
Mr. Choudhury became the Foreign Minister of Bangladesh in July 1985 and elected to his countries Parliament in May 1986
President Choudhury is fluent in Bengali, English, Urdu, French and Italian and has a working knowledge in a number of other languages .
In 1984 he was awarded the Mahatma Gandhi Peace Prize from the University of William and Mary, Virginia, USA in recognition of his Contribution to World Peace through his diplomatic Activities
We are very honoured and grateful to have with us today His Excellency, The President of the General Assembly Mr. Humayun Rasheed Choudhury.
at this time Sri Chinmoy will make a presentation of a plaque and also a cake in Honour of he President's birthday.
6. Sri Chinmoy makes presentation to President
7. President of G.A. Speaks
(can insert some text)
8. Bangladesh Song
9. National Anthem Bangladesh – words and music by Rabindranath Tagore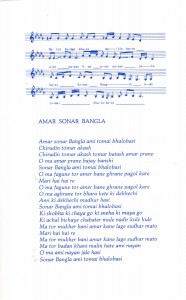 10. O Year of Peace
11. President Choudhury sings 2 songs in Bengali.
---
After the event Sri Chinmoy commented on the GA President's singing:
"this is the first time I have seen someone of his caliber sing so soulfully and sweetly. It is so difficult and how nicely he can sing."
---
Download PDF:
click on image below for larger or different resolution Photo – Image:
---
Programme-Background-notes:
---
Gallery 2: