Meditation Group at the UN members co-originated with
U.N. Children's' Fund (UNICEF) staff and the
JHARNA KALA GALLERY for a
Free Film Festival showing UNICEF theme related films .
During the opening weekend of the JK Gallery, on Saturday 16 August 1975,
films were shown at 12 noon, 3:00p, 6:00 and 9:00 pm.
---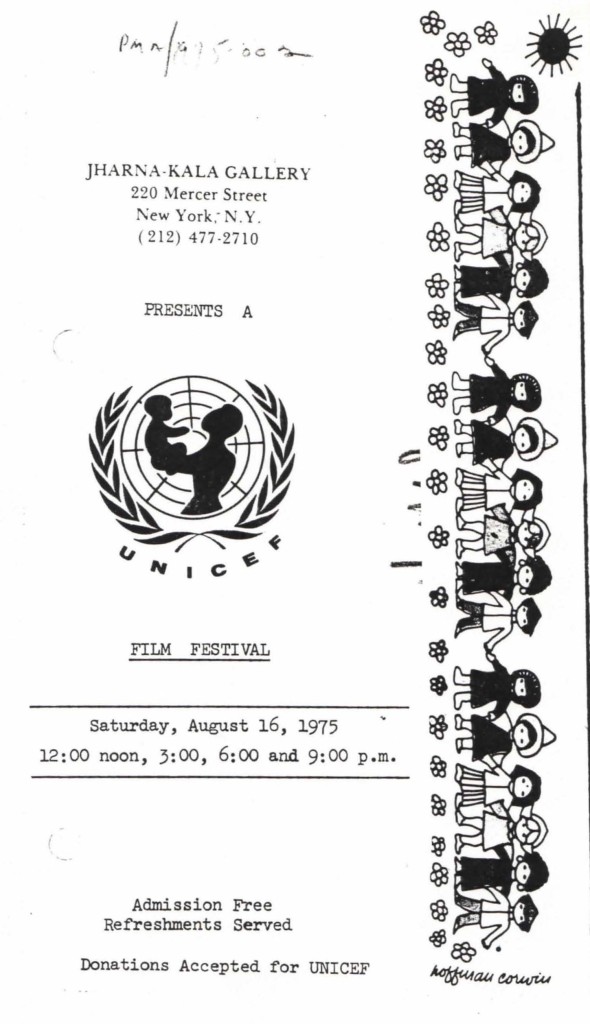 The event was at 220 Mercer Street, Manhattan NY.
---
WE MOST CORDIALLY INVITE YOU TO LEARN ABOUT
UNICEF AND
10,000,000
CHILDREN THAT HAVE BEEN HELPED
IN THE PAST THREE YEARS.
BETWEEN FILMS,
YOU ARE MOST WELCOME TO ENJOY THE
7,000
PAINTINGS ON DISPLAY IN THE GALLERY THAT WERE
DONE BY C.K.G. IN THE PAST EIGHT MONTHS.
---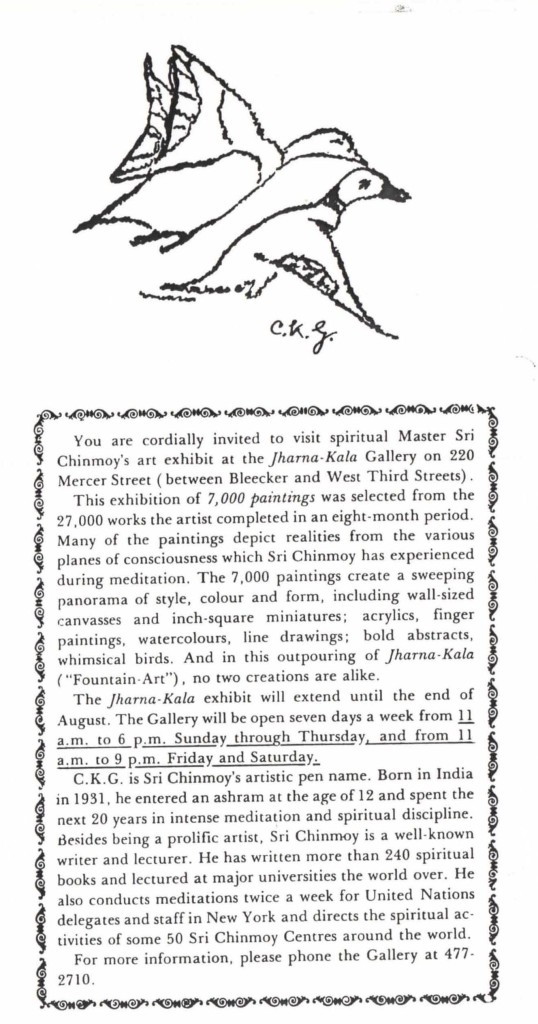 ---
Joan Bel. Geddes, of the Information Division for UNICEF sent a beautiful note of thanks:
Subject: Invitation to staff members to a West Village film festival.
"I love the fact that you love the fact that we work for and share an interest in UNICEF and what it stands tor.
I also love the way you adapted the Rebus (children holding hands) to produce a charming, amusing, lovely leaflet.
I hope the opening on Saturday of your exhibit was a great success and a very happy day.
Since the exhibit is going to continue until the end o'f August, and since I live near the Gallery, I'll try to get there before it closes.
Thanks tor the invitation!
---
---
You are cordially invited to visit spiritual Master Sri Chinmoy's art exhibit at the Jharna-Kala Gallery on 220 ~ Mercer Street (between Bleecker and West Third Streets).
This exhibition of 7,000 paintings was selected from the 27 ,000 works the artist completed in an eight-month period . Many of the paintings depict realities from the various planes of consciousness which Sri Chinmoy has experienced ~ during meditation . The 7,000 paintings create a sweeping panorama of style. colour and form, including wall-sized ~ canvasses and inch-square miniatures; acrylics. finger ( paintings, watercolours, line drawings; bold abstracts, whimsical birds. And in this outpouring of Jharna -Kala ("Fountain -Art"). no two creations are alike.
The Jharna-Kala exhibit will extend until the end of August. The Gallery will be open seven days a week from
11 a .m. to 6 p .m. Sunday through Thursday. and
from 11 , a.m. to 9 p.m. Friday and Saturday. :
---
C.K.G . is Sri Chinmoy's artistic pen name. Born in India ~ in 1931, he entered an ashram at the age of 12 and spent the next 20 years in intense meditation and spiritual discipline. Besides being a prolific artist, Sri Chinmoy is a well -known writer and lecturer. He has written more than 240 spiritual books and lectured at major universities the world over. He also conducts meditations twice a week for United Nations delegates and staff in New York and directs the spiritual activities of some 50 Sri Chinmoy Centres around the world.
---
For more information, please phone the Gallery
Download invite in PDF
---
In 1965, UNICEF was awarded the Nobel Peace Prize as the organisation
"which has worked most or best for a brotherhood amongst the nations."
# # # # # # # # #
In these days, when international power politics tend to invite cynicism concerning some of the acts of political omission and commission in the United Nations, the humanitarian efforts of the international organization should not be forgotten ••• And UNICEF's work on behalf of the world's children symbolizes the best of these efforts."- New York Times, April 26, 1973
---
Click on image below to see larger or different photo – image: