On 10 April 2012, members of the The Peace Meditation at United Nations joined with the participants and supporters of the Peace and World Harmony Runs from around the world   to acknowledge three things:
• The 42nd Anniversary of the "Sri Chinmoy: The Peace Meditation at the United Nations,
• The upcoming 25th Anniversary of the World Harmony Run, and
• The presence of Dr. Davidson Hepburn, former Permanent Representative of Bahamas to the United Nations and President of the General Conference ( 2009 – 2011) of UNESCO.
---
Some remember that it was at the UN that the first Global Run for Peace and Harmnoy event was planned and since then it has taken place in over 140 countries. See also: History of development and expansion of Sri Chinmoy Oneness Home Peace and World Harmony Runs.   From the Preface "I … had some of the greatest moments of my life leading this event…It began in May 1986 when Sri Chinmoy asked, while we were walking through the hallowed halls of the United Nations, if I could organize a global Peace Run. The United Nations had proclaimed 1986 the International Year of Peace, and Sri Chinmoy wanted to offer a heartfelt and sincere expression of peace on a global scale."
---
Dr. Hepburn has been a member and supporter of the Meditation Group at the UN since the 1970's. In the last few years he has strongly encouraged the World Harmony Run. Most recently with his 25th anniversary video message "Toward a Oneness World" . The video message is on youtube (now with subtitles in 25 languages). It was shown during the programme also with Overview of the Peace and Harmony run including clips from the start in 1987 and in many locations around the world.
---
 Introduction  to event and the Peace Meditation at the UN Anniversary:
Nilima Silver, Programme Co-ordinator, Sri Chinmoy: the Peace Meditation at the United Nations.
Tonight we will be celebrating the forty-second anniversary of Sri Chinmoy: The Peace Meditation at the United Nations with three songs composed by Sri Chinmoy dedicated to the UN.
At the invitation of then-Secretary-General U Thant, on 14 April 1970 Sri Chinmoy began leading twice-weekly meditations for delegates and staff at UN Headquarters in New York, and these meditations and related programmes continue to this day.
(Sri Chinmoy and Secretary-General U Thant)
Tonight we are very delighted to have with us Dr. Davidson Hepburn, [applause] whom we first met through the activities of the Peace Meditation at the UN in 1978.
At that time Dr. Hepburn was Ambassador and Permanent Representative of the Bahamas to the UN, and he continued in that distinguished post for ten years until 1988.
The Peace Meditation Group was honoured by Ambassador Hepburn's participation in many of our programmes, and we also had the pleasure of hearing him sing. Perhaps we will have that experience tonight – we will have to see!
We found in Ambassador Hepburn a kindred spirit who, like Sri Chinmoy, championed the ideals of the UN and also appreciated the contributions of all the nations and cultures represented there.
Most recently, as many of you know, from 2009 to 2011, he served as the President of the General Conference of the UN Educational, Scientific and Cultural Organization (UNESCO,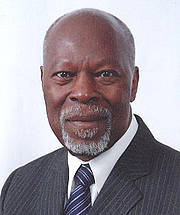 and his election to this post was clearly a tribute to his life-long dedication and his expertise in the UN arena.
This distinguished diplomat, scholar and international citizen generously offered support for the work of Sri Chinmoy and the vision that they both share. In the 1970s, we valued Ambassador Hepburn as our wise mentor and loving friend – and now, perhaps even more so.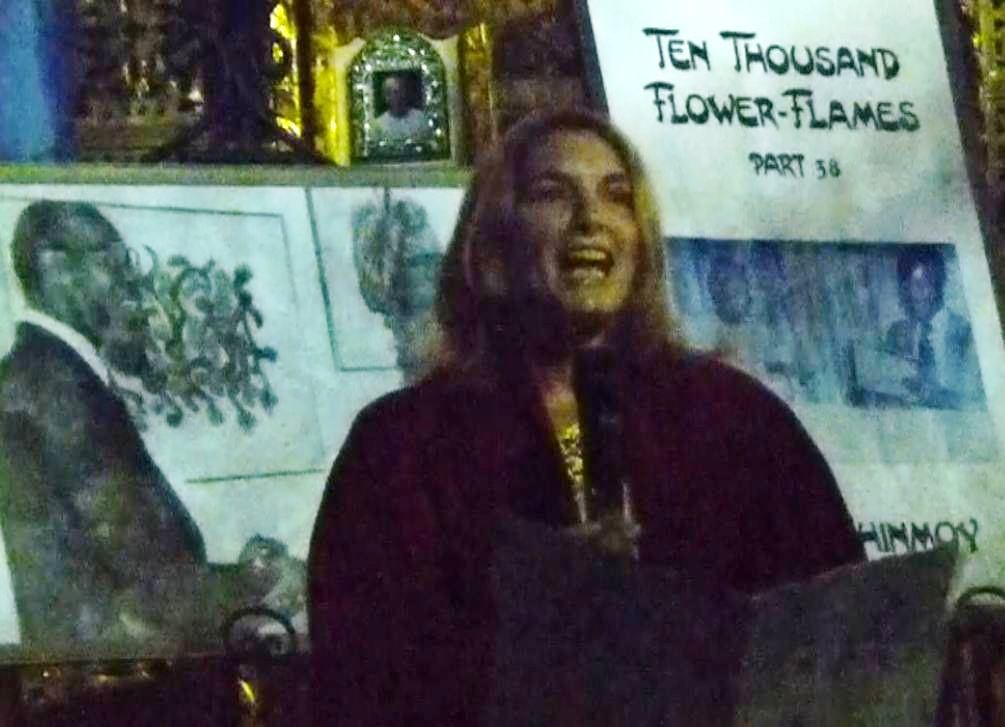 And a little bit of history: the friendship between Ambassador Hepburn and Sri Chinmoy was enshrined in a photo on a volume of Sri Chinmoy's poetry series Ten Thousand Flower-Flames, and you will see a blow-up of the cover right here, with Ambassador Hepburn and Sri Chinmoy.
I would just like to read the caption in this book. It is very interesting.:
"Ambassador Davidson L. Hepburn of the Bahamas joins Sri Chinmoy and the meditation group at the United Nations on 21 November 1979 for meditation and the performance of the motto of the Bahamas set to music by Sri Chinmoy.
On the occasion of a previous visit on 11 September 1979, Ambassador Hepburn made the following comments:
'As we are all aware of the dedication and devotion to peace, justice and the preservation of human dignity by Sri Chinmoy and the meditation group, it would be superfluous for me to elaborate further. However, I cannot resist the temptation to quote a sentence from the motto of the group because it captures more adequately than any words I may use the real essence of devotion and selflessness: "When man listens to God, his imperfections are turned into perfections, his ignorance into knowledge, his searching mind into revealing light and his uncertain reality into all-fulfilling Divinity." ' "
After we sing, more will be said about Ambassador Hepburn and his kind encouragement and support over the last quarter of a century, and especially for the World Harmony Run, but now let us offer our enthusiastic welcome to our most special guest, Ambassador Davidson Hepburn. [Applause]
Current and former UN staff perform
Peace Meditation at the UN choir
• "We Know Our UN Soul,"

• "United Nations – Ekata Swapan" and
• "O Unity-Dream"
________________________________________
Salil Wilson, Executive Director, World Harmnoy Run: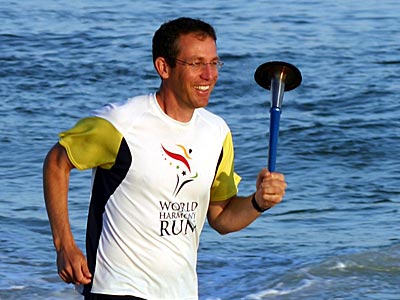 Following on from Nilima's welcome, I again would like to echo those sentiments in welcoming Ambassador Hepburn. It is really quite an exciting evening, having seen and watched your illumining and inspiring message for the twenty-fifth anniversary many, many times. It is wonderful to actually see the real thing, to see you here in the flesh! It is great!
In the beginning of 2010 we had the good fortune to go to the Bahamas, the home country of Ambassador Hepburn, and he graciously welcomed us to a school, he welcomed us and introduced us to the Governor-General, and was extraordinarily supportive of us throughout the entire visit. It was a huge success.
And we hope that through this evening and the coming days we can in a small way repay that hospitality, that graciousness, that good will that we have basked in for more than twenty-five years of the runs and many more years for the Peace Meditation at the United Nations which anniversary we are also celebrating tonight.
We have an action-packed thirty minutes realated to the runs: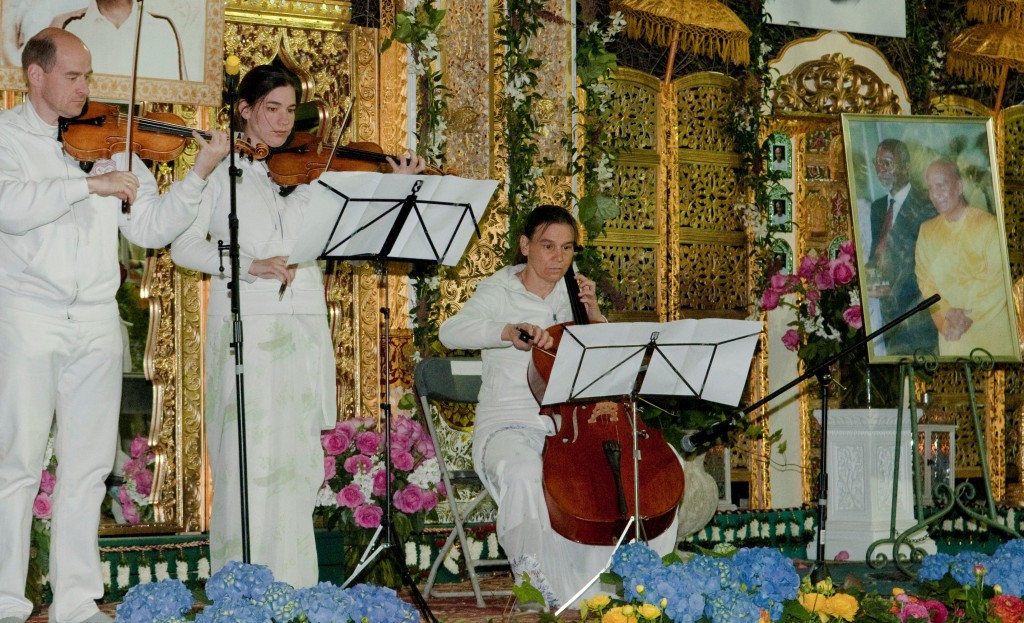 A family of professional musicians from Austria (Dohai, Bhoiravi and Shamita) performing an arrangement of the Peace Run song;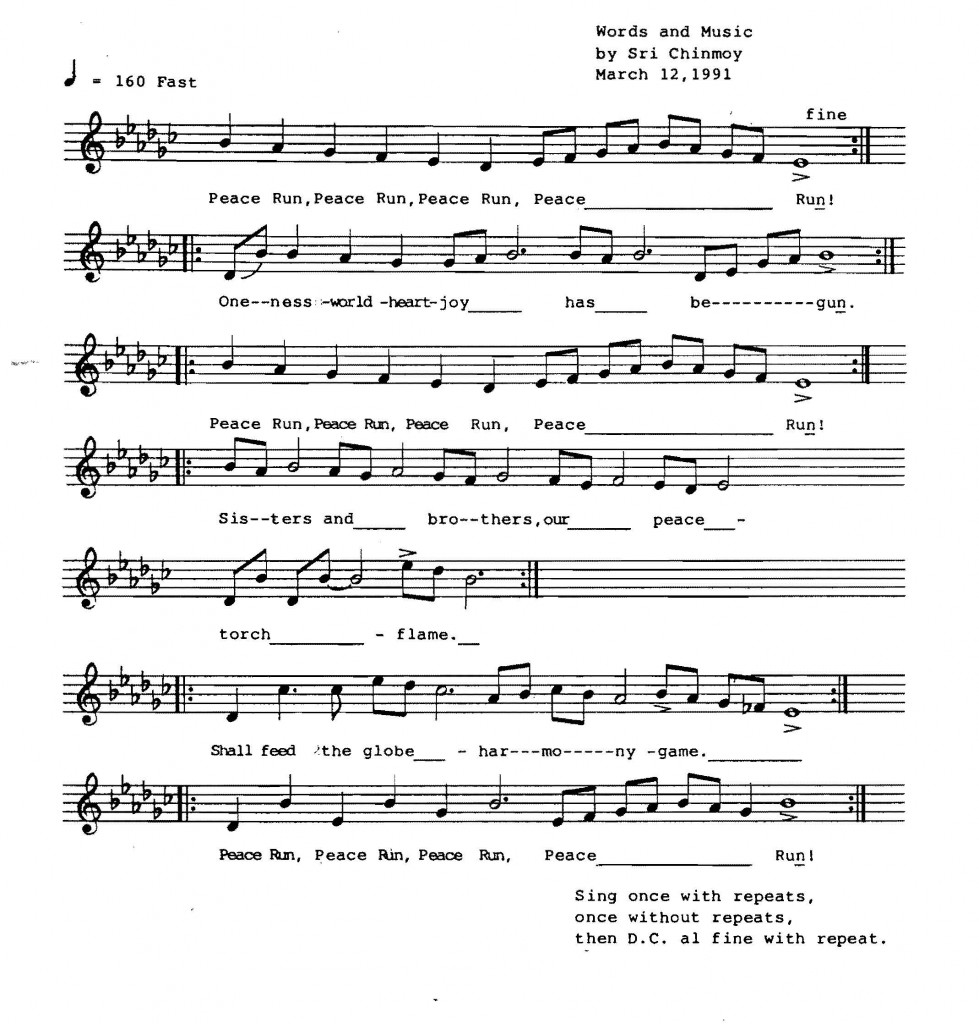 An arrangement of the Peace Run and World Harmony Run songs  which were each composed to represent this torch relay.
Peace Run, Peace Run, Peace Run, Peace Run!
Oneness-world-heart-joy has begun.
Peace Run, Peace Run, Peace Run, Peace Run!
Sisters and brother, our peace-torch-flame.
Shall feed the globe-harmony-game.
Peace Run, Peace Run, Peace Run, Peace Run!
– Sri Chinmoy
Run, run, run, run, run, run!
World-Harmony-Run.
We are the oneness and
fullness of Tomorrow's Sun.
– Sri Chinmoy
Other songs composed by Sri Chinmoy in Honor of the runs:
---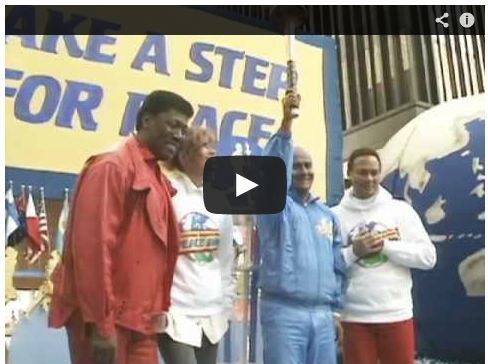 ---
Background about Ambassador Hepburm
Adhiratha Keefe, former UN and UNICEF staff; Peace and World Harmony Run supporter: 
Ambassador Hepburn is known for his graceful and powerful presence, and his great inspiration to the members of the UN community. You have seen this in the video, and we have seen it over the thirty years we have known him.
He has a Master of Arts from the University of Michigan in the USA, a Ph.D. in literature and language from the University of Madrid in Spain, and he obtained a diploma in international relations in Geneva, Switzerland. I guess that is why he speaks English, French and Spanish so well!
He is a knowledgeable and calming presence, and he is able to communicate in so many languages. That demonstrates why he is sought after to lead to UN committees working for consensus agreements in some very difficult areas.
Ambassador Hepburn has had a distinguished career in many fields, including education and business. He has excelled as a negotiator, human rights specialist, writer and public speaker. His award-winning voice is legendary. He won a Golden Globe award for narration at the International Film Festival in 1983 and is sought after for TV and radio commercials, narrations and documentaries. He is also a recipient of:
the Order of the British Empire (OBE);
Chevalier of the French Legion d'Honneur and of
The Torch-Bearer Award for his work towards international friendship and understanding.
Now the singers will joyfully offer their voice for three songs composed by Sri Chinmoy: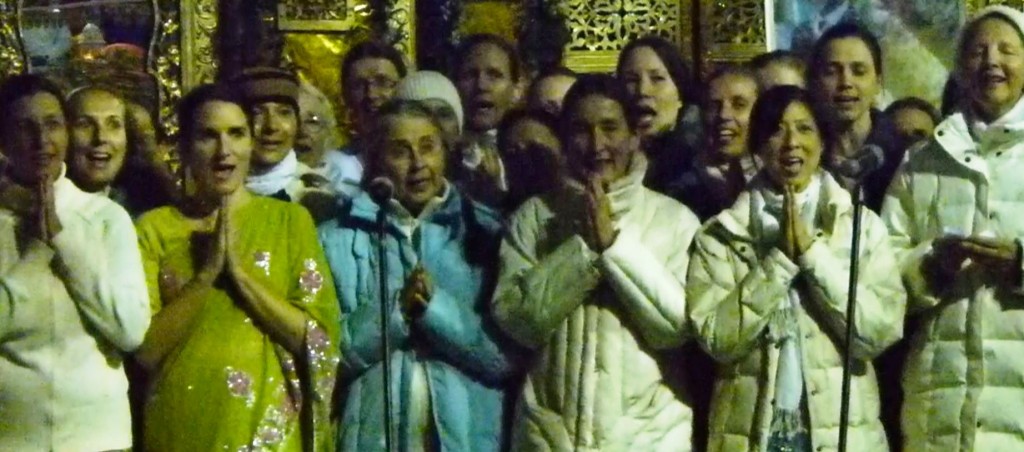 – one in honour of Ambassador Hepburn,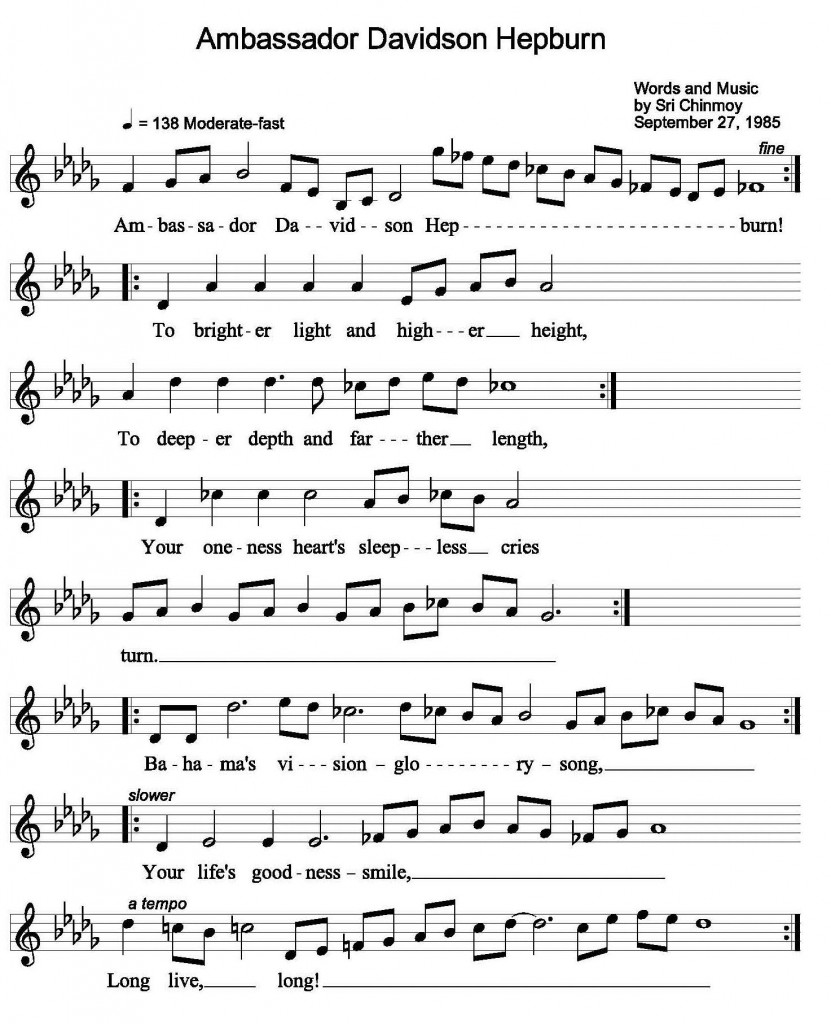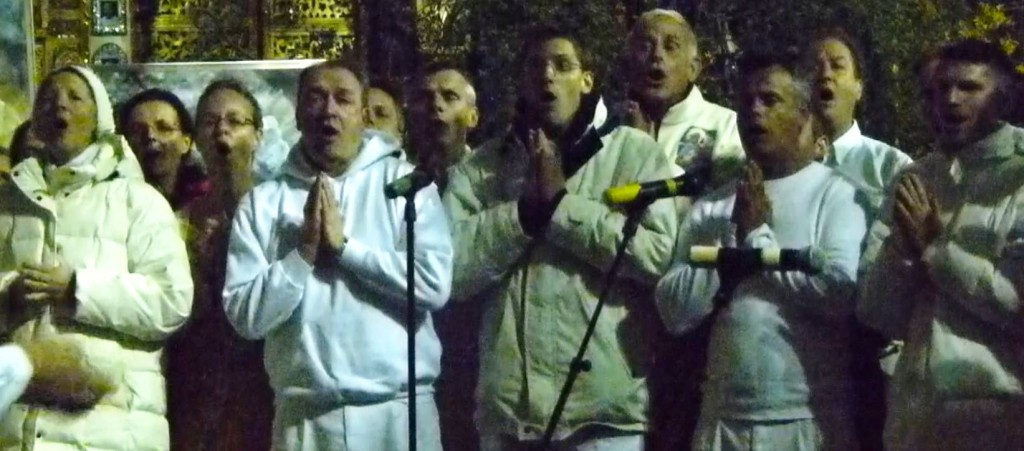 – one to honour the uplifting Motto of the Bahamas: Forward, Upward, Onward Together,
– one about the beautiful home country of our dear friend, our honoured guest and our cherished mentor.
"O Grand Bahama, Bahama, Bahama Grand!
Great multiplicity in good oneness-land.
Here we swim and sail,
No nature's bondage-jail.
Bahama, Bahama, Bahama, Bahama,
O sleepless, O breathless panorama!"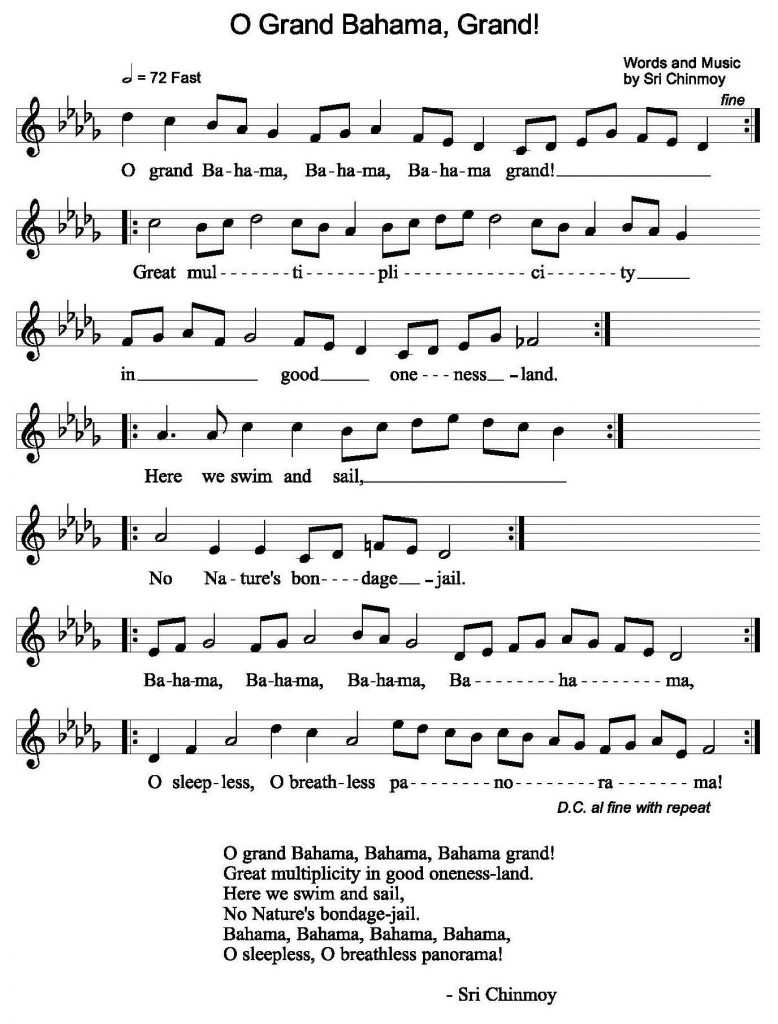 ---
05 Sep 1980 in the Dag Hammarskjold Autorium: Tribute oncert to the Bahamas.
Historical Note: Ambassador Davidson L. Hepburn, Permanent Representative of The Bahamas, treated diplomats and staff to a singing performance on 5 September 1980 in the Dag Hammarskjold Auditorium. Accompanying the Ambassador was acclaimed French concert pianist Olivier Greif. The occasion was a meditation group tribute to the Bahamas, which celebrates its seventh anniversary of joining the United Nations on 18th September. Before the performance, Ambassador Hepburn explained that he does not consider himself a professional singer: "Sri Chinmoy, distinguished guests, ladies and gentlemen, when your programme coordinator, some months ago talked to me about this programme and asked me to say a few words on this occasion, 1 hastily said, "I prefer to sing." Today that is why 1 am here, because he interpreted that literally. 1 thought I should be here to fulfil my promise." Ambassador Hepburn's first concert at the United Nations, which included "Let There Be Peace on Earth" as well as two spirituals, "Balm in Gilead" and "When I Feel the Spirit," was very warmly received as a unique effort towards greater understanding and world peace.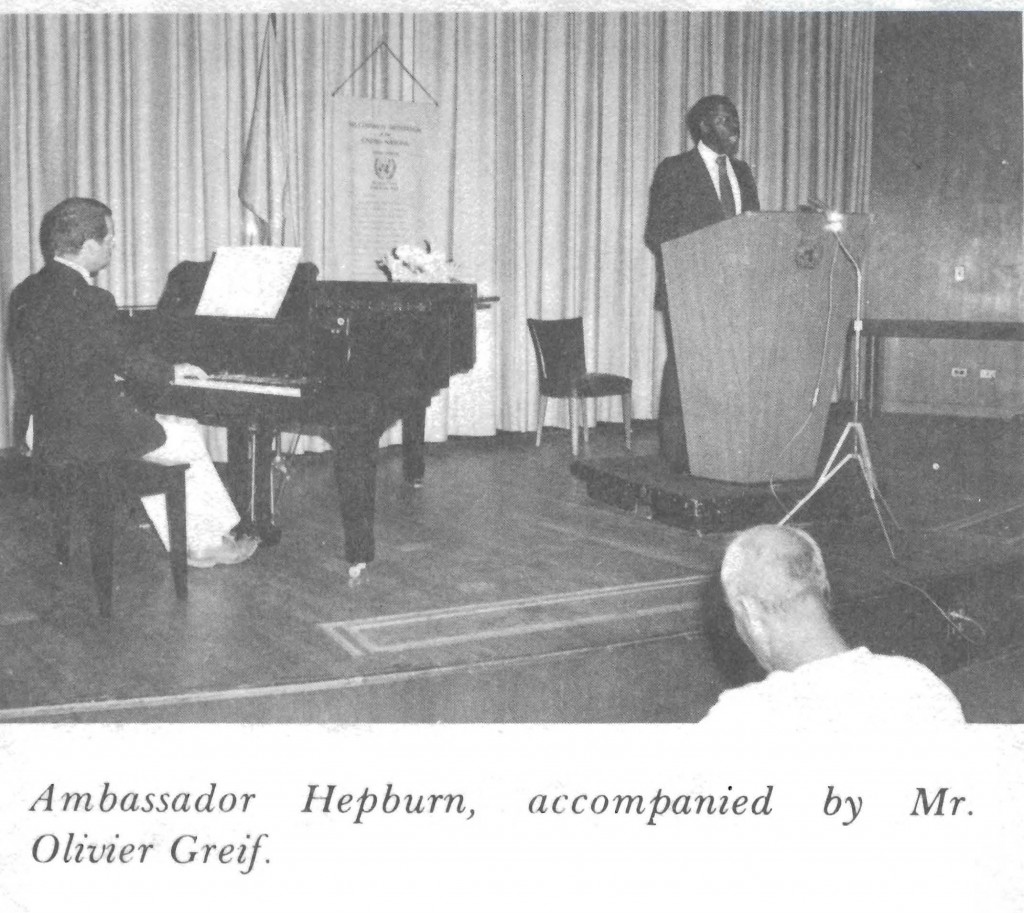 At the end of the programme on 05 Sep 1980 the meditation group choir performed a new song that Sri Chinmoy had dedicated to the Bahamas.
---
Singers sing the three songs by Sri Chinmoy in honour of Ambassador Hepburn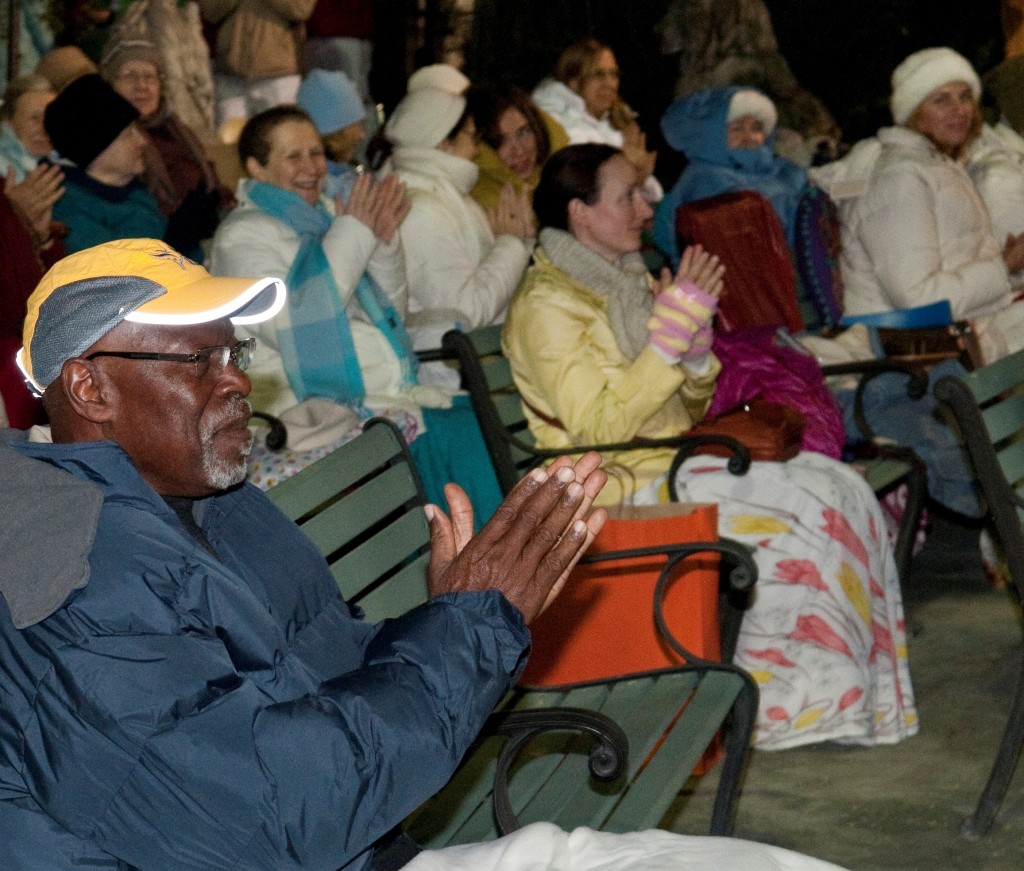 ---
Adhiratha: I want to point out that photograph over there (Ambassador Hepburn and Sri chinmoy in front of a painting).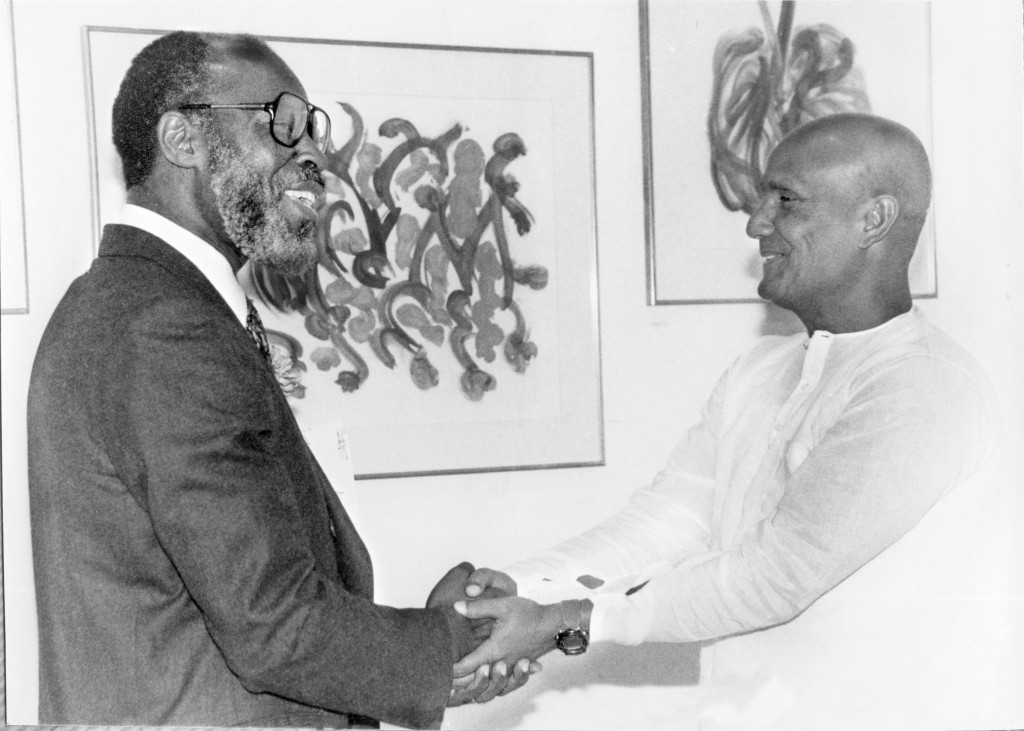 This photo was taken in 1985 in one of the Jharna-Kala galleries (in New York).  Also when we were in the Bahamas, Ambassador Hepburn gave such a beautiful introduction to the paintings – one of the most beautiful I have ever heard. It was the "World Harmony" series of paintings at the programe in the Bahamas Governor-General's Residence.
   youtube video of bahamas harmony run http://www.youtube.com/watch?v=6ArmUmXfu-E (minute 2:27 for Paintings)
---
 Excerpt from Dr. Hepburn's remarks on World Harmnoy Run Paintings in Bahamas:
"The World Harmony paintings in this collection were exhibited at the United Nations, which is really the place where they should be. In the UN and here, we are talking about peace, we are talking about harmony, and we are talking about bringing people together.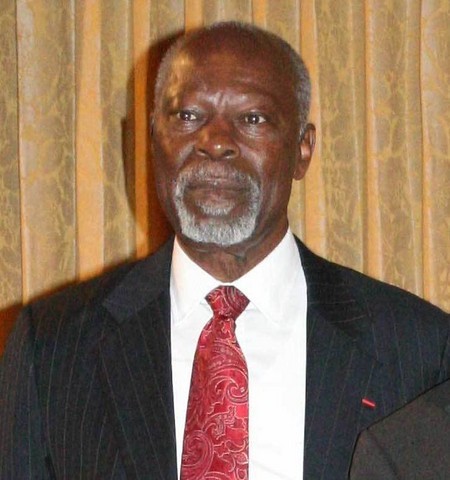 "The paintings in this exhibit represent harmony. I think you may initially see clashes (of color and form). But they are not really clashes. It represents bringing together different kinds of people, different forces, different views, different religions, different beliefs and this is what harmony is all about."
---
Ambassador Hepburn Responds: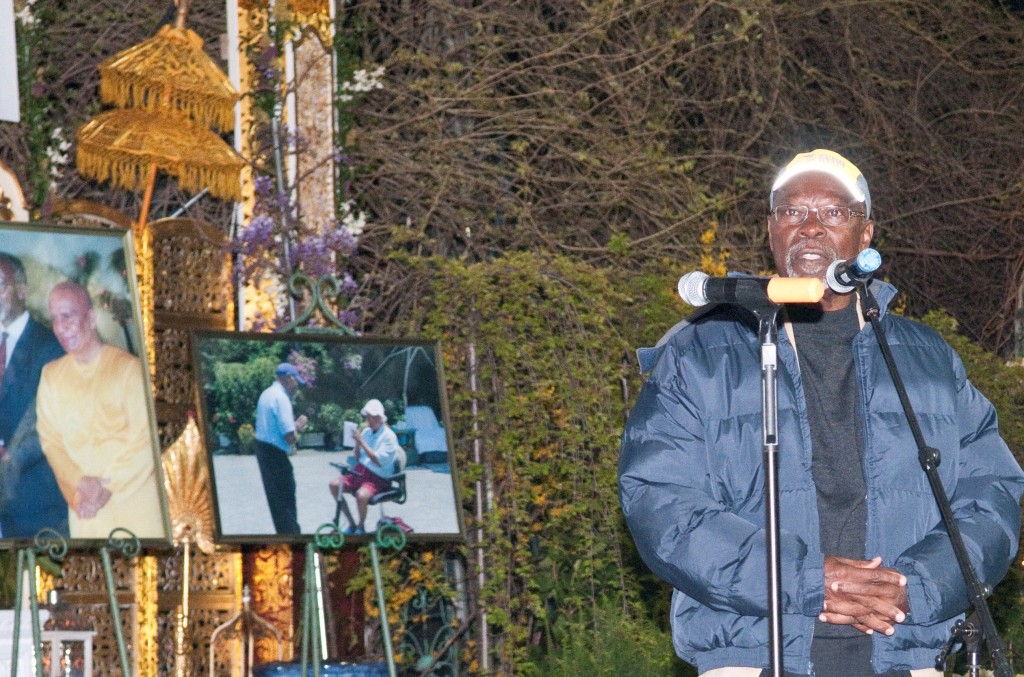 Thank you very much. Good evening, ladies and gentlemen, good evening, brothers and sisters, good evening, friends here of the Meditation Group at the United Nations.
I am lost, absolutely lost for words, but I am going to say a few things which I hope will let you know how much I appreciate this opportunity of being here.
This brings back so many fond memories of the times we used to spend at the Meditation Group. When I first went there, I said, "What am I doing here? I don't really think I belong here; I don't think I understand what is going on." But I could not stay away; I kept going back and going back and going back. One of the things that I think helped to solidify this was the fact that Voltaire said something that I translated into, "If the United Nations did not exist, we would have to invent it." It was there that we had a chance to deal with so many different peoples and different ideas and different views and different thoughts, and to try and bring it together in one solid piece.
I cannot tell you how interesting it was for me to listen to Sri Chinmoy. At the drop of a hat, to use an expression, he could write a song, or he could write poetry. And I remember fondly the songs that you just sang about the Bahamas – especially, "Forward, Onward, Upward Together," because that signifies what we were about at the United Nations. We wanted to work together; we wanted to have a truer understanding of what was happening. I have said over and over again in my statements to people that we should allow our differences to work for us, and not against us – and I think that is what we do in this world today.
We do not seem to understand how important peace is. We have just celebrated one of the greatest moments in history, in the Christian history: the resurrection of Jesus Christ. He said, "I come to bring peace."
Sometimes I think we use it so often that it becomes a buzzword, and we do not really know how important it is for us to talk about peace. Peace is indivisible. It is something that you cannot really put into words; you have to show it. It is something that comes from action.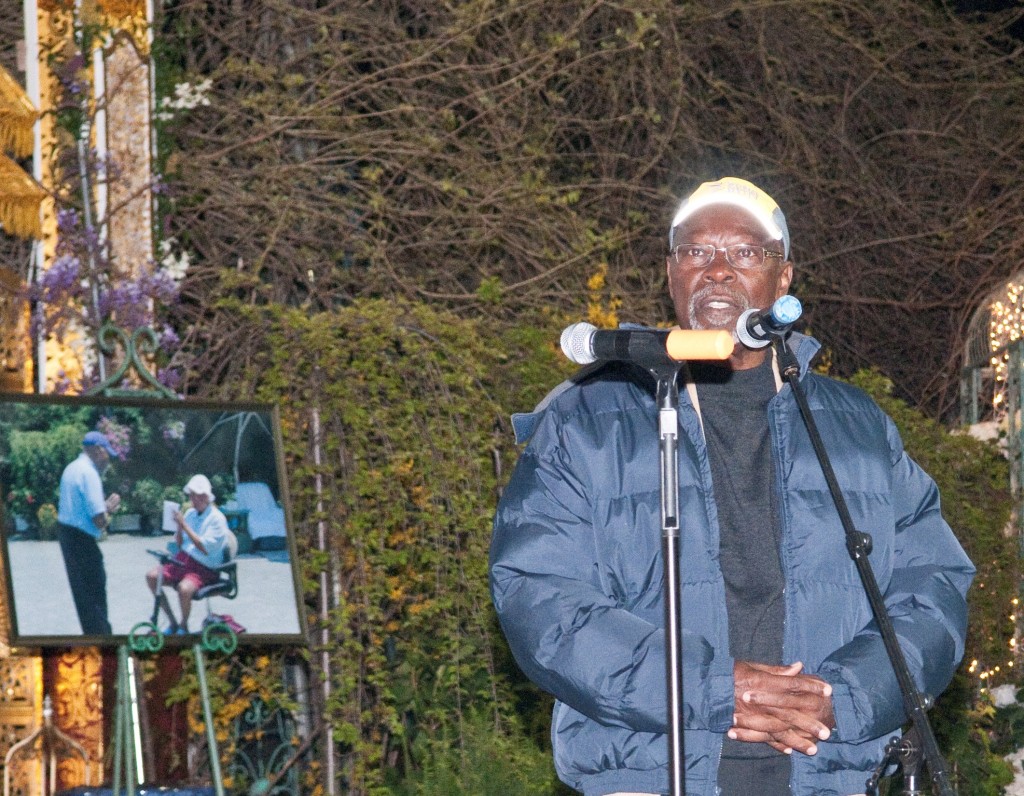 And I hope that we could one day just use one single day for a day of peace, as many countries did a few days ago when they doused the lights all over the world in order to preserve energy and the environment. I think this is something that we can do.
I often feel that were it not for this group, this Meditation Group, the idea of peace would be lost. You are to be commended for your dedication, for your commitment and for the wonderful things that you have done in order to spread the gospel of peace. And I know that even though you might not be able to see it, it is going to be something that will resound with the young people. You are setting a perfect example for them, so that they can continue.
I looked at that video (excerpt from the composit of Oneness-Home Peace and Harmony  Runs), and I was mesmerised. I could not imagine something like that ever happening. The persons who put it all together should be commended for getting the thoughts of these various countries, various peoples, various ideas, and putting them all together in one solid piece. It is something that I would have precious memories of for the rest of my life.
…in this cold weather..It is invigorating! …I tend to feel that it gives you life, it gives you energy. And when I listened to the singing, the music that was played here tonight, I felt that in my life this is going to be something that I will always remember.
Do you know how I got through all of this this evening? I just imagined that you were talking about somebody else, not me! [Laugher] I sat there and I listened, and I said, "What a wonderful thing to say!" I did not in any way associate myself with it. I feel that you have been too kind, too generous, too wonderful in the things that you have said about me. But I am glad that I was able to divorce myself from it so that I could not feel that you were talking about me in any particular way.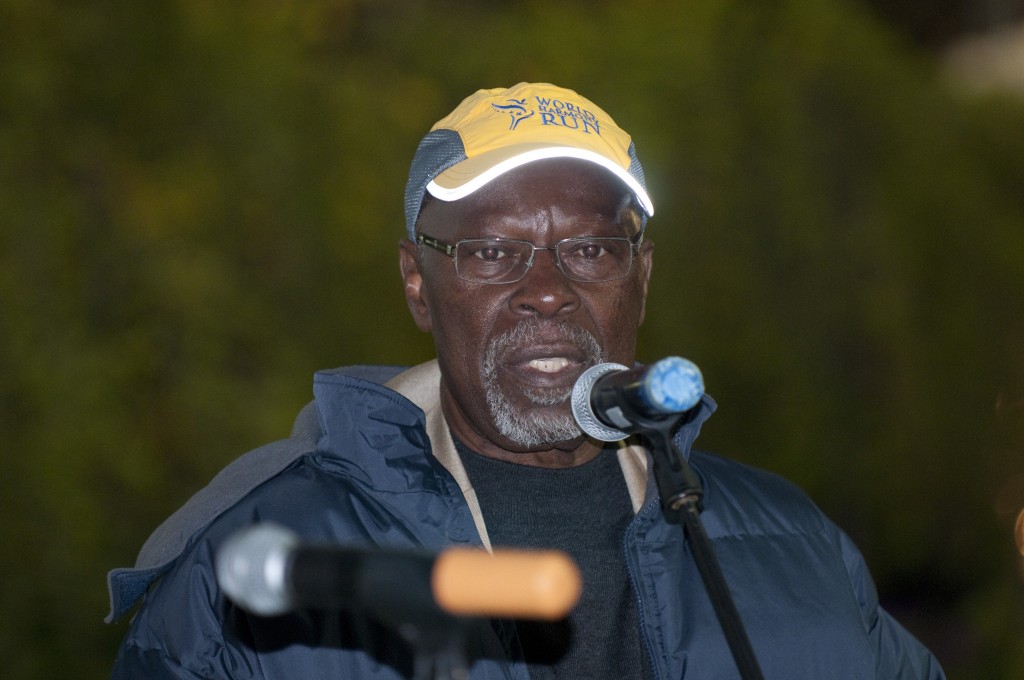 I look forward to opportunities of coming back. I have been in connection with you for a long time. Here is one of the simple, simple things that happened as far as what my friend Sri Chinmoy did:
We had a meeting in the Bahamas when they were trying so hard to get the Harmony Run going, and we were having some difficulties … I was sitting in the hotel, and Sri Chinmoy came in. He had brought a big chocolate cake for my birthday.
(see photo below)
I was really moved, even though I don't like chocolate! [Laughter] That was the first time that I had a slice of a chocolate cake and really enjoyed it.
Tonight is a very special one for me, and I want to thank all of you, but I must say, in all honesty,
I was deceived! I was deceived, because when I got the invitation, I thought it was to celebrate the twenty-fifth anniversary of the Harmony Run, and probably the anniversary of the Meditation Group. But tonight you have combined three elements, and you have put me in such a position that I will always feel very humble.
John Donne said something that was very, very important: "No man is an island entire of itself; every man is…a part of the main…. And therefore never send to know for whom the bell tolls; it tolls for thee." And so we have to remember that without you, I am nothing; without me, you are nothing. We can only do this all together.
I trust that, as we continue to reflect on the memories that Sri Chinmoy left behind, we would be able to do greater things, and never give up, never give up. Remember that that is the only way that you are going to be successful. Most of you will probably not do the Harmony Run in other countries of the world, but you have left the example for the young people, the thousands of young people that you saw on the screen this evening. Those are the ones who are going to be able to carry on your legacy.
I keep you always in my thoughts and in my prayers, and may God bless you, and thank you. [Applause]
*At this point, Ambassador Hepburn was invited to share his wonderful voice with a song as he had done many times at the UN over the years.
I thought I had finished doing what I was supposed to do, but music is something that I love, and I enjoy music. I don't feel capable of doing it in the best way, but I will sing something for you, and I trust that – [Applause]
Ambassador Hepburn sings "I Believe" [Applause and cheers]
Ambassador Hepburn: I just sang "I Believe." I know that Sri Chinmoy is somewhere, listening and looking at us, and I am very pleased to place a flower at his grave.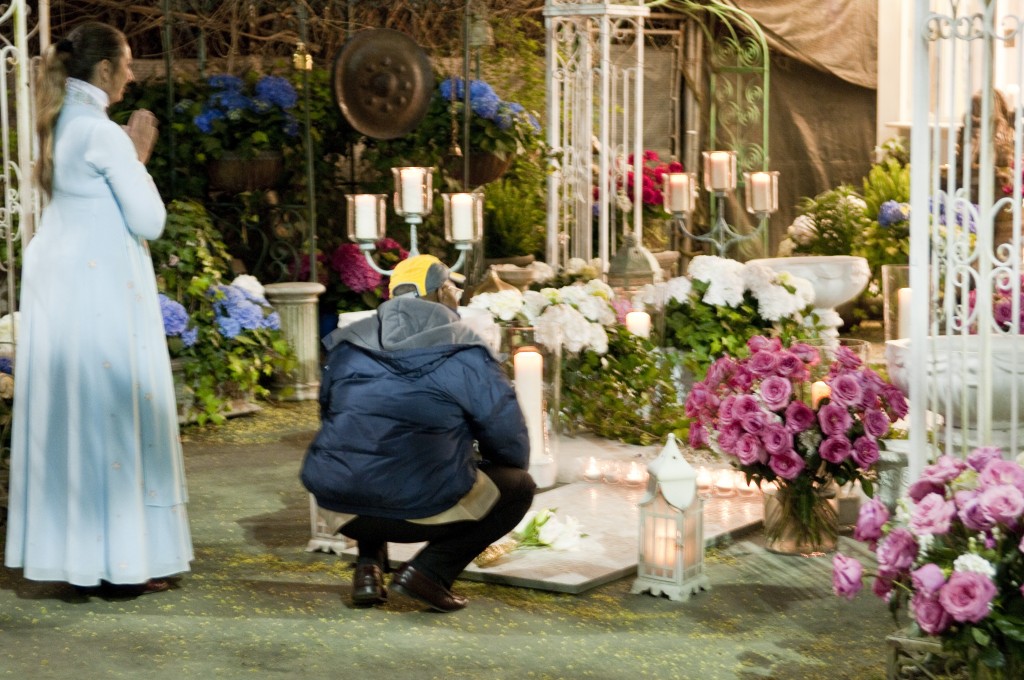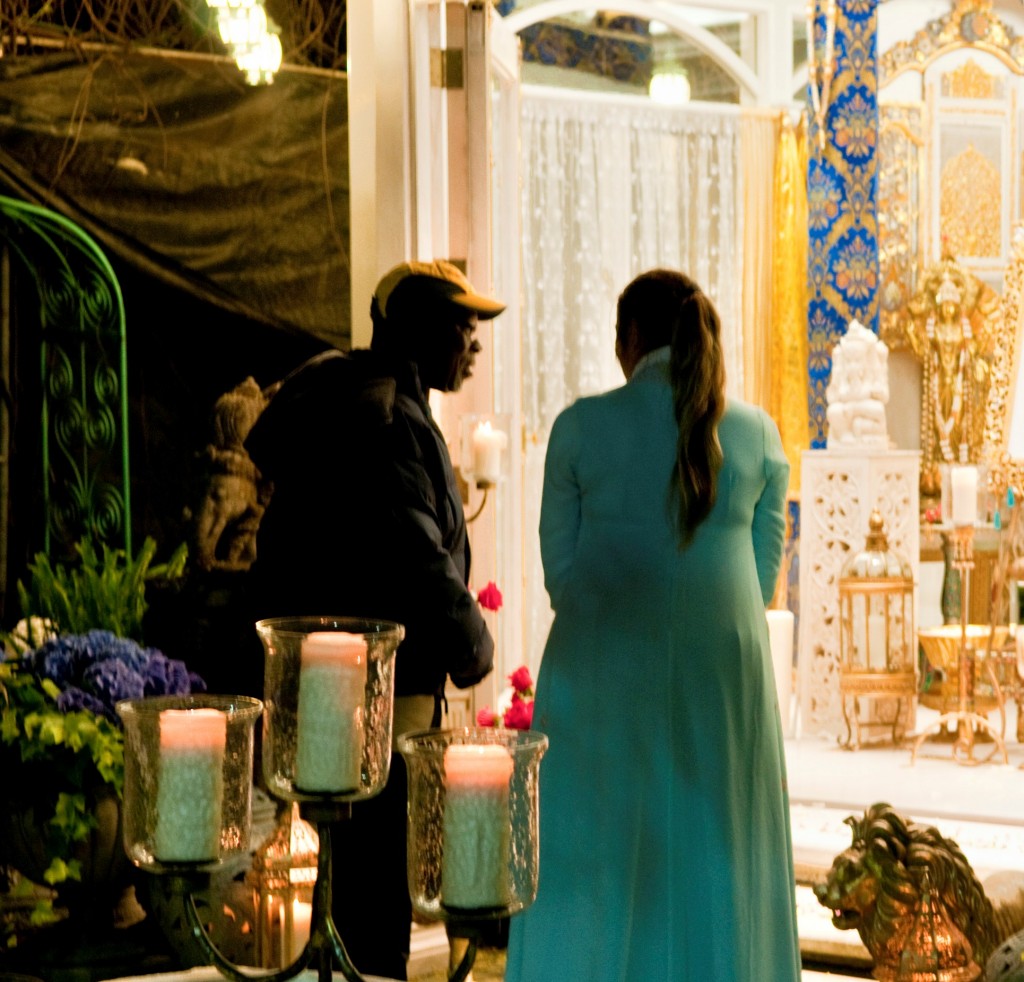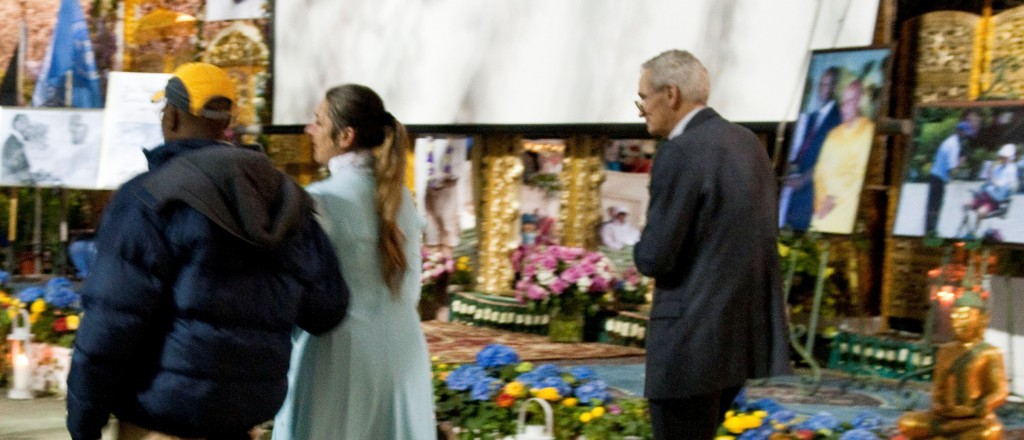 ---
Ranjana Ghose (Curator of Si Chinmoy's Jharna Kala art collection) :
We are reminded of the deep friendship that Ambassador had with Sri Chinmoy. Sri Chinmoy felt very close to Ambassador, and he really respected his opinions. He felt that Ambassador was doing things for the world, for the right reason.
Sri Chinmoy himself used his art and his music to try to illumine humanity and bring world harmony to the fore of the human consciousness, through small things like art exhibitions, books, beautiful aphorisms, singing together, running together, as the Ambassador had pointed out to us – ways in which we can unite humanity. One of those ways that we are so fond of, which was mentioned a little earlier, was the art exhibitions of Sri Chinmoy, the Jharna-Kala art exhibitions.
Friend of Paintings of World Harmony. 
For that reason, I beg Ambassador to receive this award from us, this token of friendship. …a painting etched in glass, Sri Chinmoy titled "Unity."
It is translated into several languages, as the whole series of World Harmony paintings were. It uses Sri Chinmoy's soul-bird, which was his own personal signature in life, I think.
I feel that Ambassador truly understands, through his own work for UNESCO and his personal brotherhood with Sri Chinmoy, the message that these paintings symbolise for us and for others around the world.
We feel greatly honoured that you are here with us tonight to receive this as a friend of Paintings of World Harmony. [Applause]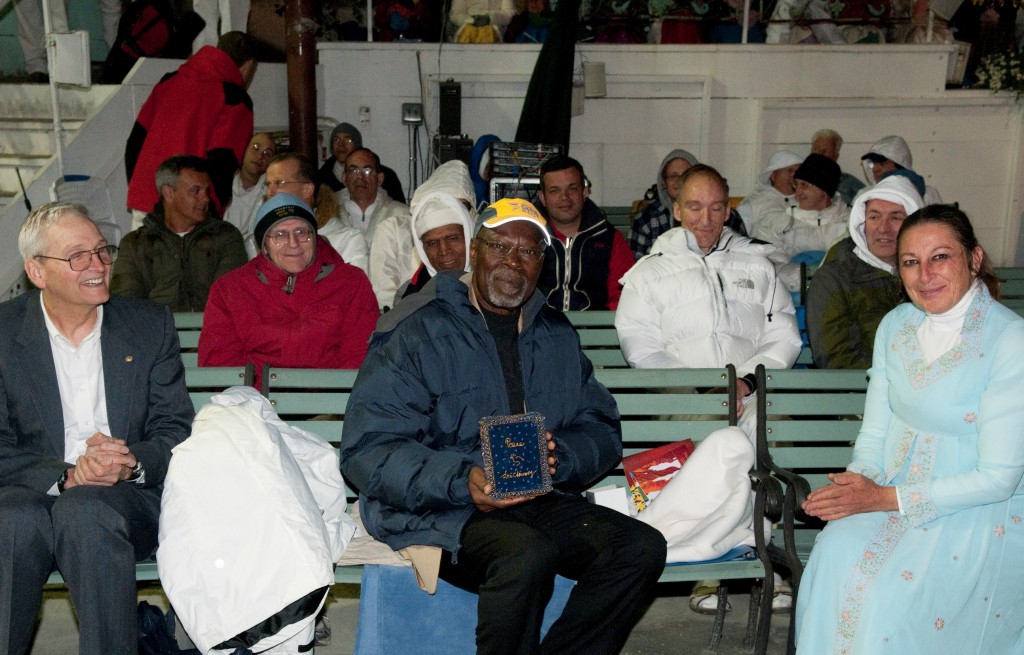 Ambassador Hepburn: Thank you very much. I will always cherish this.
Ranjana: The case that goes with the award was actually embroidered in Myanmar, on our trip this year.
It says "Peace" in Sri Chinmoy's handwriting, and Sri Chinmoy's peace-bird is embroidered on it. We had them duplicate Sri Chinmoy's signature, as on the painting.  We felt it was a beautiful casing for this particular award.
---
A number of other groups performed: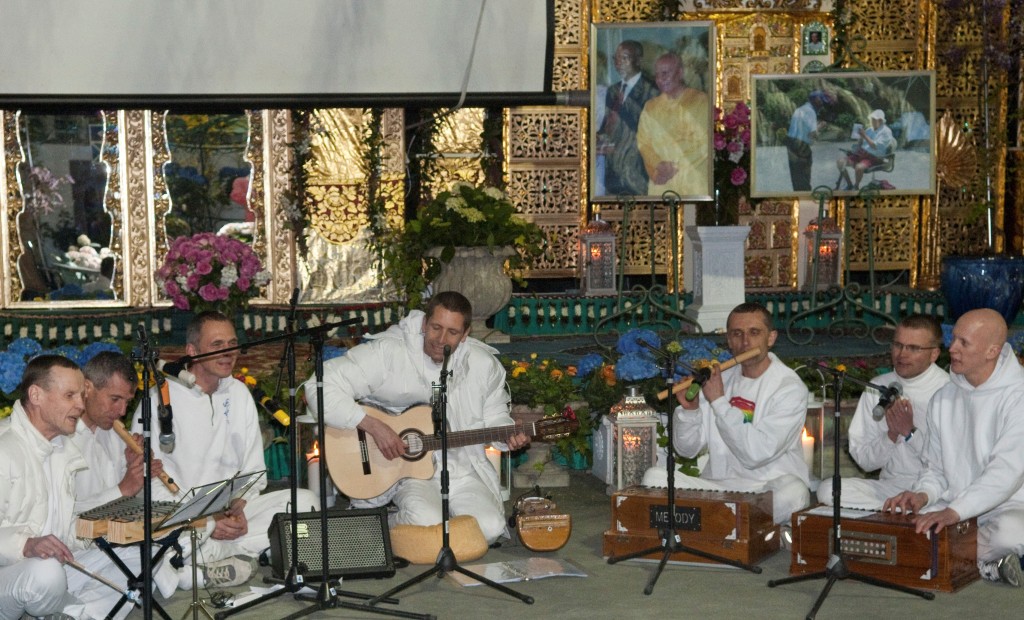 Some of the Singers from Great Britian who performed are also managers of the family owned shops called "Run and Become" in London, Edinburgh and Cardiff which have participated in and tremendously supported the Peace and Harmony Runs for decades.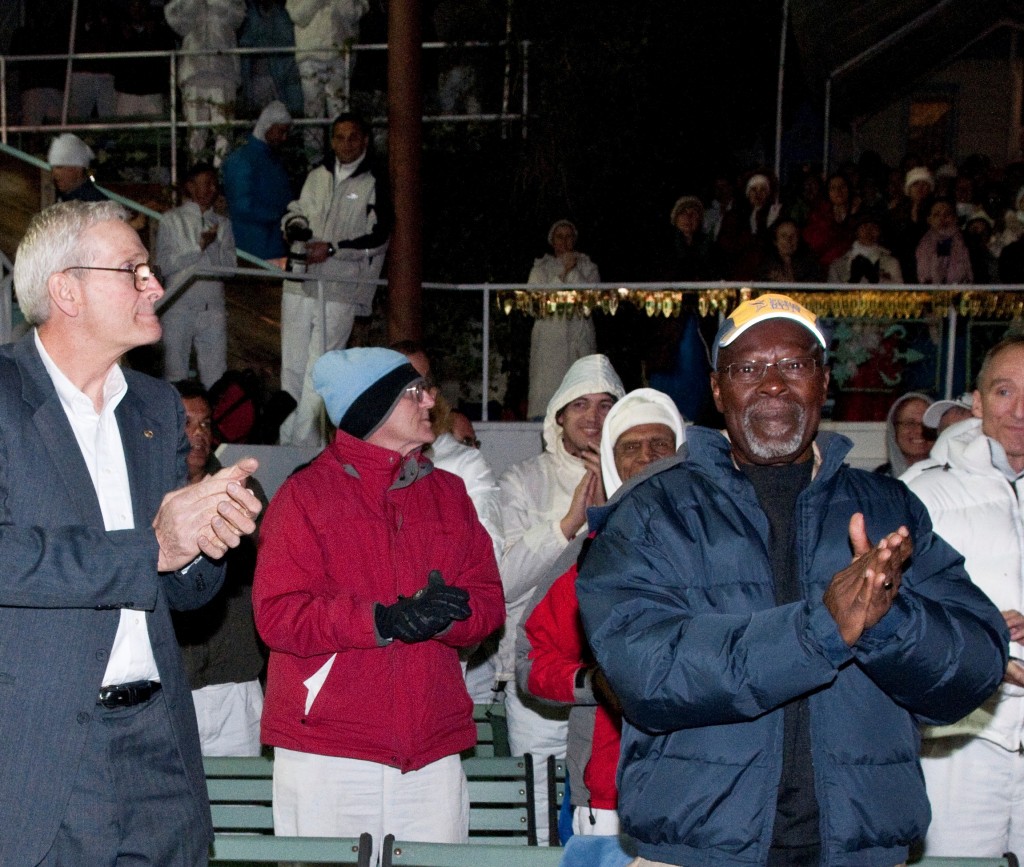 ---
and then visited the Pilgrim Museem (sp)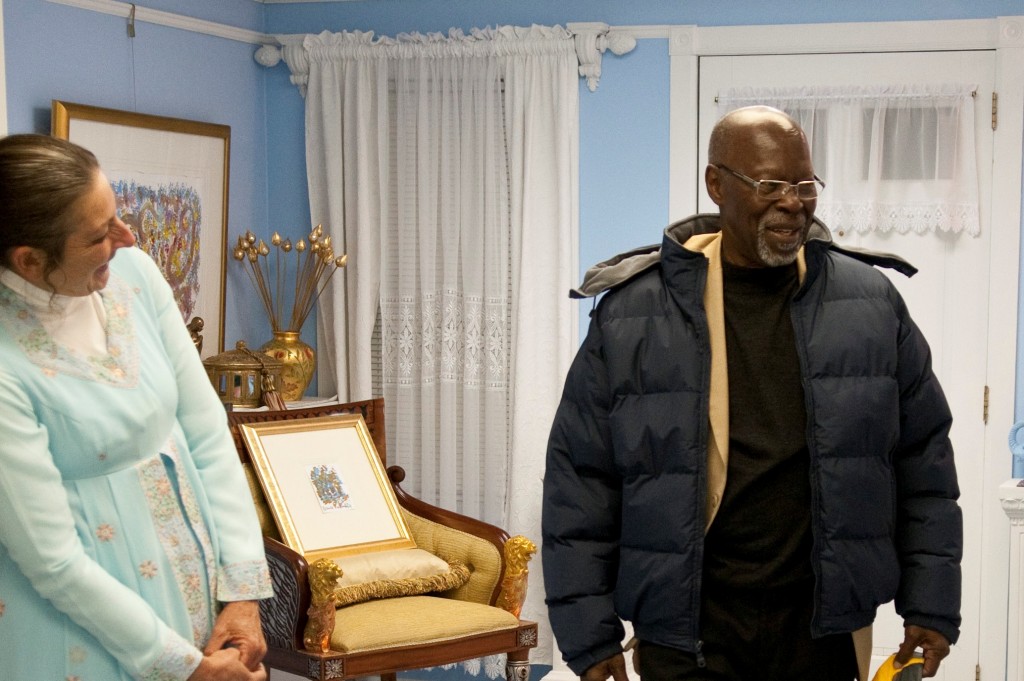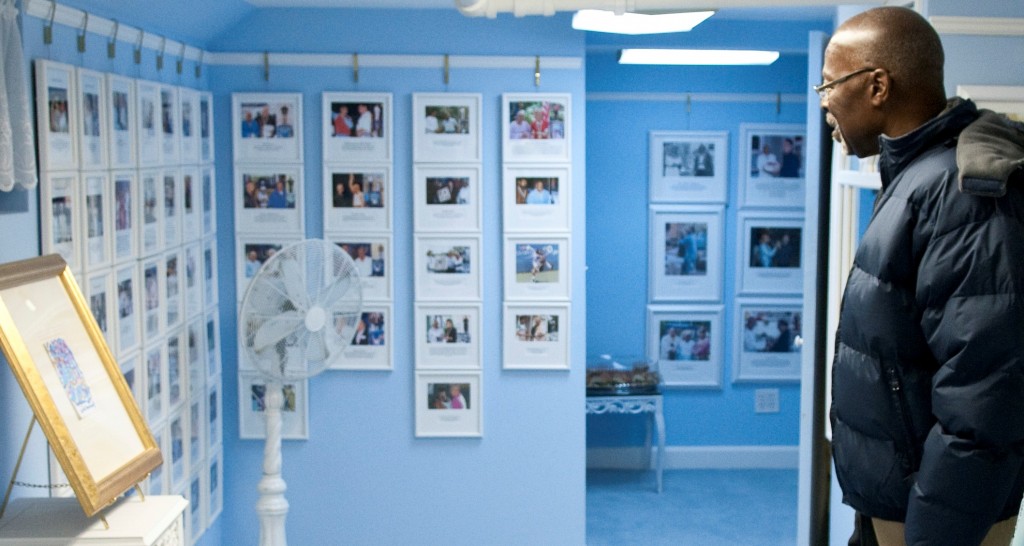 See also: The World Harmnoy Run Globall Launch Ceremony across from the United Nations in New York at Dag Hammarskjold Plaza. on 12 April 2012.