Posted on iseek un- ny: Tuesday, 22 November 2011, New York | Author: UNIC United Nations Information Center, Yangon Myanmar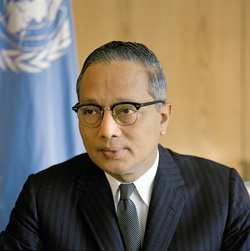 To celebrate the 50th year anniversary of U Thant's appointment as the third Secretary-General of the United Nations, UNIC Yangon organized a special event to pay tribute to this man of great inspiration.
The event, held on 3 November 2011, drew together many high-level officials in
recognition of the universal and timeless
values U Thant demonstrated throughout his life. Representatives from the United Nations, the Government of Myanmar, and civil society attended the event.
Mr. Vijay Nambiar, the Secretary-General's Special Adviser on Myanmar and Chef de Cabinet, and Mr. Thant-Myint-U, grandson of the late Secretary-General, delivered remarks.
In his address, Mr. Nambiar spoke about the recent changes in Myanmar and said the United Nations wants Myanmar to succeed. He stressed, "But it has to be a success that is inclusive and includes all elements in the country."
He spoke about the important contribution U Thant had made to the United Nations, and to the international community. He said, "In the age of great power and confrontations, Secretary-General U Thant displayed quiet resolve and determination in addressing the challenges of his times. His impartial approach and spirit of compromise were instrumental in diffusing tensions and promoting peace."

Thant Myint-U recounted several highlights of his grandfather's tenure. He underscored the importance of the institution of the Office of the Secretary-General and said, "Every now and then, as during the Cuban Missile Crisis,
the world realizes that it is essential to have someone called the United Nations Secretary-General who serves as an impartial and universally respected actor on the world stage. It is an institution worth protecting and strengthening, both today, and in the future."
An exhibition of historic photographs taken during U Thant's tenure as Secretary-
General, and from an official visit to Myanmar (Burma) was also a highlight of the
evening.