Peace Concert by Sri Chinmoy dedicated to the memory of Mother Teresa, hosted by H.E. Ambassador Anwarul Karim Chowdhury, Permanent Representative of Bangladesh to the UN – 23 September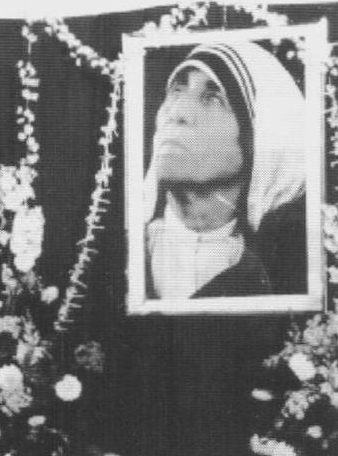 Peace Concert dedicated to Mother Teresa at the United Nations 1
Ms. Vijaya Catherine Claxton, Master of Ceremonies:
Welcome to this tribute to Mother Teresa. We thank H.E. Ambassador Anwarul Karim Chowdhury, Permanent Representative of Bangladesh to the United Nations, for giving us this opportunity to share our appreciation of this humble and powerful woman. Ambassador Chowdhury, who is Ambassador of Bangladesh, Sri Chinmoy, who was born in Bangladesh, and Mother Teresa, who spoke fluent Bengali and who started her Missionaries of Charity in that part of the world, are bound together in a common
love of humanity and peace.
Ambassador Chowdhury has long been an advocate for a better world through his
service as Director of UNICEF's Executive Board and his participation in a wide
range of multilateral conferences. He now serves his country as Ambassador and
Chairman of the very important Fifth Committee of the General Assembly. We
invite Ambassador Chowdhury to share with us his thoughts to begin the
programme.
H.E. Ambassador Anwarul Karim Chowdhury, Permanent Representative of Bangladesh to the United Nations:
Good afternoon, distinguished ladies and gentlemen, and my respects
to Sri Chinmoy. I met Mother Teresa only once, and that, too, very briefly. So I feel
very inadequate to say anything about her. But it has been very rewarding for me, in
my moments of difficulties, to be uplifted by her spirits, by her idealism, by her
support for the downtrodden. Through her service to humanity, to the vulnerable,
Mother Teresa has shown what commitment and dedication can accomplish. When
we think of her, we think of purity and selflessness. Concern for the have-nots: that
is Mother Teresa. Saintliness: that is Mother Teresa.
She is a reminder to us that goodness is still acclaimed in this world and that we are
not yet totally given to stark materialism. Mother Teresa is a constant reminder to
each of us to make our best effort every day to become a better human being.
I thank you all for joining us for this remarkable Peace Concert by Sri Chinmoy, who in his life has tried to emulate Mother Teresa.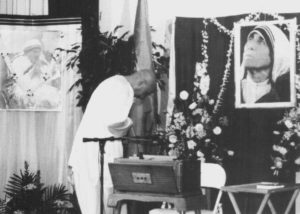 [Sri Chinmoy bows to the different photos of Mother Teresa that adorn the stage.
When he sees the picture of the Spiritual Summit Conference, sponsored by the Temple of Understanding, held at United Nations headquarters on 24 October 1975, he comments:]
Here is Mother Teresa [pointing to her picture]. In 1975 she came and blessed this
auditorium. She was seated right here [indicating a place on the stage]. I was extremely fortunate to have the opportunity to prayerfully offer her a rose. There were about 20 religious leaders, and after a brief meditation, I offered each of them a rose.
Mother Teresa's successor, Sister Nirmala, offered a most prayerful, soulful and
fruitful prayer-message [at Mother Teresa's funeral]: "God loved the world so much that He sent to us Jesus Christ, and Jesus Christ loved us so much that He sent to us
Mother Teresa." This is a momentous utterance that I have prayerfully set to music.
[Sri Chinmoy sings, accompanying himself on the harmonium.]
[Sri Chinmoy then reads some excerpts from his second book about Mother Teresa.]
Sri Chinmoy: I spoke to her on the phone from New York nine days before she left
the world, on my birthday, the 27th of August. (He reads the conversation, in which she offered him her birthday blessings.)
[The Peace Meditation choir sings three songs by Sri Chinmoy dedicated to Mother Teresa, including one song written to her words. Members of the choir then recite aphorisms about Mother Teresa from Sri Chinmoy's book.]
[Members of the audience are invited to offer their personal tributes or reflections on Mother Teresa.]
Ms. Soraya Emami: I have been doing charity work since I was 15 years old. I always
wanted to go and work closely with Mother Teresa, but because I was born a
Muslim I was afraid that would create a problem.
Last year I received a call from Mother Teresa at seven o'clock in the morning,
California time, and she told me, "My child, you are more than welcome to come
and work with me." When I went to Calcutta and spent three months working with
her and with the beautiful Sisters, I experienced the joy of fulfilment and working
wholeheartedly, which I had never experienced before.
The first thing I told her was, "Mother, I want to make sure I am accepted
completely."
And she told me, "Anybody who wants to work with me, if you believe in God and
have faith, that is all I need from you. I would rather that a good Muslim or a good
Jew work with me than a Christian with no faith."
I never felt more welcome in all my years in this kind of work as during the time I
worked with Mother. I will never forget the five o'clock in the morning early
meditation and prayer with her all those times. I carry with me the medallion she
put over my head and the blessings she offered me the day I was leaving Calcutta
last November. That is going to be the most valuable thing I leave for my children.
Thank you, Mother, for making me the person I am today. Thank you.
[Sri Chinmoy offers a gift of prasad, with Mother Teresa's picture, to all present.]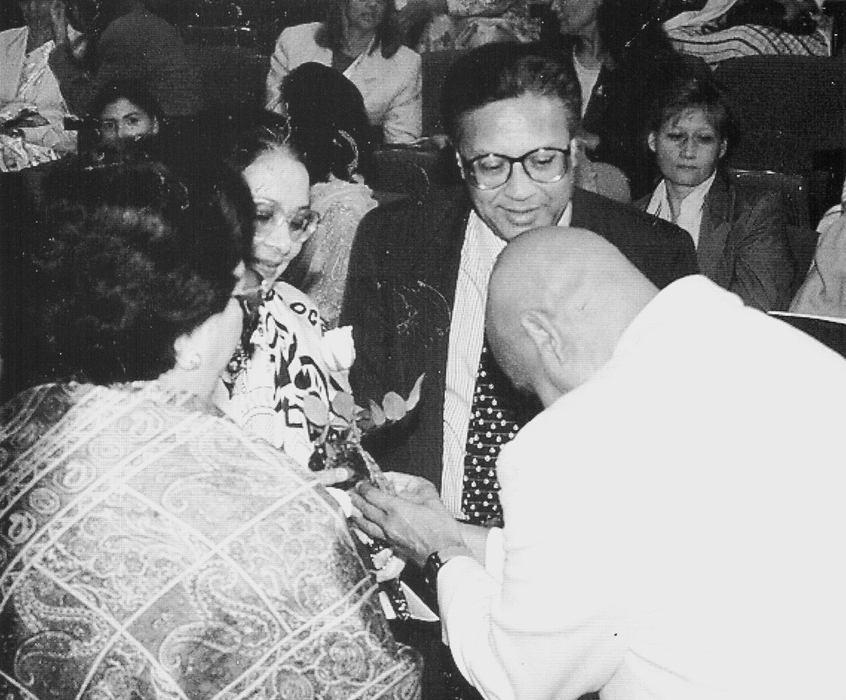 Ambassador Chowdhury and his wife, Mariam, introduce Sri Chinmoy to Mrs. Khaleda Shehabudin, wife of His Excellency Mr. K.M. Shehabudin, Ambassador of Bangladesh to the United States.
MT 85. On 23 September 1997 a Peace Concert dedicated to Mother Teresa was offered in the Dag Hammarskjold Auditorium of United Nations headquarters in New York. The event was hosted by H.E. Ambassador Anwarul Karim Chowdhury, Permanent Representative of Bangladesh to the United Nations. This is a transcript of the programme.↩
1. the text and photos also appear in Sri Chinmoy, Mother Teresa: Humanity's Flower-Heart, Divinity's Fragrance-Soul, part 3, Agni Press, 1997