Introduction and Presentation of Award by Sri Chinmoy:
Quote of Ananda Guruge
Award Background and some Previous recipients
---
Sri Chinmoy offers the U Thant Peace Award to Ambassador Ananda Guruge, former Senior Special Adviser to the Director-General of UNESCO and Ambassador of Sri Lanka to France, UNESCO and the United States, on 3 January 1997, as his wife, Darshanika, looks on.
Introduction and Presentation:
Brother of my Soul, friend of my heart, mentor of my life, it is at once a great honour and a great joy for us to offer you today our U Thant Peace Award.
Dear Brother, I shall forever cherish the deepest love, the loftiest admiration and the purest gratitude for our peerless United Nations Secretary-General U Thant. Like you, he was an exemplary son of the lord Buddha. Even at the pinnacle-height of world responsibility, U Thant faithfully welcomed the morning light with a heart of contemplation-serenity. With his blessingful encouragement, our Peace Meditation at the United Nations invited the peace-loving world-servers to pray together at humanity's oneness-shrine.
Dr. Guruge, your sterling inner life has always guided and moulded ~ your extraordinary outer life. In every sphere of endeavour, excellence has been your trademark. In scholarship you were ever unparalleled; in service, unequaled. We treasure your expansiveness of mind and heart. Raised as a devout Buddhist, you became a champion of inter-religious dialogue. Privileged with superior intelligence and advanced specialized studies at an early age, you laboured sleeplessly for free education for all. Dedicated to civil and government service in your beloved Sri Lanka, you embraced the unlimited global horizon when you entered UNESCO, which gave you the matchless opportunity to offer your myriad talents to the world at large. Finally, as Ambassador, you came to represent the highest universal aspirations of humanity. In the delightful words of UNESCO's Assistant Director-General for Education upon your appointment as Sri Lanka's Ambassador to the organization, "His excellence is not a question: but from tomorrow he must be called 'His Excellency'!" As Ambassador you served your beloved friend, our revered President Premadasa.
Dear Brother, you could have consecrated yourself as a monk, treading in the hallowed footsteps of the Lord Buddha. But instead, you chose the modern dharma, the way of life-acceptance and life-transformation. As you wisely reflected upon your monastic training, "The more time I spent with the Monk, the more I, realized I could do more for the religion as a layman, from outside." Thus, a superlative researcher, a prolific writer, a prodigious and indefatigable worker, a gifted teacher, a natural and a all-embracing brother of humanity you became. Like U Thant, you practised Buddhism in your every waking moment; no preaching could ever be as compelling.
Dear Brother Ananda, it is most appropriate that we offer our U Thant Peace Award to you here in Japan, where the Lord Buddha is enshrined in countless temples, both larger than the largest and smaller than the smallest. In the Great Buddha of Kamakura, I unmistakably feel the living, breathing and radiating presence of the Lord Buddha's towering realisation. Today, on this most auspicious occasion, I am praying to the Lord Buddha to shower his choicest blessings upon your luminosity-soul, your universality-heart and your capacity-life, dear Brother-Friend Ananda Guruge.
---
Quote of Ananda Guruge
Whatever our colour be,
Whatever our faith be,
Whatever our religion be,
Whatever our economic condition be,
Whatever differences we want to give ourselves,
We are one.
---
Award Background and some Previous recipients:
THE U THANT PEACE AWARD
IS A SYMBOLIC PRESENTATION
BY SRI CHINMOY: THE PEACE MEDITATION AT THE UNITED NATIONS
TO ACKNOWLEDGE, APPRECIATE AND ADMIRE
DISTINGUISHED ACCOMPLISHMENTS
TOWARD THE ATTAINMENT OF WORLD PEACE.
THE AWARD WAS NAMED FOR THE LATE SECRETARY-GENERAL
OF THE UNITED NATIONS
IN HONOUR OF THIS CONTEMPLATIVE WORLD LEADER'S
EXEMPLARY DEVOTION TO PEACE
IN BOTH -HIS PERSONAL AND HIS POLITICAL LIFE.
THE RECIPIENTS ARE INDIVIDUALS OR ORGANIZATIONS
REFLECTING U THANT'S LOFTY SPIRITUAL IDEALS.
THE U TRANT PEACE AWARD
IS OFFERED PERIODICALLY BY THE MEMBERS
OF SRI CHINMOY: THE PEACE MEDITATION AT THE UNITED NATIONS,
WHO WORK FOR THE INTERNATIONAL COMMUNITY
IN VARIOUS CAPACITIES
AND HAVE MADE AN ADDITIONAL PERSONAL COMMITMENT
TO THE HIGHEST GOALS OF THE UNITED NATIONS.
PREVIOUS RECIPIENTS OF THE AWARD INCLUDE
THE LATE UN AMBASSADOR ZENON ROSSIDES OF CYPRUS,
FOR HIS LIFE-LONG EFFORTS
FOR NATIONAL SECURITY AND DISARMAMENT;
THE UNITED NATIONS DEVELOPMENT PROGRAMME,
FOR ITS COMMITMENT TO INTEGRAL DEVELOPMENT IN ALL NATIONS;
JAMES GRANT, THE LATE EXECUTIVE DIRECTOR OF UNICEF;
MOTHER TERESA; AND
PRESIDENT MIKHAIL GORBACHEV
---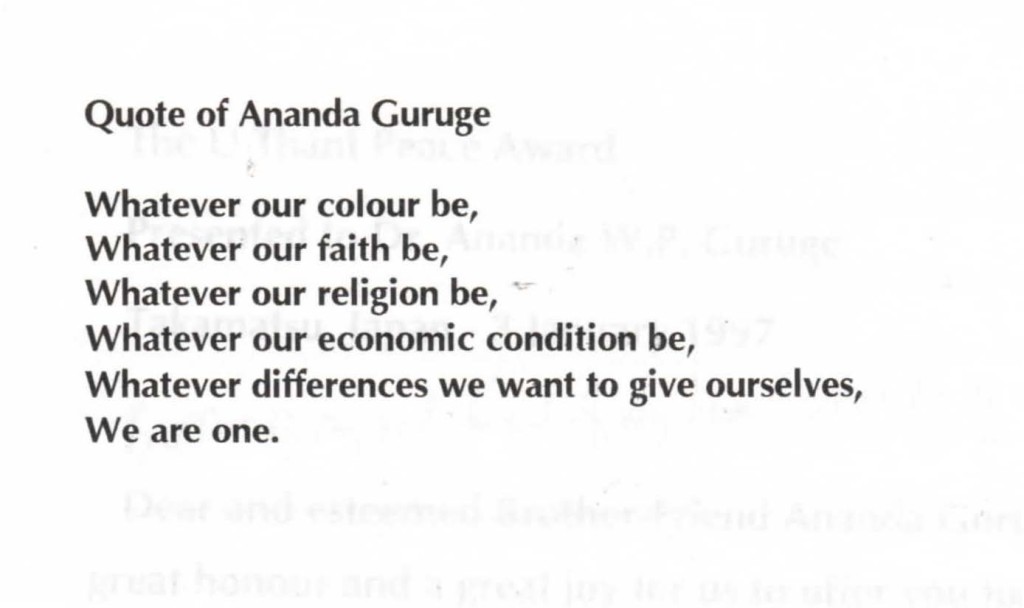 More Text and Photos to be added as available
Download PDF:
Additional Text and Photos of event to be added as available.
Gallery:
---
Click on image below for larger or different resolution Photo – image: