A sample of the type of correspondence shared on many occasions
between Dr. Illueca of Panama and Sri Chinmoy
with the Peace Meditation Group at the United Nations.
---
17 September 1996
H.E. Jorge Illueca
Pennallcnl Representative of Panama to the Unit :d Nations
866 UN. Plazu
New York, NY 10017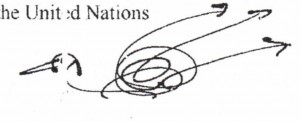 Most esteemed Brother-friend,
                From the bottom of my heart I am 'wishing you a most happy birthday
today. This auspicious  occasion is a cause for rejoicing not only in your
beloved Panama but throughout the length and breadth of the God-loving
world for your unparallelled self-sacrifice-life belongs to the entire aspiring
humanity .
                Dearest Friend, for so man years we have known one another and
loved one another. You and I are two pilgrim-souls walking side by side along
Eternity's Road and at the end of our journey's close we shall stand side by
side – – like two brothers at the Feet of our Lord Beloved Supreme.
I am praying to our Beloved Absolute to shower His choicest Blessings
upon your beautiful devotion-heart and your sleepless dedication-life today
and always.
Yours in the Supreme
(signed)
Sri Chinmoy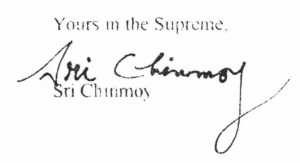 ---
Download PDF:
Click on image below for larger or different resolution photo – Image: