Some members of the Meditation Group at the UN joined with students and friends of Sri Chinmoy for Peace related events in the Philippines during their visits to a number of cities there in January of 1993.
Below is a report of events in the publication Ananahata Nada "the soundless sound" published by the Sri Chinmoy Center in NY.
---
Sri Chinmoy embarked on an extensive peace mission to the Philippines in January, touching the hearts of the Filipino people and receiving several honours from local and government officials.
During his 30-day visit to the country, the spiritual teacher offered peace concerts in four cities … launched peace runs through two provinces … and composed several songs dedicated to the nation and its people.
He also conferred with national. provincial and local leaders and opened an exhibit of his paintings for peace (described in separate stories).
The Philippines, in turn, showered him with honours, awarding him an honorary degree and dedicating two of its provinces, three of its airports. a major art museum and the nation 's tallest mountain, Mt. Apo, as Sri Chinmoy Peace-Blossoms.
Peace concerts:
Sri Chinmoy offered two peace concerts in Manila – one on Jan. 2 at the Manila Cathedral and one on Jan. 26 at the Philippines Cultural Center.
Others were held at St. Theresa's College, Cebu City, on Jan. 6; at Almendras Gymnasium. Davao City Recreational Center, Davao. on Jan. 15; and at Luce Auditorium, Silliman University, Dumaguete, on Jan. 21.
The Peace Runs were held in Cebu Province on Jan. 8-9 and in Negros Oriental on Jan. 20.
In connection with these events, the Governors of both Provinces named their regions Sri Chinmoy Peace-Blossoms – Cebu Gov. Vicente L. de la Serna, on Jan. 6; and Negros Oriental Gov. Emilio C. Marcias Il, on Jan. 24. Mt. Apo became a Sri Chinmoy Peace Mountain on Jan. 15 in a ceremony presided over by Mayor Duterte of Davao. The dedications at the Mactan-Cebu international airport, Davao international airport and Dumaguete airport took place, respectively, on Jan. 7, 13 and 24.
---
---
On arrival in CEBU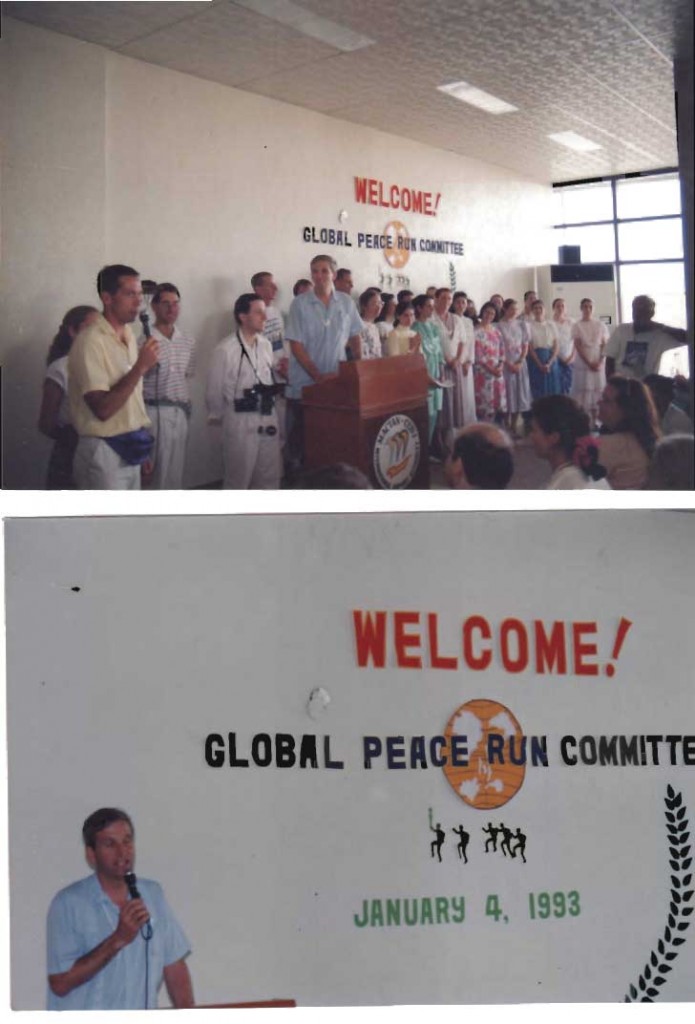 other photos and reports to be added.
Some Meditation Group members were als0 present for some similar themed  events during December of 1992 in Thailand and Vietnam. (links to be added)
---
click on image below for larger photos: