Main post is: U Thant Peace Award, 28 September 1991 – Overview
This contains further Details:
Songs in Recipients and Malta Honor and from Professor de Marco's words
After the presentation, singers sang a song composed by Sri Chinmoy in Professor de Marco's honour, as well as songs composed by Sri Chinmoy to Professor de Marco's own words. (more)

GUIDO DE MARCO: PEACE-HOME-RESIDENT
Guido de Marco, General Assembly President,
A permanent Peace-Home-resident.
Super-powers-nest: Malta, your fondness-clime.
No war, no, no, one world in fulness time.
Guido's unique mind-height, Guido's heart-depth
Carry human rights to fulfilment-length.
-Sri Chinmoy
GUIDO DE MARCO: PEACE-HOME-RESIDENT
Words and Music by Sri Chinmoy – Dec. 7, 1990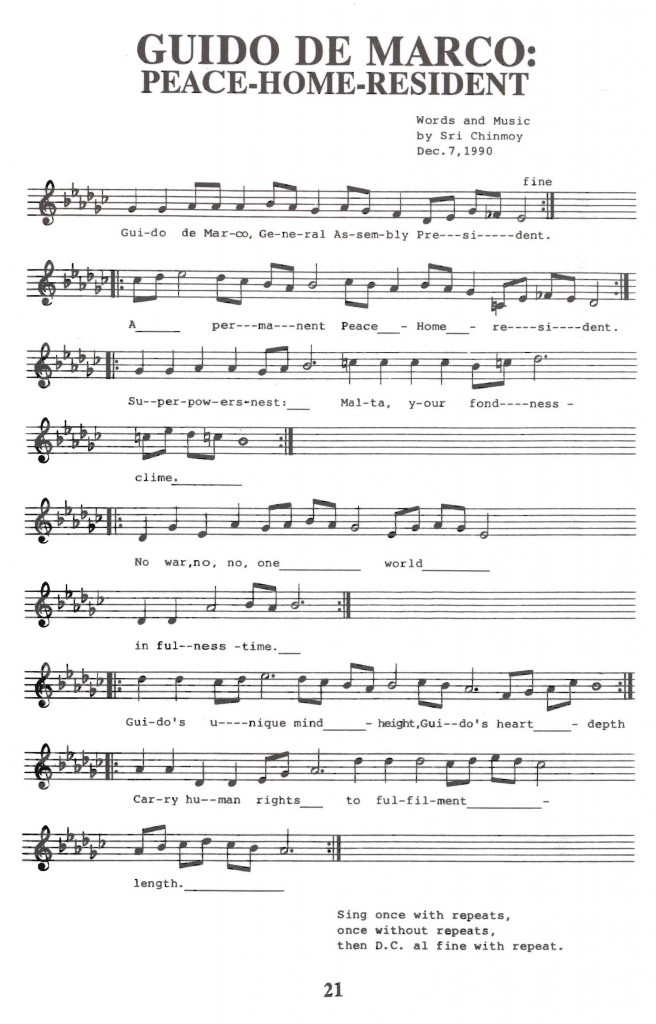 The following quotations of Professor Guido de Marco have been set to music by Sri Chinmoy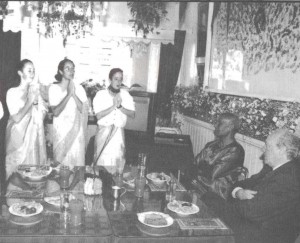 Dedication of Song to Country of Malta
Sri Chinmoy: You have just heard our best singers sing.
Now our youngest singers will sing a song which I have just written about your country.
I am dedicating the song to you, the beloved son of Malta.
Young singers sing Sri Chinmoy's song on Malta.
MALTA
Malta, O super-powers' fondness-nest.
You bring to the fore every nation's very best.
In you the world-faiths have found their oneness-choice.
In a smallness-body, earth-illumination-voice.
-Sri Chinmoy
* * * * * * * * * * * * * * * * * * * * *
---
Gallery:
---
For Complete award ceremony see also:
U Thant Peace Award 1991 (a) Sept 28 – Overview
and more details:
U Thant Peace Award 1991 (b) Professor de Marco's life and contributions
U Thant Peace Award 1991 (c) Professor de Marco previous statements
U Thant Peace Award 1991 (d) Background – Previous Recipients
U Thant Peace Award 1991 (e) Songs: Mr. de Marco, Malta and Recipients quotations
U Thant Peace Award 1991 (f) Response Mr. de Marco – Recipient
U Thant Peace Award 1991 (g) Informal Remarks
U Thant Peace Award 1991 (h) Media Coverage: Malta & USA