Attached is a Draft doc which highlights support or participation of various country missions between 1978 and 1989 .
would need to be confirmed and bought up to date. but may give indication of some dates background information to be checked and / or details to be added to site.
Download a PDF.
1989-12-dec-31-draft-list-country-and-peace-med-1978-1989-ocr
See the ten questions we answered for each country
notice the legend a bottom of a sample page.
makes it clearer what the codes are on each page that ws filled ouy.
FC: Final Ceremony
OC: Opening Ceremony
*: Ran
M: Message
Column headings are pretty self-explanatory:
Peace Run 87; CKG Lift; Room Sponsors; Peace Run 89; Country Programme; Peace Concerts
(would need a few more since that time)
https://www.srichinmoypeacemeditationatun.org/wp-content/uploads/2014/03/1989-12-dec-31-draft-list-country-and-peace-med-1978-1989-ocr.pdf
Form used with each country
MISSION Participation AND SUPPORT' SINCE 1978
__ 1. Original sponsorship for rooms in 1978
__ 2. Further sponsorship for rooms in 1982
__ 3. Continuing sponsorship for rooms 1982 to date
__ 4. Co-sponsorship of Peace walks -1983 to date
___ Participation in actual Peace Walk
__ 5. Reception at .Jharna-Kala Gallery -13 Sept:. 1985
__6. Country progrannnes
__ 7. Lake Success Peace Run
__ Closing Ceremony

_—-=Runner
__ 8. Peace Messenger Award: letter to S-G: 12 oct. 1987
—-9. International Peace Run 87
__ Opening ceremony

__ Closing Ceremony

__ Written Message

__ Oral Message Runner
–International Peace Run 89:
__ Opening ceremony

__ Closing Ceremony

__ Written Message

__ Oral Message Runner
–10. other friends
sample result page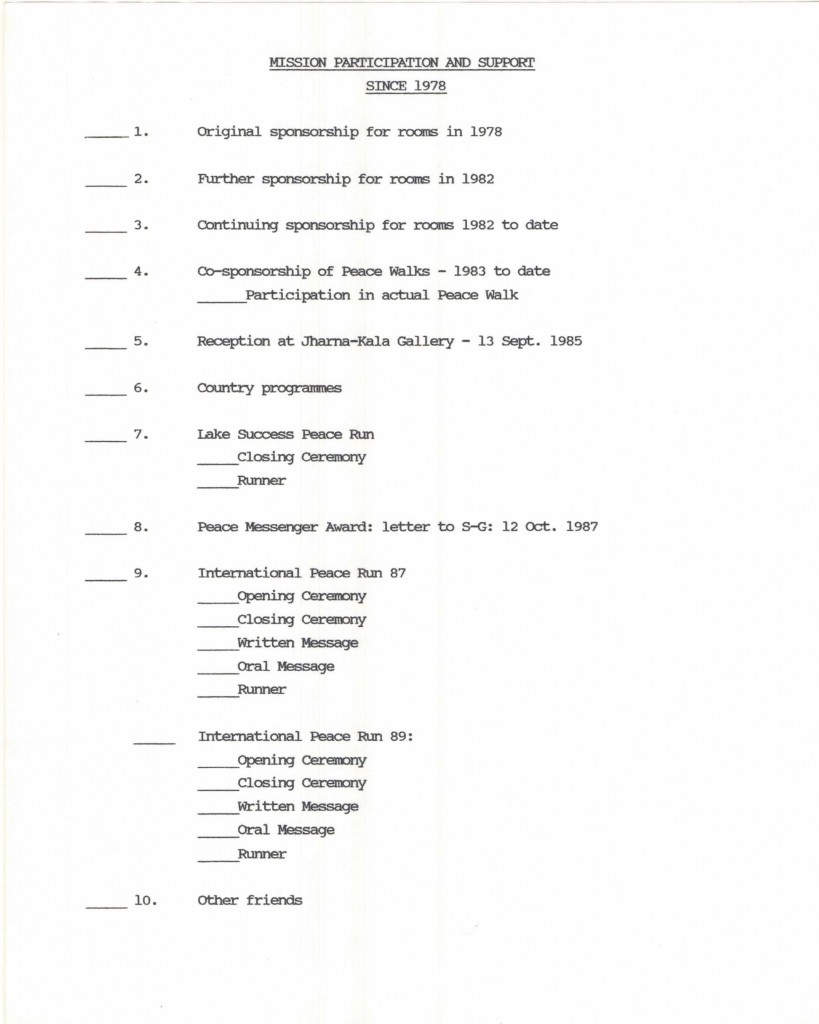 Click on image below for larger or different resolution Photo – Image: