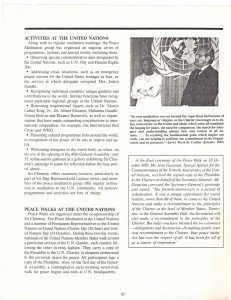 Below are images from the publication "Student of Peace" around Dec 1988 concerning
Service for Peace at the United Nations

PEACE MEDITATIONS – – – – – – – – p 9
ACTIVITIES AT THE UNITED NATIONS – – – – p.10
PEACE WALKS AT THE UNITED NATIONS – – – – p.10 – 11
U THANT ISLAND – – – – – – – – p.-12
SPECIAL AWARDS – – – – – – – – p. 13
DIPLOMATIC Bulletin – – – – p.14

Emergency Prayer & Meditation Service At UN
Diplomats Honour Dr.M. L.King

Run Lake Success to UN, GA Presidents Illueca, Choudhury- – – – – – – p.15p
ACTIVITIES IN SUPPORT OF THE UNITED NATIONS WORLDWIDE – – – p.16
SEVEN MINUTES OF WORLD PEACE – – – -p.16
THE PEACE WALK (FOR THE INTERNATIONAL DAY OF PEACE) – – – -p.17
SWIMS FOR PEACE – – – – p.18
ATHLETIC EVENTS – – – – – p.17

Building Peace among Religions – – – – – – -pp. 33-34

Pope Paul VI, Pope John Paul II
Pir Vilayat Khan, Head of the Sufi Order in the West
Spiritual Summit Conference at the United Nations,
Mark USA National Day of Prayer at the U. N. (N.Y. Times Jul 1975)
Special ATHLETIC EVENTS and PEACE MILES p. 37

ONENESS-HOME PEACE RUN (p.38)
---
PEACE MEDITATIONS
The importance of inner peace for those working towards " outer peace has been recognised by the United Nations from its earliest days, when it was decided to open a each session of the General Assembly with a minute silence. The first Secretary-General, Trygve Lie, had a room built in the Secretariat building, and his successor, Dag Hammarskjold, designed the room as we know it today. It is in this tradition that Sri Chinmoy has conducted twice-weekly peace meditation sessions for delegates and staff at United Nations headquarters since 1970.
In 1968 Sri Chinmoy led a peace meditation and lectured on the "Song Universal" at the Church Center for the United Nations in New York. Two years later, having learned of Sri Chinmoy's devoted efforts to spread the peace of meditation, Secretary-General U Thant invited him to serve as leader of a meditation group consisting of staff, delegates, representatives of non-governmental organizations and press correspondents accredited to the United Nations.
The group is now called "Sri Chinmoy: The Peace Meditation at the United Nations." The late Secretary-General U Thant, himself a lifelong practitioner of meditation, appreciated Sri Chinmoy's efforts to foster the spiritual idealism of the world body as a foundation for its activities in the political , economic and social realms. The succeeding Secretaries-General have also offered their encouragement. The hour-long twice-weekly meditation sessions, held in United Nations conference rooms and in the Dag Hammarskjold Auditorium, consist of periods of silent meditation. These meetings sometimes interspersed with meditative music, offer participants an opportunity for inner reflection and re-dedication to United Nations ideals.
---
"Work for the spirit of man is a great asset 'to humanity and I want to praise Sri Chinmoy for what he is doing. His work is far more important than all the conferences in the United Nations. It is far more imp6rtant than all the declarations of the United Nations-to glorify man and the higher ideas and the larger ideals that are so necessary today." -Ambassador Zenon Rossides of Cyprus
"We see the United Nations through Sri Chinmoy's eyes as a church of mankind, dedicated to worshiping the aspirations of men, women and children of all races, nationalities and political and religious beliefs, for a better life …. As such, the United Nations should become a sanctuary of moral and spiritual values as a better foundation of peace." -Ambassador Jorge Illueca of Panama
---
Click on image below for larger or different resolution Photo
Download pages excerpted in PDF