8 December 1985 Sri Chinmoy offered a peace concert in the lobby of the U.N. General Assembly Hall.
This event was held in connection with the U.N.'s upcoming International Year of Peace in 1986.
It also helped culminate the celebration of the 40th anniversary of the U.N. in 1985.
---
a Concert for the forthcoming
International Year of Peace
and the culmination of the Fortieth Anniversary
of the United Nations
by Sri Chinmoy
Co-sponsor by the Permanent Representatives to the United Nations of:
Austria, The Bahamas, Cyprus, Fiji,
Grenada, India, Malaysia, Panama,
Papua New Guinea, Saint Vincent and the Grenadines,
Samoa, Sri Lanka, Suriname and Vanuatu, among others,
and the Office of the Assistant Secretary-General for the
Fortieth Anniversary of the United Nations.
Sunday, 8 December 1985, 6:00 p.m.
United Nations General Assembly Hall Lobby
(46th Street Visitors' Entrance) Admission free.
You and your guests will be admitted with this invitation.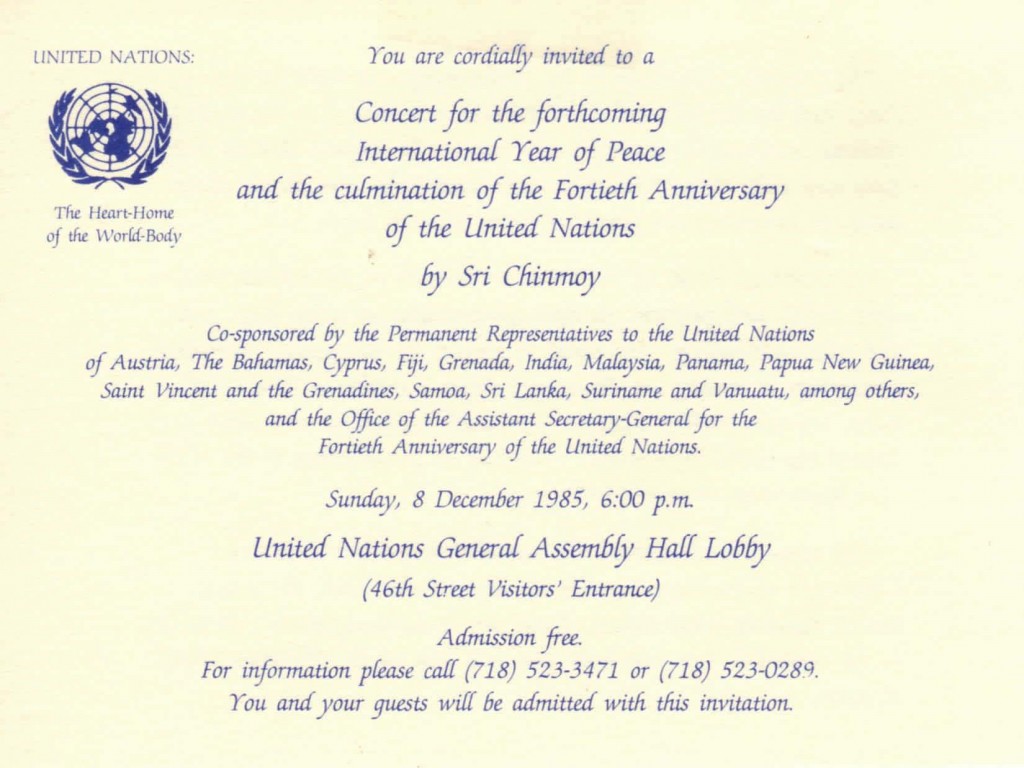 This Concert, in honour of the forthcoming International Year of Peace and" the culmination of the fortieth anniversary of the United Nations, will provide a unique opportunity for United Nations delegations and staff, along with other individuals who care deeply about peace, to experience the power of peace through music.
Sri Chinmoy, leader of the Peace Meditation at the United Nations since 1970, will perform his own compositions on esraj, flute, cello and" other instruments. His music is known for the serene, meditative atmosphere it creates. Sri Chinmoy's Peace Concerts in New York, Paris, London Tokyo, Cologne, Montreal, Melbourne and other cities around the world have united thousands of peace-seekers in the idea of a harmonious oneness-world.
This concert acknowledges the overwhelming response to Sri Chinmoy's recent Peace Concert at Avery Fisher Hall, for which several hundred ticket requests could not be accommodated. Admission to the concert is free.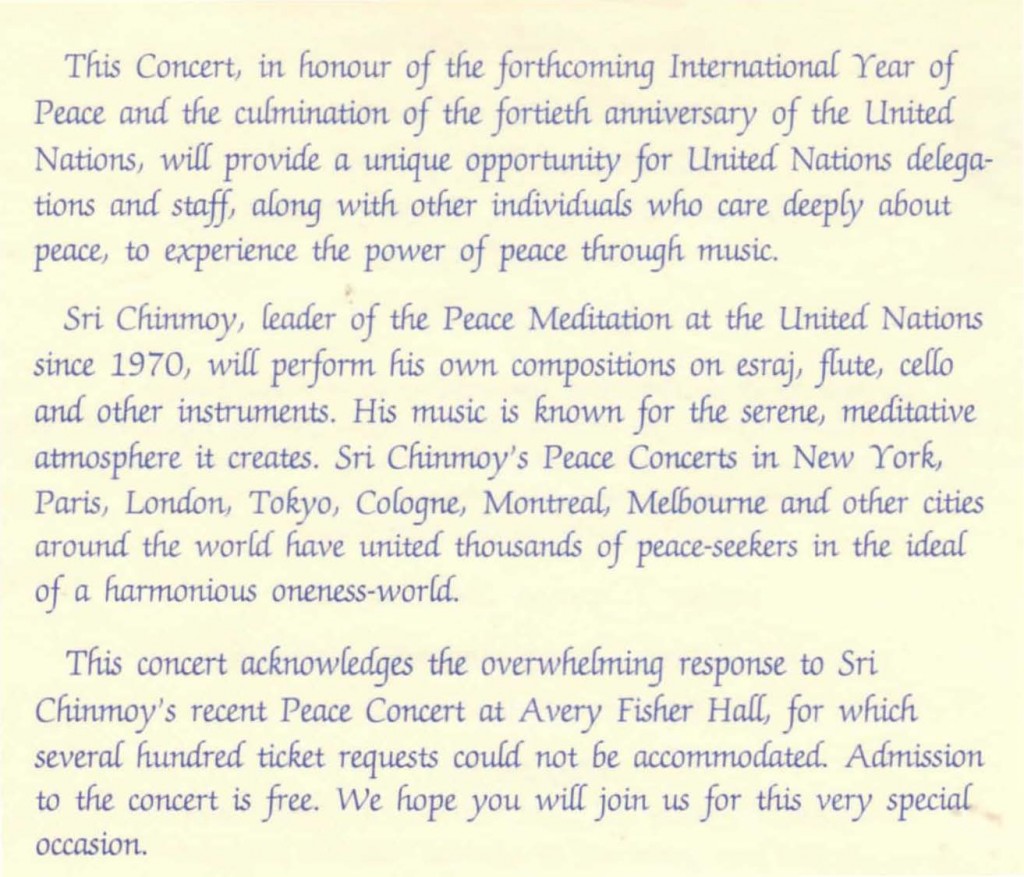 ---
Sri Chinmoy performed on many instruments including the keyboard, chello, harmonium and the esraj
---
The Meditation Group Choir performed Songs dedicated to Peace and the high aspirations of the United Nations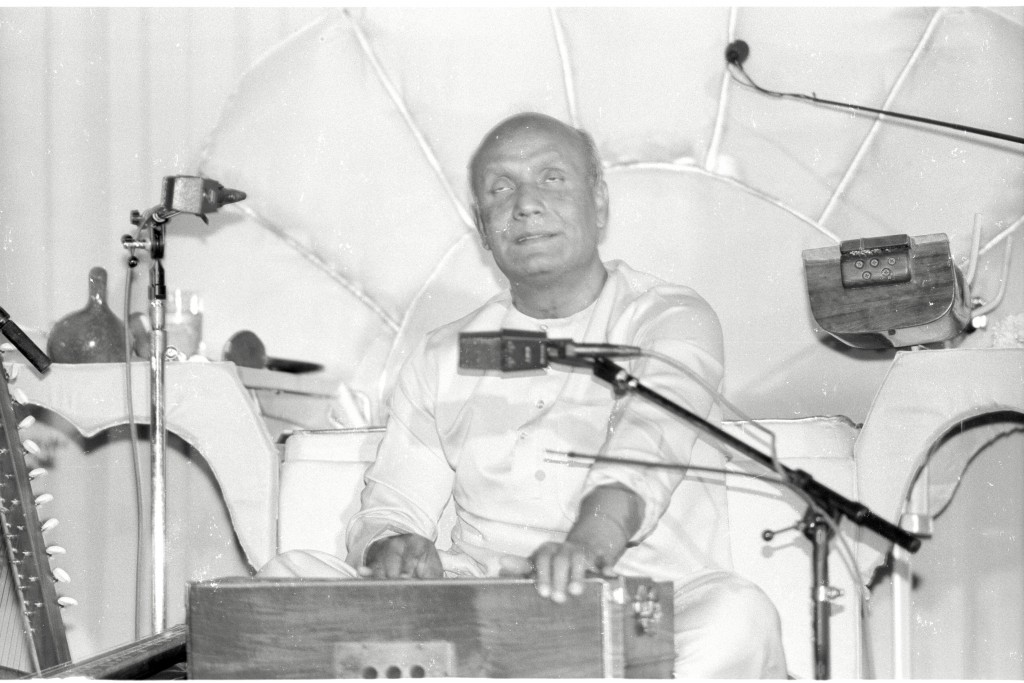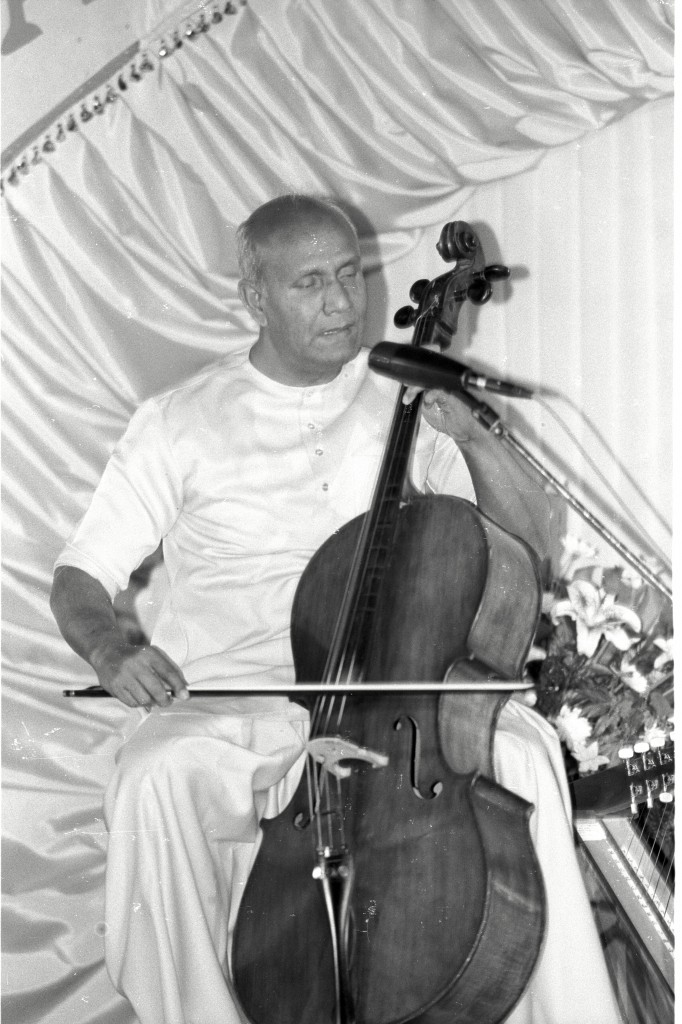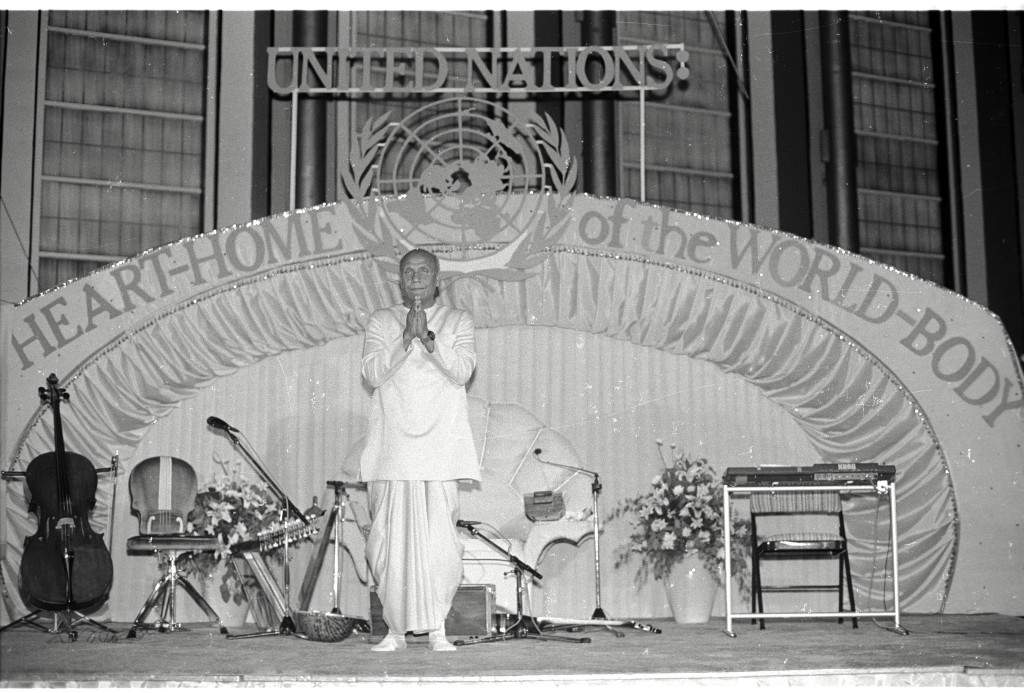 Click on Images below for larger or different resolution photo – Image:
---
Gallery 2:
---
Gallery 2a: ED Question other color CKG Dhoti from 1995 concert ..was this different event around same time – different venue without UN heart Home over stage? ?
---
Gallery 3 – Sarma Collection -might be same as Gallery 2 above with different scaled size of date updated
Gallery 4: