in the U.N. Garden
RACE FOR U.N., MISSION AND NGO STAFF-Friday, 31 May, 1:15 p.m.
RACES FOR CHILDREN -Sunday, 2 June, 8:30 a.m. Ages 5-7, 1/4 mile (400 metres); ages 8-10, 1/2 mile (800 metres); ages 11-14, 15-18, 1 mile.
RACE FOR DELEGATES AND THEIR HUSBANDS OR WIVES-Sunday, 2 June, 9 a.m.
AWARDS to the first 7 male and female finishers in each race plus first 3 finishers aged 50 and over
TEAM AWARDS for
largest participation by a U.N. Department, Office, Agency or NGO (Friday race);
largest participation by a Mission (Sunday race);
fastest team, determined by combined times of first three finishers from the team (Friday and Sunday).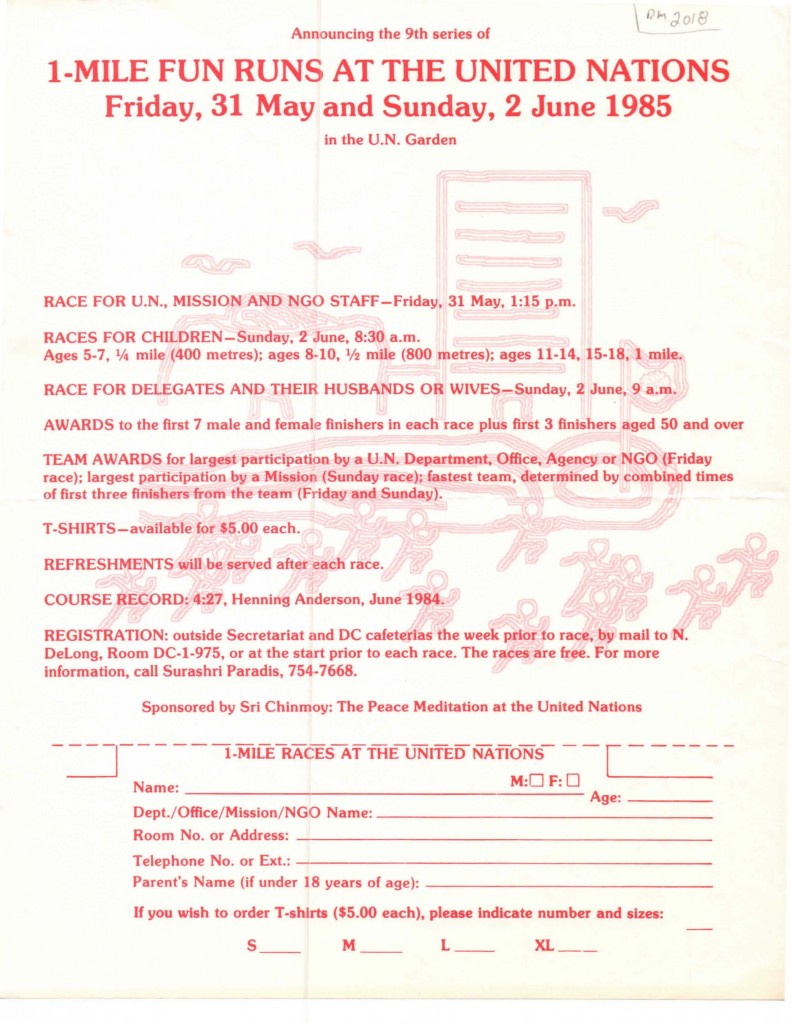 T-SHIRTS-available for S5.00 each.
REFRESHMENTS will be served after each race.
COURSE RECORD: 4:27, Henning Anderson, June 1984
---
Download PDF:
Click image below for larger or different resolution photos:
I-MILE FUN RUNS AT THE UNITED NATIONS Friday,31 May and Sunday, 2 June 1985