On 13 July 1982 women of the diplomatic community enjoyed an afternoon of music and meditation at Annam Brahma Restaurant in Queens, New York.
The programme included an introduction to meditation by members of the meditation group, a short inspirational film which had previously been used on television and a vegetarian luncheon.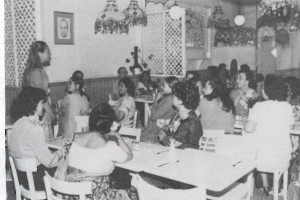 As a result of interest stemming from the programme, a group of women from the diplomatic community have begun meditating together once a week in the homes of the group's members.
At each meeting a short introduction to basic meditation techniques is given followed by a period of silent meditation.
Gallery: