On 20 August 1981 the meditation group observed the fiftieth birthday of Sri Chinmoy in a special ceremony in the Chapel of the Church Center for the United Nations.
---
For main text report and some photo-images of event SEE: Birthday Salute for Sri Chinmoy 1981 Aug 20 by UN Community – Article. including
excerpt of remarks by Guest Speakers,
 selected letters of tribute received from members of the international community,
tributes offered by members of the United States Congress, and
accounts of members of the meditation group who participated in Guinness World Book of Records feats to mark the occasion.
Original article appeared : "Meditation at the United Nations" bulletin 1981-07-08-pp-25-57.pdf
---
Below are additional Photos from 20 August 1981 and presentation of the National Declaration "Order of Balboa" Award of Panama
Dr. Jorge Illueca, Foreign Minister of Panama:
Friends, Sri Chinmoy has shown how much can be done by having faith in the dignity and worth of the human person – in children, in youth, in the elderly, in men and women alike.
All of us here have tears and smiles of joy in our hearts in paying a tribute of gratitude to Sri Chinmoy on the occasion of his fiftieth birthday. Sri Chinmoy is a guiding light that leads to the way of oneness and to the supreme Oneness itself. I would say that through his teachings he has given us Heaven-vision and earth -reality.
Sri Chinmoy has said that a nation is a drop – a tiny drop or a mighty drop – in the vast ocean of divine, fulfilling and fruitful consciousness. My government and my people want to honour Sri Chinmoy today since he has done so much for all of us. The President of Panama and I, as Foreign Minister, have decided to grant him the National Decoration of the Republic of Panama, the Order of Vasco Nunez de Balboa, the discoverer of the Pacific Ocean.
We want Sri Chinmoy to have this decoration because he has in his heart an ocean of the qualities of love, understanding and oneness. We always will keep the image of Sri Chinmoy in our hearts.
Dr. Illueca placed a maroon and gold sash around Sri Chinmoy's shoulders and read out, in Spanish, a proclamation from his Government which he translated as follows:
"The President of the Republic of Panama, Grand Master of the Order of Vasco Nunez de Balboa, confers the decoration of the Order of Vasco Nunez de Balboa in the rank of Great Cross on the honourable Sri Chinmoy in recognition of his eminence. Given in Panama this seventh day of August 1981."
Sri Chinmoy:
This is a most remarkable day for us and a most joyous experience that the soul of Panama is giving us in and through its choicest representative, its beloved son, Illueca.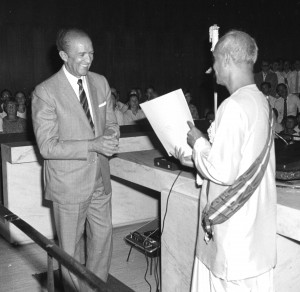 In accepting this most blessingful gift from him, I am bowing again and again to the soul of Panama. This is not only an honour but also a most blessingful gift which my life of dedication and my heart of aspiration will treasure until I breathe my last. What I have done for Panama or for the world is next to nothing. But what my Beloved Supreme is doing for me, in and through His creation, is beyond my imagination and far beyond my capacity to express in words.
Above: Foreign Minister Illueca of Panama decorates Sri Chinmoy with the Order of Balboa, his country's highest decoration.
Below: Dr. Illueca reads a proclamation from the President of Panama.
Therefore, in silence I can only offer my constant gratitude to my Beloved Supreme and also to those whom He has chosen, such as my dearest brother Illueca, as His choicest instruments to love Him and serve Him soulfully and devotedly here on earth.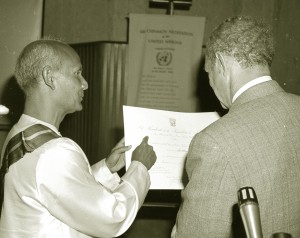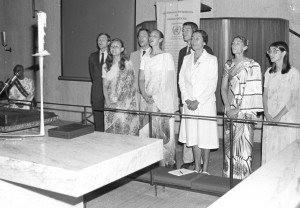 I wish to invite the meditation group singers to sing the song that I composed in honour of Panama. They are quite unprepared to sing this song, but I am sure that the soul of Panama will forgive them even if they make many mistakes, because the soul of Panama knows that we deeply love her and adore her. Our heart of implicit oneness the soul of Panama will feel.
After the meditation group singers sang the song dedicated to Panama, as well as several other songs dedicated to the Uni'ted Nations, Sri Chinmoy renewed his pledge of unconditional love and service to humanity with the following words: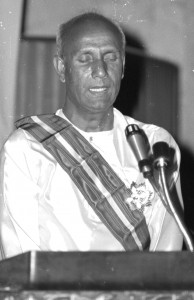 My dearest brothers and dearest sisters, to each of you I wish to offer my heart of love, my soul of oneness, my life of concern and my God of Satisfaction.
When I was an infant, God wanted me to be a God-dreamer. Indeed, it was a sweet experience.
When I was a little boy, God wanted me to be a God-seeker. Indeed, it was a soulful experience.
When I was a youth, God wanted me to be a God-lover. Indeed, it was an illumining experience.
When I became an adult, God wanted me to be a God-server. And now that I am fast approaching my fiftieth birthday, God wants me to remain a God -server.
Out of His infinite Bounty, my Beloved Supreme has taught me how to love Him and how to serve Him unconditionally. Now He has a special Message for me, a special Command which I must needs execute. His Command is that I love and serve unconditionally His entire creation – His children, my brothers and sisters throughout the world – in the same way that I have been able to love and serve Him unconditionally from the day He made me sleeplessly and inseparably one with Him, out of His Compassion infinite and Love immortal , many, many years ago, before I crossed the threshold of teenagehood.
I pray to my Beloved Supreme to grant me this capacity, and I am sure that He has already granted it. For my Beloved Supreme would never ask me to do anything without having first given me the capacity in ample measure to fulfil His Will.
Sri Chinmoy with Ambassador Davidson Hepburn from the Bahamas who also spoke at the event – for excerpts SEE: Birthday Salute for Sri Chinmoy 1981 Aug 20 by UN Community – Article.
I pray to Him to execute His Will in and through me. I pray that from today on I shall love and love and serve and serve His creation vast – my dear and sweet brothers and sisters on this earth-planet-unconditionally.
---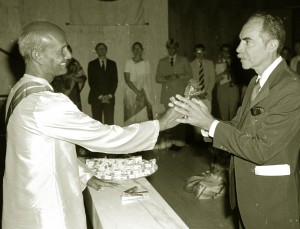 Sri chinmoy with Mr. Rafael Rubin, Chief of Protocol, Department of State of Puerto Rico who also spoke at the event – for excerpts SEE: Birthday Salute for Sri Chinmoy 1981 Aug 20 by UN Community – Article. 
---
Sri Chinmoy above after event with other guests including J.Spence (left)  of Scotland and O. Smith of England (right) who have both supported UN Day events and other activities in support of the United Nations Goals.
---
---
Click on image below for larger or different resolution Photo – Images: