On 31 October 1980 H.E. Mr. Abdel-Rahman Abdalla, Permanent Representative of Sudan to the United Nations, joined members of the meditation group and delegates and staff for a tribute marking the twenty fourth anniversary of Sudan 's joining the United Nations.
---
Following are excerpts from the programme, which included traditional music of Sudan.
---
H.E. Mr. Abdel-Rahman Abdalla, Permanent Representative of Sudan to the United Nations:
Ladies and gentlemen, I am really honoured to represent my country on the occasion of its United Nations anniversary. But first of all, let me thank the Sri Chinmoy Meditation at the United Nations for their thoughtfulness and kind invitation.
Judging from its vast area and open borders, Sudan had trade and cordial relations with people and civilisations of central and western Africa, and across the Red Sea with the people and civilisations of east Africa, the Arabian Peninsula, Persia, India and China.
The greatest influence came through the northern borders facing the Mediterranean and the Near East, especially Pharamonic Egypt and the subsequent reigns of the Greek, Roman and Arab eras.
It was only natural, then, that the Sudanese civilisation affected and in turn was influenced by the civilisation of the North and Africa, thus creating a Sudanese heritage that is in no way a denial of its origins but is, in fact, an enrichment to the indigenous culture.
As for today, Sudan has undergone radical political reforms and is now displaying all the characteristics allowing for a major breakthrough in social and economic development. Both domestically and internationally, the stage is set for a major partnership towards this end.
In many areas expanded regional and international cooperation are well under way and involve the United Nations, the World Bank and many other bilateral and multi-lateral sources. As regards Sudan's foreign policy, it is geared to fostering and maintaining cordial relations with all nations, seeking peaceful means for resolving conflicts and promoting regional and international cooperation towards common goals.
Ladies and gentlemen, the Sudan is a rich country in terms of history and human experience. As such it is a nation that really believes in the ideals and understands the important role of the United Nations. Our record of commitments and obligations to the Organisation is an excellent one.
We intend to maintain such a position and record, since we too believe that the United Nations is the:
"Heart-Home of the World-Body." *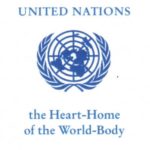 Thank you.
---
* Sri Chinmoy's quote on the programme banner and other information about the Peace Mediation at the UN: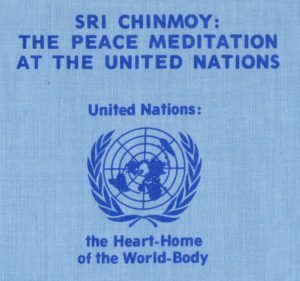 ---
PDF format of report in periodic Bulletin : "Meditation at the United Nations" Oct 1980
scpmaun-1980-10-27-vol-08-n-10-oct-ocr-opt.pdf
See Page-images 24 to 26
Gallery 2 below is jpg format
---
Gallery 1 Photos from event
---
Gallery 2:
JPG scanned page images 24 to 26 "Meditation at the UN" Oct 1980