---
A service to UNICEF field offices, national committees, volunteer workers, government officials, information centres, teachers, lecturers , editors, newscasters and writers.
CONTENTS — Issue Number Fifteen
 1977 UNIVERSAL CHILDREN'S DAY CELEBRATED AT UN HEADQUARTERS
PROGRESS REPORT ON INTERNATIONAL YEAR OF THE CHILD
THE SPIRIT OF IYC (article by John Grun)
NEW PUBLICATIONS AND PHOTO EXHIBIT FOR IYC
MORE NEW PUBLICATIONS AVAILABLE FROM UNICEF
NEW UNICEF FILMS
UNICEF'S 1977 EXECUTIVE BOARD MEETING IN MANILA
PRESIDENTIAL GOLD MEDAL AND JAPANESE DONATION FOR UNICEF IN BANGLADESH
INDIAN TEENAGERS HELP GUATEMALAN CHILDREN
"PRODESCH" BRJNGS HOPE TO INDIANS IN MEXICO (article by Etienne Danois) •
MOTORING THROUGH THE SUDAN (excerpts from UNICEF field reports) ••

A MOVING MEDITATION·  p 20
---
If you would like to obtain any pamphlets, books, films, posters or other material mentioned in this Bulletin, please contact the Information Division of UNICEF, United Nations, New York, or your nearest UNICEF field office or National Committee.
---
Reproduction of all items authorized
Information Division, UNICEF, United Nations, New York City 10017
---
– UNICEF  Information Bulletin – Issue No. 15                                                               EXCERPT FROM Page 20 – 21
page 20
Running has become phenomenally popular in the past year. Millions of energetic (once-lethargic) people are now invigorating themselves daily or at least weekly, with an activity which they passionately assure those of us who are still lazy, makes them feel healthy, happy, beautiful, loving … One indication of the relationship between physical and spiritual health is this:
A Moving (Literally) Meditation for UNICEF
       Is the runner in the picture on the left a marathon runner carrying the Olympic torch on his way to light the flame for another opening of the world-famous Games?
       No. He is a member of a British meditation group which organized a relay-run to celebrate United Nations Day and to raise funds for UNICEF.
       At the end of the 73-hour run – which began in Edinburgh, Scotland, and ended in London, England – eighteen members of the group had covered 453 miles and raised £503 Sterling for UNICEF.
       The group, followers of Sri Chinmoy, Leader of the Meditation Group at the United Nations, divided itself into two teams so that one could rest while the other ran.
       A flaming Olympic-style torch symbolising "a rekindling of the spiritual values and human ideals upon which the United Nations was founded" was passed from runner to runner throughout the route.
        The run took the group over the peaceful English countryside and through major cities such as York, Newcastle and Sheffield. "It was an amazing way to see the country," said one of the runners. "I discovered an aspect of England I had never really felt before – one of tranquil beauty."
        Along the way, the runners handed out hundreds of leaflets about the United Nations and UNICEF. Upon reaching their destination, Parliament Square in London, they presented a cheque for UNICEF to Mr. Reg Prentice MP, who was there to greet them along with Colonel Bult-Francis, Chairman of the United Kingdom Commitee for UNICEF, and Mr. Eric Price-Holmes, Honorary Chairman of the United Kingdom's United Nations Association.
       Ray Harrington, one of the organizers of the run, saw no incongruity between a physical act such as running and the "spiritual" exercise of meditation. He said, "There's no incongruity really. Sri Chinmoy once described meditation as 'self transcendence and through running long distance I've learned that much of my fear or inability to do this before was unfounded – psychological rather than physical inhibitions – so running is really a very intense meditation."
      A group of Sri Chinmoy' s American followers calling themselves "The Liberty Torch (more)
---
UNICEF Information Bulletin – Issue No. 15 page
---
 had earlier run almost 9000 miles through every state in America last summer as part of the American Bicentennial Celebrations.
       Although the British runners slept only a very few hours during the 73-hour period they all looked surprisingly fit and very happy. Perhaps, this really was a moving meditation".
* * * * *
        Sri Chinmoy's Meditation Group at the United Nations actively supports UNICEF. Each year since 1975 the Group has organized a Benefit party for UNICEF on Universal Children's Day at the United Nations.
       Last year the Group raised $40.00 by inviting children of the United Nations' community and their parents to a party for UNICEF. After a brief prayer the children were entertained by a puppeteer and a magician. As Mr. Henry R. Labouisse, Executive Director of UNICEF, noted in a letter to the Group acknowledging receipt of the money: "It is not just the money but the wonderful feeling which the Group expresses" that UNICEF appreciates.
       In December last year the Group helped UNICEF by providing voluntary usher service at the Rights of the Child Concert. This gesture was especially kind since the Group responded immediately to a last minute request from UNICEF, even though it meant cancelling a concert of their own which had been scheduled for the same day.
       A book by Sri Chinmoy entitled U Thant: Divinity's Smile and Humanity's Cry is now being sold at the United Nations Bookshop. Proceeds from the book will go to UNICEF.
Sri Chinmoy, an internationally respected spiritual teacher, is also an author, artist and lecturer. He recently wrote a song about UNICEF which we reproduce for you here: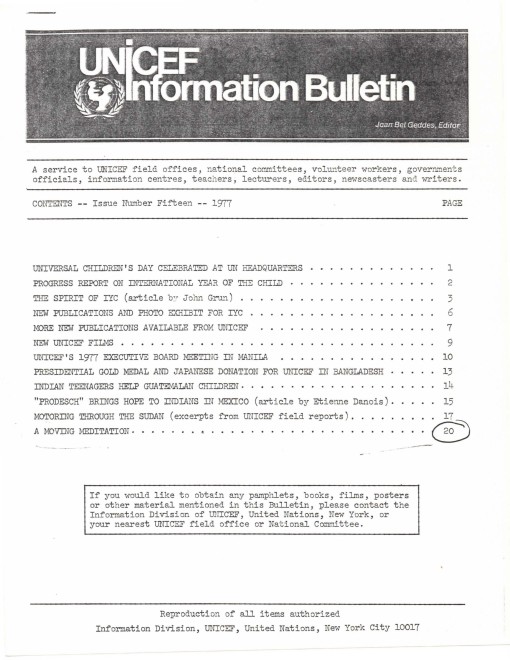 ---

UNICEF
words and music by Sri Chinmoy
UNICEF O Mother and Child,
O sweetness sea
O beauty flower and duty tree
You are your glowing eyes of light
You are your loving oneness height
You are your soaring fulfillment dream
A true triumph of the Lord Supreme.
---
---