Members of the Peace Meditation and others in the U.N. Community along with the delegates to the Convention being held in NYC and interested Public were invited to attend an interfaith Service on 11 Jul 1976.
The event was sponsored by The Sacred Fire Bicentennial Group and the Council of Churches of the City of New York.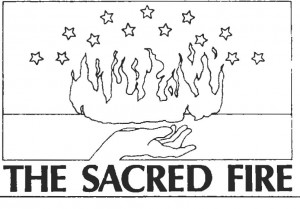 New York's top religious leaders joined together last month in an ecumenical service for delegates to the Democratic National Convention. Prayers were offered by representatives of different Protestant, Catholic and Jewish faiths, and Sri Chinmoy led the gathering in silent meditation.
The purpose of the July 11 programme was to pray that God's Will be executed in and through the political process. The Democratic Convention was to begin the next day.
During the service, the Sacred Fire choir sang three of Sri Chinmoy's patriotic songs. Rev. Franklin D. Graham, who was serving as Master of Ceremonies, called the performance "inspiring and incendiary," adding, "I see how the Sacred Fire got its name. "
Other participants in the event included:
Rev. Dr. Kenneth L. Folkes, President of the Council of Churches of the City of New York, and
Rabbi Judah Cahn, President of the New York Board of Rabbis.
The Sacred Fire is planning a similar programme this month in Kansas City in conjunction with the Republican National Convention.
– excerpt of report from ANAHATANADA Aug. 1, 1976
Add photos and more text as available: