On Thursday, October 16, the Meditation Group at the United Nations held a bazaar in the staff lounge of the Secretariat for the benefit of UNICEF.
---
U.N. staff members enjoying side-show entertainment at bazaar sponsored by Meditation Group at the UN.
---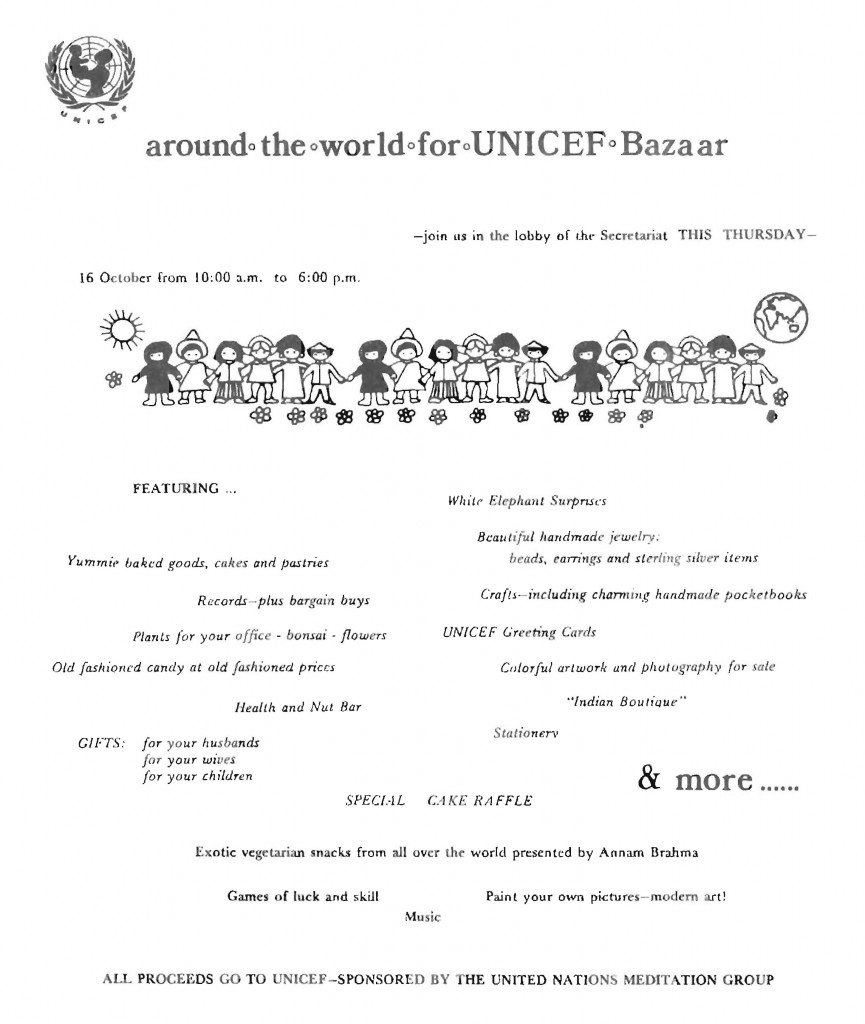 Items on sale included potted plants, books, records, trinkets, homemade cookies, cakes and preserves.
Everything was completely sold out by 3: 00 p. m. and the profits- $500 – were later presented to UNICEF Executive Director Mr. Labouisse by Sri Chinmoy at a function later in the month.(30 Oct)
Excerpt from Bulletin "Meditation at UN – Vo 03, No 10; 27 Oct 1975, Bulletin – page 31
---
Following is a text of letter received from UNICEF. •
UNITED NATIONS CHILDREN'S FUND • FONDS DES NATIONS UNIES POUR L'ENFANCE
UNITED NATIONS. NEW YORK
20 November 1975
17/66 DPR/UN
Dear Mr. Chinmoy,
It is with great pleasure that I enclose herewith UNICEF's official receipt for the contribution of $500 .00 which was so generously donated by the Meditation Group (at the UN). It is indeed gratifying to know that our U.N. colleagues have throughout the years continued to support the work of UNICEF by sponsoring such events as the Bazaar held in the Secretariat Lobby on 16 October.
On behalf of the Administration of UNICEF, I would appreciate your conveying to the Meditation Group our deep gratitude not only for the contribution but also for the time and effort put into making the Bazaar such a success . —– —– ——
Sincerely yours ,
Sven P. Blackberg, Comptroller
---
The United Nations Secretariat news of 31 Oct carried info and photos from event
1975-10-oct-16-bazar-for-unicef-sec-news-oct-31
---
Click on image below for larger or different resolution photo.