Periodic Bulletin  of Meditation Group at UN, Nov 1974 Issue Dedicated to U Thant
This is
Part (B)   Soulful Tributes to U Thant from world leaders and others
I am most grateful to the world leaders who have been gracious enough to respond to my most humble request and offer their commemorations for this book of tributes to our beloved United Nations Pilot U Thant. – Sri Chinmoy,
Cardinal Villot, The Vatican
The Holy Father having learned with sorrow of the death of U Thant wishes me to convey to you his prayerful condolences. His Holiness on various occasions was able to appreciate in a special way the great contribution which this faithful servant of the United Nations Organization so unremittingly made to the cause of peace and brotherhood among men.
Cardinal Villot, The Vatican
U Thant is seen with His Holiness Pope Paul VI during the Pontiff's unprecedented visit to the United Nations where he made a special appeal for world peace before the United Nations General Assembly on 4 October 1965. (Photo: United Nations)
Kurt Waldheim,Secretary-General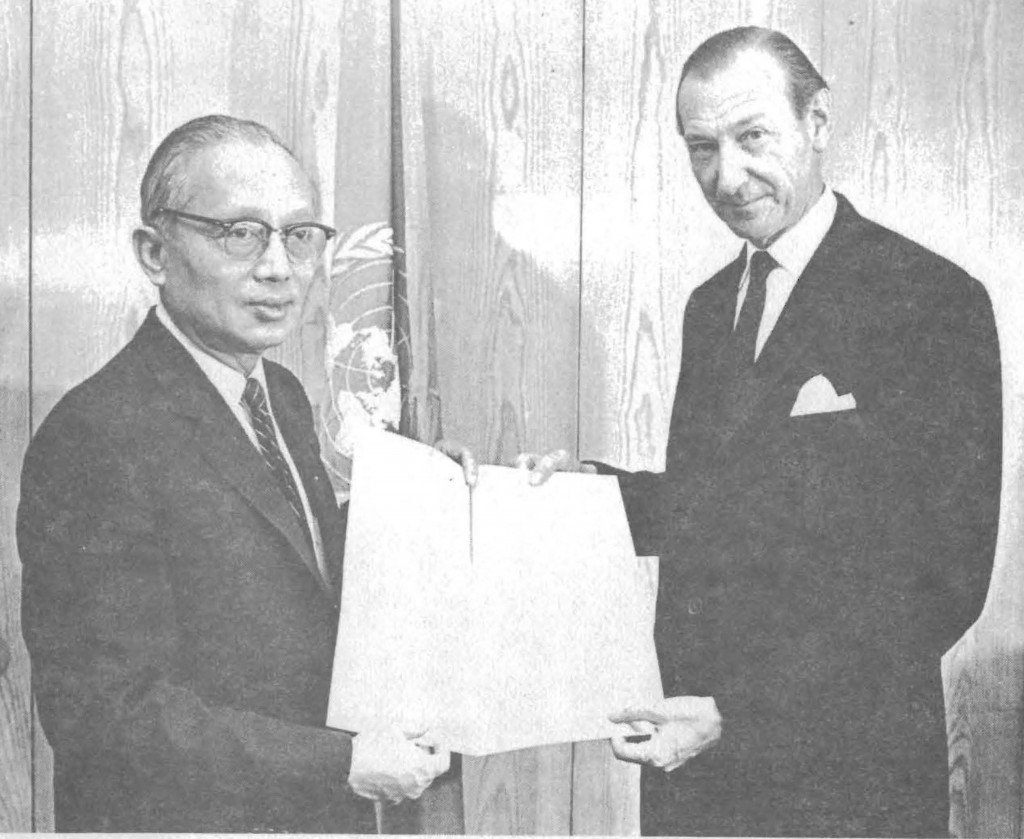 United Nations Secretary-General Kurt Waldheim presenting his credentials as Permanent Representative of Austria to the United Nations to then Secretary-General U Thant on 8 October 1970. (Photo: United Nations, T.Chen/ARA)
25 November 1974:    The following statement was read by the Under-Secretary-General for Political and General Assembly Affairs, Bradford Morse, on behalf of Secretary-General Waldheim at the plenary meeting of the General Assembly on 25 November 1974:
I have learned with deep sorrow of the death of U Thant, the third Secretary-General of the United Nations. U Thant became Secretary-General at a time when our Organization was going through a period of deep and unprecedented crisis, which had produced serious divisions and differences among the Member States. It was his first duty to bridge these divisions and differences and to restore calm and harmony.
For ten years he guided the United Nations through a period of change and turbulence. Throughout that time his wisdom and his calm but resolute personality were vital factors in many critical situations. He never hesitated to express himself strongly and forthrightly, especially on matters of principle, yet he retained the confidence of all Member States throughout his period of service.
 Both in the political crises which occurred during his time as Secretary-General and in the development of the economic and social work of the Organization, he displayed courage and total dedication to the United Nations in disregard of any private interests or even of his own physical well-being.
Many of us here became his devoted friends. We admired above all his humanity, his respect for human dignity and his complete integrity. To me he was a personal friend whose wisdom, kindness and generosity I shall never forget. We shall all remember him as a man who gave himself unstintingly to the cause of peace, progress and justice in the world.
02 December 1974:  The following is the text of the statement Secretary-General Waldheim delivered in the General Assembly in tribute to U Thant on 2 December 1974.
U Thant served the United Nations devotedly for ten years as its third Secretary-General. He gave himself unreservedly to the Organization and was sustained, when the burdens of the Office inevitably began to take their physical toll, by his dedication, his deep inner faith and spiritual discipline and by his determination to· dq his duty.
It is no secret that when he left the service of the Organization at the end of 1971, U Thant was physically exhausted and ill. To the joy of all his friends, he regained his health and vigour and devoted himself to writing his memoirs. Then, tragically, he was stricken again. This time, his will and his unshakeable optimism were not enough.
He died on 25 November. U Thant became Acting Secretary-General of the United Nations on 3 November 1961, to complete the unexpired term of Dag Hammarskjold, who had died in an air crash six weeks earlier. He assumed office at a time when the Organization was going through a period of deep and unprecedented crisis related especially to the developments in what was then the Congo and is now Zaire. The Office of the Secretary-General was at the heart of this crisis, which had produced very serious divisions and differences of opinion among the Member States.
It was U Thant's first duty to try to bridge these divisions and differences, to restore calm and harmony to the over-heated atmosphere of controversy which had prevailed during the previous year and to set the United Nations on a course which would maintain its relevance and usefulness in the new conditions of the 1960's. In a turbulent period of change, this was a tremendous challenge.
The developments in the Congo were a major preoccupation for two more years. In the fall of 1962, the Cuban missile crisis presented the most. dangerous potential confrontation of nuclear Powers that had ever occurred. U Thant played a crucial role in the resolution of this most dangerous of crises. Early in 1964, the United Nations became involved in keeping the peace in Cyprus-then, as now, an island torn by violence and discord In 1965, when full-scale war erupted between India and Pakistan, U Thant went to the sub-continent to negotiate a cease-fire. At about the same time also, the tragedy of Viet-Nam, in which the United Nations was never directly involved, began to assume its historical momentum. U Thant made a long personal effort to help in ending the Vietnamese tragedy. In 1967, there was renewed war in the Middle East. In early 1971, the war clouds. gathered again in the South Asian sub-continent and the situation dominated U Thant's last months as Secretary-General.
In all of these events, the quiet but resolute personality of U Thant was an important factor.
He was so unassuming, so outwardly calm and so lacking in the desire for instant public recognition that his effectiveness in times of crisis has tended to be minimized or forgotten. He was never afraid to speak his mind on difficult issues, and to pursue, without fear or favour, the course which he believed to be right. That the community of nations not only accepted this, but unanimously voted him to continue in office, is the highest tribute to his integrity and character. No one will ever know the intense internal struggle which U Thant's discipline and his deep faith concealed from the public gaze. He was occasionally even reproached for his calm. His medical history, which he concealed as far as possible, tells another story – the story of a good and disciplined man doing his best to perform one of the most difficult jobs in the world, and privately enduring the extremes of fatigue, worry and frustration. U Thant never allowed himself to complain about the difficulties of his job. But at the end of his ten years, to the United Nations Correspondents' Association in September 1971, he did allow himself to comment on them. I shall quote just two passages which describe his approach to the formidable problems and frustrations of the Secretary-General ship:
"No Secretary-General can afford to lose a sense of obligation to the human community in its broadest sense- an obligation to give his utmost to make the principles and aims of the Charter a reality and to do whatever he can to improve the general condition of the community of nations.
"The other quality which a Secretary-General can never afford to lose IS an urgent sense of political realism."
In the same speech he described his concept of his job as follows:
"There is no easy way to discharge the duties of the Secretary-Generalship, but that does not detract from the immense privilege of being allowed to attempt the job. In my view, it is the most varied, most interesting and most challenging political job on earth. In one way, the Secretary-General is fortunate, for he is allowed to consider the problems of peace and war, the problems of the present and the future of mankind, from a position which is, and must be by its very nature, independent of national considerations. Impartiality, principle and objective truth are his strongest weapons. He is, and must be, .at the same time a realist and a man of idealism and hope, with his mind more concentrated on a better future than preoccupied with a baneful past."
Like anyone else who occupies a leading position in public life, U Thant's reputation and public standing went through a series of fluctuations. It will be a long time before the full record is revealed and a thorough evaluation of his achievements can be made.
Apart from the overwhelming pressures of the political side of his job, U Thant was passionately interested in the work of our Organization in economic and social development and in humanitarian matters. During his Secretary-Generalship this side of the United Nations developed on a scale and in new directions far beyond the expectations of the founding fathers. U Thant was an untiring supporter of this development and never ceased to warn the international community of the dangers of a failure to co-operate urgently on global economic and social problems. His warnings are even more relevant to the situation in which we find ourselves today.
U Thant was above all a humane man with a passionate respect for human dignity and for the value of the individual in an increasingly complicated and crowded world. His integrity and his courage were rooted in his firm Buddhist faith and in an unshakeable belief in humanity and in the necessity of improving the quality of the lives of all mankind. We remember him for his achievements and for his difficulties in presiding over our Organization for ten tumultuous years. We also remember him as a man of wisdom, integrity and courage who gave himself unstintingly to the service of the United Nations in the cause of peace, justice and progress in the world.
 C.V. Narasimhan,Under Secretary-General, for Inter-Agency Affairs and Co-ordination, United Nations, New York

"U THANT AS I KNEW HIM"
During the last few weeks tributes to U Thant have poured in from all parts of the world. Secretary-General Waldheim admirably summed up U Thant's contribution to the work of the United Nations and his character as a human being in the following words: "Both in the political crises which occurred during his time as Secretary-General and in the, he displayed courage and, total dedication to the United Nations in disregard of any private interests or even of his own physical well-being. Many of us here became his devoted friends. We admired above all his humanity, his respect for human dignity and his complete integrity."
I have asked myself the question what was the key to U Thant's dedication to the United Nations and to his human qualities of modesty, serenity and integrity. I believe that the key is to be found in the fact that U Thant was a deeply religious person, and a devout Buddhist. I put them in that order because U Thant's religiousness came before his personal faith as a Buddhist. Indeed U Thant used to say that there was not much difference between
U Thant with C. V. Narasimhan (Photo: United Nations)
a good Buddhist, a good Christian, a good Hindu, a good Jew, or a good Moslem. It was his strong belief that the basic precepts of these great religions, which had so much in common, were applicable to the work of the United Nations. It was this conviction that led him to invite His Holiness Pope Paul to visit the United Nations and address the General Assembly in 1965.
U Thant was a Buddhist, but not a fanatic. Indeed one could not conceive of his being fanatical on any subject, except perhaps in respect of his total commitment to the Charter of the United Nations. From his religion derived his modesty and humility. It was these qualities which made him repeatedly assert in the course of 1966 that he would not be available for a second term as Secretary-General. He used to say that no person should aspire to a second term as Secretary-General. His calmness in times of crises bordered on nonchalance and was in fact sometimes even critized when it was mistaken for indifference. His total serenity in his personal relations was no doubt the cause of his ulcers; although his doctors advised him to 'explode' now and again it was inconceivable that he would, even to save his health.
U Thant's integrity was universally recognized. Of this quality of his, I may recall a statement  made by Lord Caradon at the twentieth anniversary of the United Nations in San Francisco: "We believe in no man's infallibility, but it is restful to be sure of one man's integrity."
When I saw him in February of this year, he told me even then that he did not believe he could last very long. He had been in great pain for practically the whole of this year, with several visits to the hospital, one surgery after another, and repeated chemo-therapy, which he found exhausting. He bore his illness with fortitude and without a word of complaint. In view of his illness and the difficulties of speech that it entailed, he was most unwilling to receive visitors. The last time I saw him was on Saturday 24 August. At that time, as always, his mind was clear, and his handshake firm. He told me that once the publication of his memoirs had been arranged and the chemo-therapy concluded, he intended to go back to his native Rangoon. So much for his plans, which could be fulfilled only after his death.
I heard from members of his family that on Monday 25 November, a few minutes before he passed away, he awoke from his coma and asked his daughter what time it was. His daughter told him. I am sure he knew that his time had come, and he had no intention of keeping the Lord waiting for him. He was always such a punctual man.
Such was U Thant. a wonderful human being of rare goodness. One of his friends said: "Fortunate are those who crossed his path. May he rest in peace"
Bradford Morse, Under-Secretary General, for Political and General Assembly Affairs

I am pleased to know that the November issue of the United Nations Meditation Group bulletin will be dedicated to the memory of former Secretary-General U Thant. This will indeed be a splendid tribute to a great and humble man whose dedication to peace and devotion to the improvement of the human condition earned the everlasting gratitude of all mankind.
U. S. Department of State, Washington, D. C.
We are saddened by the death of U Thant. A distinguished servant of the international community. He took over the job as Secretary-General of the United Nations in tragic circumstances following the death of Dag Hammarskjold. U Thant saw the United Nations through some of its most difficult years. yet he was never discouraged. He devoted himself wholly to the cause of world peace. Peace was his passion. He was tireless in the search for accord among nations and never spared himself in the office of Secretary-General. In the noblest sense of the word he was an impartial servant of the world.
We send our condolences to his family. The world has lost a great leader.
Nelson Rockefeller, Vice President of the United States of America
Many have served their nation. Few have served their world. And none served the world better than U Thant. He left us, above all, the example of his life: the ever-shining lesson that mankind can look across national barriers and discover its common humanity.
Pierre Trudeau, Prime Minister of Canada
The Government and People of Canada mourn the death of U Thant, a distinguished son of Burma. In his years of service as United Nations Secretary-General, U Thant demonstrated total and selfless dedication to the organization and through it, to the betterment of mankind.
T. N. Kaul, Ambassador of India to the United States of America; Washington, D.C.
U Thant served the world community with rare distinction and understanding of the hopes and aspirations of peoples in different parts of the world. He was a firm believer in human dignity and brotherhood. U Thant realised that, in the words of Jawaharlal Nehru, "Peace is indivisible; so is Freedom, so is Prosperity now, and so also is Disaster in this one world that can no longer be split into isolated fragments." He also knew that 'the consequences of acting in a passion are always bad for an individual; but they are indefinitely worse for a nation'. It is not surprising, therefore, that he brought a great vision and a deep sense of compassion to bear on the solution of intricate international problems. These qualities combined with a deeply felt commitment to social justice and practice of meditation gave him the inner strength to bear the awesome burden of one of the loneliest jobs in the world and to face with equanimity the many crises which confounded the world community during the ten years of his tenure as Secretary-General of the United Nations. India was one of the first countries to recognise his outstanding contribution to the promotion of peace and international understanding by conferring on him in 1965 the first Jawaharlal Nehru Award for International Understanding. I have no doubt that his life and work will serve for many years to come as a beacon of light and a source of inspiration to increasing numbers of people in our world which he did so much to bring together in peace and harmony.
John V. Lindsay, former Mayor of the City of New York.
The following is a reproduction of text of a letter to Secretary- General Waldheim from former Mayor of the City of New York, John V. Lindsay.
November 27 , 1974
Dear Kurt:
I've just come back from the United Nations and the General Assembly where I stood for a few moments beside the bier of U Thant.
What a sad day and time for the world and for us. I miss him terribly. And the comfort that I have is that his faith was so strong and his consistent and noble practice of his religion so uplifting, that I know he is at peace and with his loved ones.
I hope you will pass along to your colleagues at the United Nations the depth of the City's loss in U Thant's death. I always thought of him as a citizen of our town as well as of the world. My affection for him was profound, and grew over the years as I got to know him better and better. We exchanged private lunches once every two or three months, rotating between his office at the United Nations and Gracie Mansion. It was usually just the two of us alone and we shared ideas and thoughts about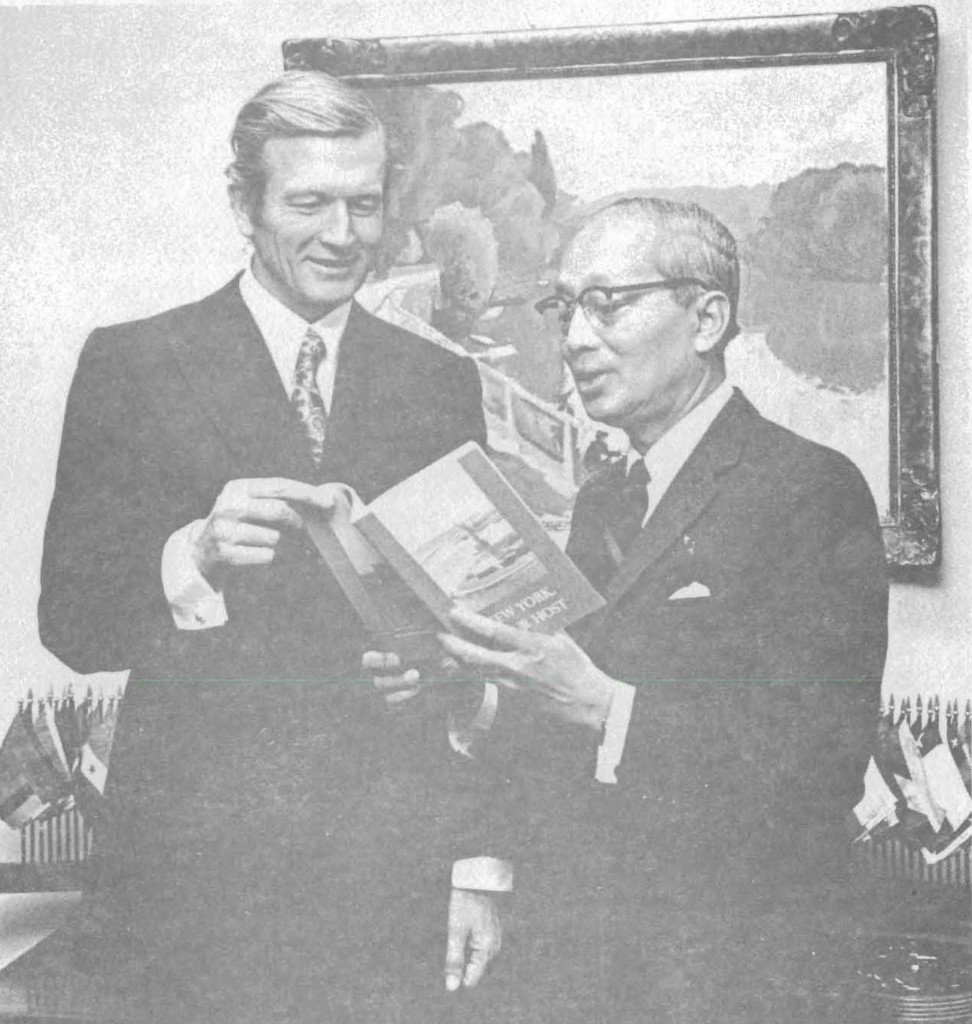 As Mayor of the City of New York, John V. Lindsay offers U Thant a copy of New York, Your Host. (Photo: United Nations)
 the world, civilization and people. His love of peace, of decency and brotherhood was a constant source of wonder and inspiration to me. For it is hard to be in the ugly world of politics, with all of its faithlessness, stupidity and vanity, and retain those simple qualities. I always felt better and prepared for a better world when I left his presence.
As Mayor of the City for eight years, I found a friend, a colleague and faithful helper in all of the things that I tried to do. And one who deeply understood the pressures that I was under. Most importantly, I found U Thant to be a man and a person of warmth, humor, compassion and understanding.
I'm also comforted by the fact that U Thant's very large shoes have been filled by your good self. It is a different style as it is a different time, but it is all good and I wish you continuing good luck with grateful thanks in all your endeavours.
Abraham D. Beame, Mayor of the City of New York
The people of New York City join their spiritual brothers and sisters in all parts of the world in honoring the achievements of U Thant. the United Nations' esteemed former Secretary-General. During his ten-year term as Secretary-General. U Thant displayed consistent dedication to the founding principles of the United Nations.
In stormy times. he was an island of calm in a sea of controversy. His meditative ways helped him to maintain the neutrality so necessary to sustaining the confidence of differing nations.
The people of our own nation always respected his ability to mediate differences among the nations. and we always admired his desire to attain justice for all.
The City. which is proud to be the home of the United Nations. will always revere the memory of the Burma-born schoolteacher who guided the world through a particularly turbulent decade in its history.
Let us hope world leaders will always draw inspiration from the quiet strength which characterized the life of Secretary-General U Thant.
Rafael Hernandez Colon, Governor of the Commonwealth of Puerto Rico
The life and work of U Thant is an example and inspiration for Puerto Ricans and all the world's people.
His fight for the cause of peace is a fight we all must take up if man is to rise above his historical limitations to build a just and lasting world society.
Reverend Donald S. Harrington, Minister; The Community Church of New York,  N. Y.
U Thant, in quiet gentleness, bore the woes and the hopes of mankind within his own being. It was his greatness that he could feel the suffering of the masses of mankind, yet never abandon his soaring hope for their succor. His life has been a blazing light in the darkness of our time, a light of peace, a call for justice, a summons to gentleness and mercy, pity, peace and love.
Robert W. C. Brown, Director; Unitarian Universalist U.N. Office
Some fortunate people are able to move back and forth from living their lives to philosophic reflection on what they are doing, and then to integrate their philosophy and lives. U Thant, I believe, was of that even more fortunate few whose philosophy has become so much a part of their being that they do not need to move back and forth from philosophy to living ; his every thought and action flowed out of a rich and sustaining philosophy of life.
Frank J. Longo, Sr. Mayor of the city of Bristol Connecticut
U Thant was truly a figurehead of peace in our time and sought to reconcile differences through meditation. He was a good man and a man of high principles. His name will live on in the memory of millions as a statesman for peace and the dignity of man.
Mrs. Pearce K. Drake.  a friend
The profound awareness of the esteemed former Secretary-General U Thant of the deep resources for all humanity. He recognized that life, its very soul, is the core within that humanity. In modest thought he himself lived for all to recognize and hope that in quietness his life truly provided a leadership of vision for all to comprehend that the Love of God on behalf of man was truly his goal, a goal that men and women could seek to achieve within their lives for benefit to all individuals in all nations in an enlarging world.
Sol Montlack, Sri Chinmoy Centre, New York, N. Y.
I was deeply moved when I had the opportunity to meet U Thant and his family in May 1973, at the time they attended the performance of Sri Chinmoy's play on the life of the Buddha.
A light rain descended as Sri Chinmoy spoke of U Thant's spiritual height and offered his deepest love and blessings to him. U Thant's profound humility and love for the Buddha was expressed as he spoke to us from his soul's depth on this  inspiring occasion.
His love for humanity is the constant theme throughout U Thant's significant life of service in the human cause.
Robert Tutson, Security Officer, United Nations, N. Y.
Mr. U Thant- a graceful gentleman and a man of inner peace. It was my esteemed pleasure to have known him
Dr. Peter Pitzele, Brooklyn College, New York
Others may speak of U Thant as a man of politics and leadership. His years of public service bear witness to his personal dedication, complete unselfishness, and the esteem of eminent peers. Perhaps the United Nations has not had, since its inception, a leader of purer intrinsic humility. His image, as it greeted me from television or in photographs, represented a man of serene inner poise, eyes kind, attentive. In a most odd way this man seemed to express the fragility of our human community ; nothing brash, fulsome nor overly confident in him. He seemed always to plead, mildly and intensely, for gentleness, and by his modesty, the egotism and extravagance of other "big-wigs" seemed to show up more glaringly. One sensed, too, his composure: he cared so much, but never lost that calm which alone could unravel the tangles of national competitiveness and personal self-interest.
I had a glimpse of him once in a non-public moment, when, on a drizzling afternoon, he came to attend a series of plays written by Sri Chinmoy about the Buddha. Sri Chinmoy had led a meditation group at the United Nations for a number of years and U Thant was aware of this service and grateful to Sri Chinmoy's encouragement. So on this afternoon, a debut for players and stage, without fanfare. Without limousines, without guards or the other accoutrements that usually accompany and announce a famous man, U Thant slipped into our midst to see these plays.
The stage was a homey, outdoor proscenium which, as the rain increased, became slick and puddled. The wind was chill. It was an afternoon to try the patience to say nothing of the dignity. The umbrellas and canopy above his head did little to ward off the gusty wet. From time to time I turned my head to look at him. He was watching the plays with clear attention. He took off his glasses more than once to wipe them dry, but stayed to the end, through miscues and delays, through poignant and beautifully rendered moments as well, gracing the proceedings.
At the beginning, and again at the end, U Thant rose and stood on the stage- this man, mind you, who had stood center stage for an entire planet on more than one perilous occasion. When Sri Chinmoy blessed him, and the spirit of peace he nurtured for the world, U Thant removed his hat.
Later, at the close, with the rain now fairly sheeting down, he went back up on the stage to thank us for the pleasure of the afternoon. He had been moved, he said, at what Sri Chinmoy had written and we had performed. He spoke from the heart. We forgot that the weather was inclement.
And he left, slipping away as modestly as he had come. A delicate man, taking time off from a busy world, to honor the sincerity of a fellow servant of God, a lover of Buddha, a brother with him in the fields of peace.
Luis A. Ferre, Former Governor of Puerto Rico
San Juan, Puerto Rico,   January 14, 1975
I was very pleased to have received your receive letter asking me to contribute my thoughts to the monthly bulletin dedicated to U Thant. Given my profound respect and admiration for this most enlightened man, it would have been a joy and an honor to have made such a contribution.
I sadly regret that since your letter was delayed in arriving since I have established offices in San Juan and because of the apparent effects of the seasonal mails, I was not in a position to send you my thoughts prior to the deadline for submission.
Nevertheless, I wish to express my sincere hope that this issue be a complete success and my warmest personal regards.
As always, Yours sincerely,.
Luis A. Ferre, Former Governor of Puerto Rico
*   *    *   *    *    *    *    *    *    *    *    *    *    *    *    *    *    *    *    *    *
See also detail of :
*   *    *    *    *    *    *    *    *    *    *    *    *    *    *    *    *    *    *
PDF of booklet of day in 7 parts:
A  – bu-scpmaun-1974-nov-u-thant-p01-08-contents-dedication–
B  – bu-scpmaun-1974-nov-u-thant-p10-43-soulful-tributes
C  – bu-scpmaun-1974-nov-u-thant-p44-54-meditation-memories
D  – bu-scpmaun-1974-nov-u-thant-p56-61-hammarslkjold-lecture
E  – bu-scpmaun-1974-nov-u-thant-p62-71-u-thants–letters
F  –  bu-scpmaun-1974-nov-u-thant-p72-76-u-thant-interview
G  – bu-scpmaun-1974-nov-u-thant-p78-88-buddha-play
*   *    *   *    *    *    *    *    *    *    *    *    *    *    *    *    *    *    *    *    *
Page images: